'PUBG Mobile' 0.5.0 Beta Test - How to Try the New Version With & Without Invitation
PUBG Mobile is beta testing its new map ahead of update 0.5.0, and anyone can take part in the early-access phase. In this short guide, we'll tell you how to join the beta if/when slots open. Considering we were able to enter well after the window had lapsed, it may be worth trying these steps anyway.
HOW TO JOIN THE 'PUBG MOBILE' BETA WITH AND WITHOUT AN INVITATION
With an invitation
If you've been invited to the PUBG Mobile 0.5.0 beta, you'll find it in the Mail section of the home screen under the "System" message tab. The message reads as follows:
"You have been selected to try the new version of PUBG Mobile. Please download the client. Join the Discord group where you can provide feedback, interact with us and get rewards: https://discord.gg/pubgm."
If this is the case, simply click the link to download the Test Server Client and you'll be on your way. Once you login with Facebook, the new map and content should be there waiting for you. You may need to uninstall the standard PUBG Mobile app if you have any issues, but progress won't be lost.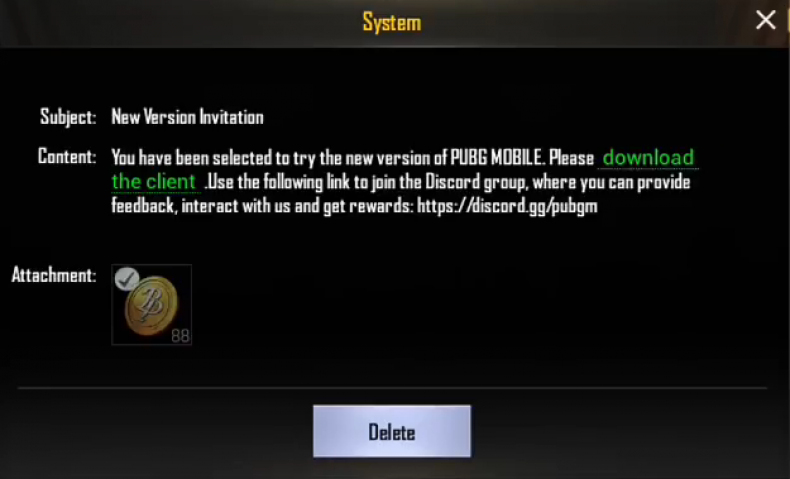 Without an Invitation
If you didn't get an invite to try the new version and still want to see what PUBG Mobile 0.5.0 is all about, PUBG Corporation and Tencent have made it pretty easy to do so. Here are the steps required for iOS and Android devices.
PUBG Mobile Beta iOS Install - Requires minimum iPhone 5S on iOS 9
Before doing anything, log in to PUBG Mobile as normal via Facebook.
Delete PUBG Mobile. Progress will not be lost.
Click this link from your device to download the beta in Safari. You'll be asked if the link should open in iTunes. Press "Install" and the download will proceed. At your home screen, tap the gray icon that appears to get it past the "waiting" step. It may take a while to install after this, so just plug your device into a charger and sit tight. Even if you don't see any progress on screen, the download will eventually finish.
Once it's done and you see the PUBG Mobile icon on your home screen, go to Settings > General and scroll down to Device Management. Select the certificate for PUBG Mobile and choose the option to "trust."
Launch the PUBG Mobile app and login with the same Facebook account used in step one.
PUBG Mobile Beta Android Install - Requires minimum Android 4.4 with 2GB RAM
Before doing anything, log in to PUBG Mobile as normal via Facebook.
Delete PUBG Mobile. Progress will not be lost.
Now, click this link from your device to download the beta. Tap the icon that appears to install the APK. This step may take a while so be patient.
Launch the PUBG Mobile app and login with the same Facebook account used in step one.
Because this is a new install, you'll have to run through the name creation process and tutorial again, but, once you're done with that, you can start trying out the new features. You may also notice that some of the menus have not been translated into English.
WHAT'S IN 'PUBG MOBILE' UPDATE 0.5.0?
There aren't official patch notes for the PUBG Mobile 0.5.0 beta update, but here are a few highlight features fans should know about. Even if you can't get into the beta now, these features will be coming to the App Store or Google Play versions soon.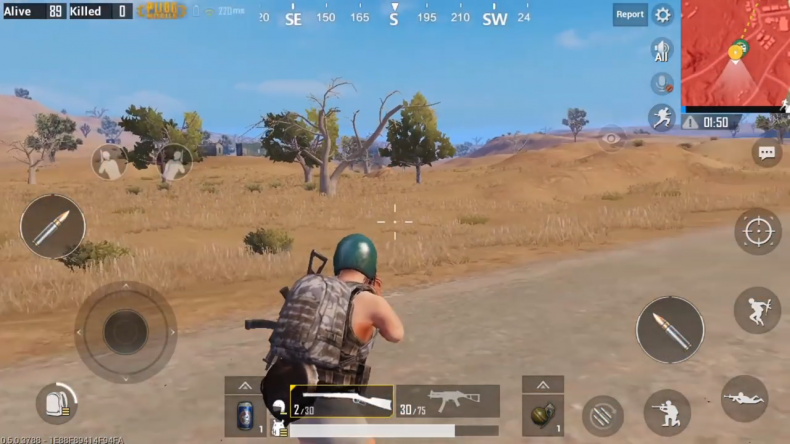 Miramar: The desert map from the PC has been remade for mobile. Just like its Steam counterpart, the map arrives with new guns to shoot and vehicles to drive.
Map Select: At the main menu, players can select from Miramar and Erangel. Map select just made its PC debut on Wednesday.
Arcade Sniper Mode: The Arcade Mode has been expanded to support snipers, which means you can train with them before entering a live match.
Fog Disrupts Visibility
Training Missions: Simple tasks can be completed by players who are starting fresh. For example, you'll earn BP for finishing the tutorial or adding a new friend.
New Achievement Avatars
More Profile Options: Like country of origin.
Visual Styles: Toggle between "classic," "colorful," "realistic" and "soft" to find the one that offers the best performance on your device.
Scope Toggles: The ability scales your zoom from 4x to 8x to everything in between.
The 0.5.0 beta is essentially an expanded build of the 0.5.0 version of PUBG Mobile that's been live in China for a while.
WHEN WILL 'PUBG MOBILE'S DESERT MAP RELEASE FOR EVERYONE?
An official release date has not been announced at this time, but the assumption is that it will be live before the end of May. If Tencent aims to provide monthly updates to PUBG Mobile, a date around May 17 is when players should anticipate major developments. If you're playing on iOS, there may be additional delays after Android deployment.
PUBG Mobile is available now on Android and iOS.
What are your thoughts on PUBG Mobile 0.5.0 if you're playing the beta? Were you able to get in without an invite? Tell us in the comments section!