'PUBG Mobile' Teams up With 'Mission: Impossible - Fallout' for Exclusive Rewards
The latest update for PUBG Mobile features cross-promotion with the recently released Tom Cruise action movie Mission: Impossible - Fallout. The update, available now, adds exclusive Mission: Impossible-themed items for players to customize their characters.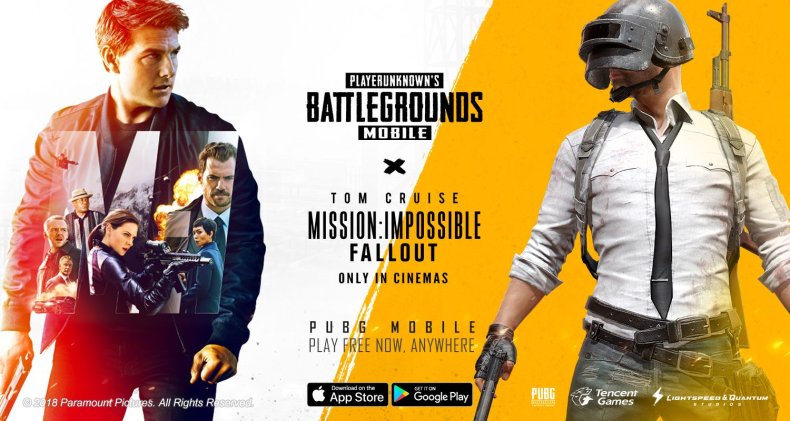 "Nothing is impossible for PUBG Mobile, the world's most popular mobile battle royale game – not even a partnership with an iconic movie franchise such as Mission: Impossible," PUBG Mobile team General Manager Vincent Wang said in a press statement. "After only a few months on the market, we continue to build our player base for PUBG Mobile – now over 100 million strong – while growing our brand with innovative partnerships such as this special in-game event to appeal to a broad range of gamers worldwide."
The update includes new background music to listen to while fighting for survival, customizable Mission: Impossible - Fallout parachutes, and unlockable outfits inspired by the movie. To earn the credits needed to unlock the outfits, be sure to check out the Fallout-themed challenges in First-Person Perspective, Team Rush and Survival modes.
The Mission: Impossible - Fallout takeover of PUBG Mobile lasts the entire month, and is available to play right now on both iOS and Android. PUBG Mobile is a free download. Mission: Impossible - Fallout is in theaters now.
So what do you think? Are you excited to get your Tom Cruise on while playing PUBG Mobile? What other movies would you like to see collaborate with PUBG Mobile? Let us know your thoughts in the comments section below.