'PUBG Mobile' Devs Talk Season 13, Mad Miramar & Saving Earth With Sandstorms
PUBG Mobile made its surprise debut in March of 2018, and the game has enjoyed a swath of steady content updates since. To kick off its 13th Season, the popular mobile app is remixing Miramar with a little help from an in-game sandstorm. The event was teased at the end of April and launched Tuesday, covering the beloved desert map in a thick fog.
But, after speaking with PUBG Mobile's development team at Tencent Games, Newsweek has learned that this in-game sandstorm is meant to serve a much greater purpose beyond exciting players. As the globe continues to be ravaged by the COVID-19 pandemic, this adventurous group of game developers hopes to spread an environmental message to help save the planet we hold so dear. The hope is that, by seeing a sandstorm in-game, PUBG Mobile's millions-strong audience will take it upon themselves to ensure similar real-world destruction won't happen elsewhere.
Over the course of an exclusive Q&A, Newsweek spoke with Tencent representatives to discuss the Miramar sandstorm, PUBG Mobile's recent 0.18.0 update and what to expect after Season 13.
This interview has been edited and condensed for clarity.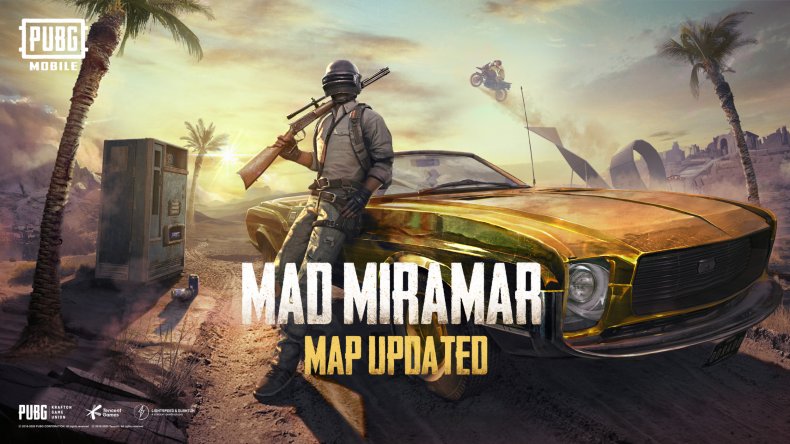 Q. Tell us about this gradual teaser process you're doing for the Miramar rework. Why choose such a protracted reveal for this particular update?
We have received many inquiries about the 0.18.0 version update from our community members. Eager to share new updates earlier with players, we tried a new approach—to reveal teasing messages with Morse Code hidden in our social assets. We are glad to see many of our community members decoding and excited about the new map. We hope this kind of riddle can add more fun and anticipation for players while waiting for the incoming updates. Stay tuned for more interesting teasers for [the] next version in the future!
Q. Why are you deciding to rework Miramar now? Are players less interested in playing there?
Miramar is one of the most popular maps among our players. In the 0.18.0 version, we have updated the beloved Miramar map with upgraded visuals and added new elements to provide a fresh gameplay experience. We are always dedicated to providing richer and high-quality content, and seek innovations. Watch out for our future updates, more are coming!
Q. One of the more interesting parts of the whole rollout is the sandstorm that will envelop Miramar. Where did the idea for that come about?
Protecting the Earth has always been the duty and responsibility of all mankind. We would like to encourage more of our players to join in the ranks of protecting the Earth together. We brought in a virtual sandstorm in Miramar and recorded how it envelops the environment. By witnessing and experiencing this "disaster" in game, we hope players can understand the importance of protecting [the] environment, because we definitely don't want this to happen in real life. Just as we advocated on Earth Day a few days ago, "as long as we team up and work together, we are the most solid lv-3 helmet to protect the planet!" This is the initiative behind the whole rollout of [the] sandstorm and Miramar updates.
Q. Do you think players might find playing through the storm frustrating? Is that frustration intentional to make players more pumped for the rework?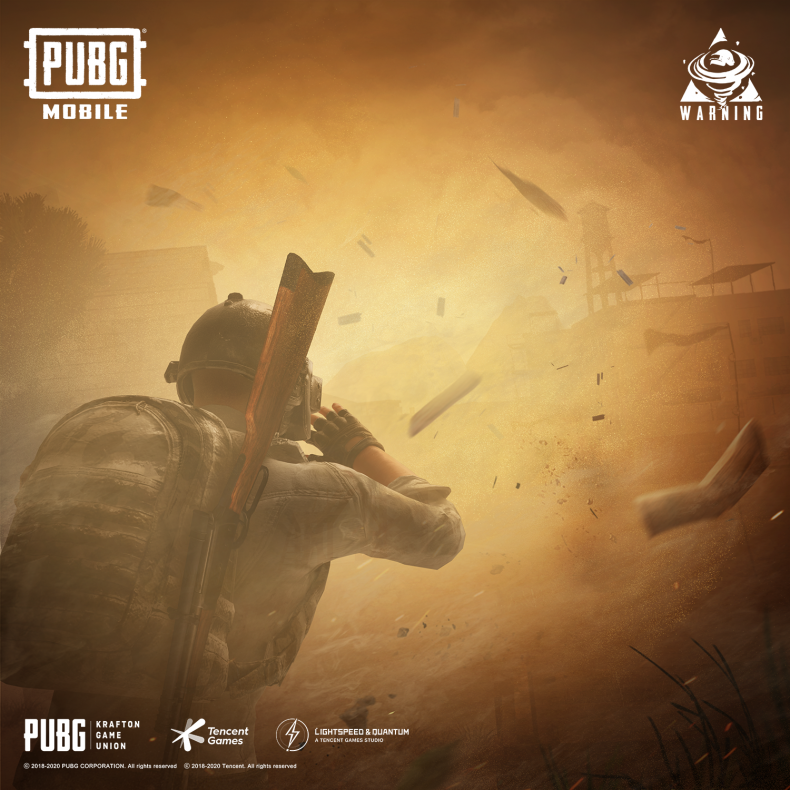 The storm only exists for one day in our game. We want to make this day special and witness the event together with our players in game. It is true that the sandstorm made quite a different experience and some players might not be used to playing under such a "ravage." However, it is because of this frustration that players can be more aware of the severity of natural disasters and the importance of protecting our planet. The sandstorm existing for one in-game day is enough, please do not make it happen in real life.
Q. Live events and ARG concepts are huge in games-as-a-service experiences right now. Are there any events you've seen in other games that inspired this one? Why do you think these events are so popular now?
The gaming industry is a competitive place, and we respect there are many talented teams making great content that capture players' attention. We are all gamers who love games, which make us strive to create high-quality experiences and content that innovates.
Q. How has the response been to the teaser rollout so far? Are you seeing as much player engagement as you'd hoped?
We have received many positive responses to the teaser rollout from community members. From the decoding of Morse Code, teaser video, to the release of new updates, players have been engaging and discussing actively. Thanks to all the support and anticipation, we invite our players to explore more about our future version in even more interesting ways!
Q. How did you go about making changes to Miramar? What were the changes based on?
In addition to the developers, we are some of the most hardcore players of PUBG MOBILE. Just like our players, we often browse the community and team up with friends. Throughout internal research and analysis, we wanted to bring in more new elements, terrain and scenes to make the classic map more interesting and strategic, providing a fresh experience and different charm to players. We hope you like the Mad Miramar updates and enjoy playing with your friends!
Q. Could you discuss a few of the changes players will notice and explain why some of those changes were made?
The biggest change in the updated Miramar is the addition of two terrains and scenes in the northwestern ruins and northern oasis. In the ruins, players can see a very majestic set of buildings. In the complex terrain and buildings, the attack and defense become complicated. The oasis is relatively rich in resources, but the combination of water and land will require more tactics for players. When battling other teams here, better positioning is one of the key tactics and challenges. There are also other interesting updates in Miramar, like the race track perfect for motorheads, vending machines to get energy drinks or painkillers, etc. All these are designed to provide a fresh gameplay experience for players to enjoy.
Q. Gamers are creatures of habit, which means many hardcore players may not like some of the tweaks you're about to introduce. How do you balance making something new with also adhering to the things players like about the original version?
When we are working on the new updates, we pay great attention to maintaining the core gameplay. On this basis, we will continue to polish the map, gameplay and new features to ensure that core gameplay and high quality are maintained while bringing in any new experience. And we always place high value on our players' feedback. From development to beta test and the release of each version, we keep doing research and surveys among players worldwide. We even have discussions with players to understand their real experience and feedback on the new content.
Q. Do you anticipate there being other small tweaks to the map even after version 0.18.0 is out? How will you address feedback on the new version?
We always emphasize player feedback and keep listening to our community. For every version update, we will also conduct research to validate and refine our product to keep improving in the next updates.
Q. That being said, it's clear that PUBG Mobile is far less afraid to take big risks in terms of adding new modes and features that differentiate it from the console and PC versions. Is there a more fearless attitude in the studio culture too?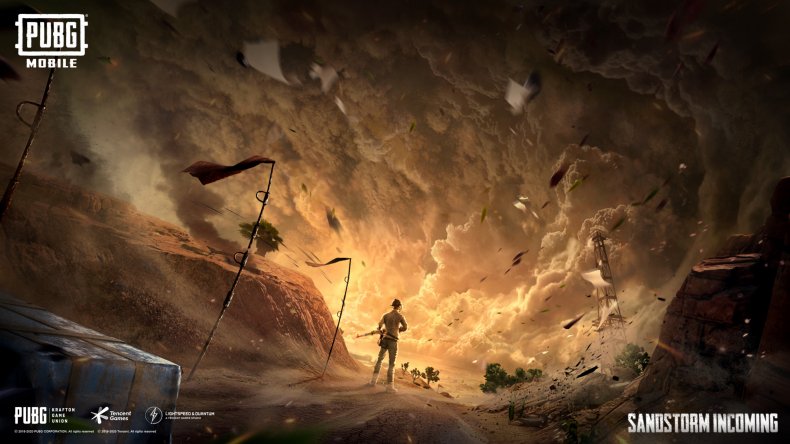 We are always eager to bring more fresh and interesting content to players, and seek innovation while ensuring a high-quality experience. It is not a risk but a challenge for us. From generating an idea, to developing, testing, and finally going live, we carry out a lot of preparation and consistent validation at each step to ensure that bringing in new content will not affect the original gameplay experience. As developers and gamers who love this game, we hope to bring more surprises and joy to the players. Just like our 2nd anniversary slogan says, "Together We Play!"
Q. What was one of the hardest parts of designing this teaser rollout, and what was the hardest part of remaking Miramar in general?
The hardest part for the teaser rollout was figuring out how to raise players' attention via such veiled puzzles while guiding them to the answers they want. For the updates to Miramar, how to balance adding new elements while not changing the original characteristics and fun of the map is one of the important parts we considered. We will not let the existing Miramar fans down while providing a fresh experience. If you are new here, welcome to the Mad Miramar!
Q. This whole rollout is pretty intricate considering the development conditions of the COVID-19 pandemic. Was Tencent prepared for the shift to work from home, or was there a lot to consider in a short time?
It is an important and massive update which we started preparation in a much earlier stage. The health of our players, staff, partners and everyone is the highest priority. We encourage everyone to safeguard their health by staying in the safe zone, and closely following advice from the medical community. We may be separated physically, but that doesn't mean we can't connect in meaningful ways through our shared love of games. By supporting the World Health Organization-endorsed #PlayApartTogether campaign and enjoying chicken dinners at home, we believe PUBG MOBILE players can help fight COVID-19 and make a tremendous difference for all of us.
Q. What's one of the most underrated changes you've made to Miramar with this rework?
It is hard to define, because different players have their own preference towards the new features. In fact, we have received many positive responses from players' feedback, and we will continue to provide players with richer content and a better experience.
Q. Will we see more PUBG Mobile maps remade in the future? Are there already plans in the works?
We will bring more exciting updates in the future. More news on those will arrive in time.
PUBG Mobile is available now on Android and iOS.
What are your thoughts on the Miramar sandstorm? Are you digging mad Miramar so far? Tell us in the comments section!