'PUBG Mobile' Update 0.11.5 Adds G36C & Season 6 Royale Pass - Patch Notes
PUBG Mobile update 0.11.5 is officially live on Android and iOS. According to Tencent's official patch notes, the in-game download adds the G36C rifle, dynamic weather features, Tukshai vehicle and more. Get the full details below.
PUBG Mobile 0.11.5 March 20 Patch Notes
Royale Pass
Players can now view RP rankings of the entire region and your friends directly from the royale pass page.
Elite Pass Plus purchase now has additional rewards besides instantly gaining 25 ranks.
Weekly challenges now award more points. Point rewards can now be collected with just tap.​
Anniversary
Birthday parties on Spawn Island! Light fireworks and collect crates during matches.
Open the collected crates after the match to get anniversary rewards.
Find randomly spawned birthday cakes in matches for a surprise!​
General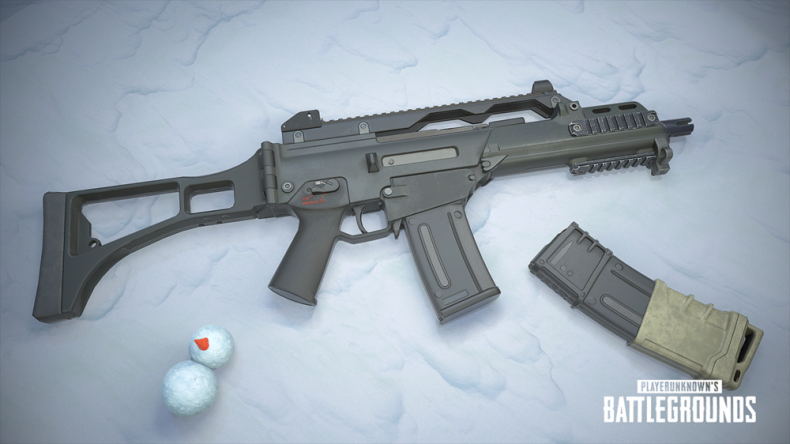 Dynamic weather added to Erangel and Miramar.
Added a new weapon: G36C rifle (Vikendi only). Fires 5.56mm rounds and can be equipped with stocks, replaces SCARL in Vikendi. Added a new Sanhok exclusive vehicle
Tukshai a three-wheeled bus . This will replace the Jeep,Dacia and Mini Bus
Subscriptions will be available in early April . There are two plans : Prime and Prime Plus. Both plans come with free daily UC, Royale Pass points, daily 80% discount on Crates,purchasing from the shop with BP and more.Benefits from both plans are stackable.
When players don't win items above a certain quality many times in a row at the Shop, they will earn vouchers instead.Relevant titles and achievements relating to bad luck have been added.
"Room Card: 1Use" in Clan Shop has been adjusted to 1 purchase every 10 days. Added a robot avatar to the Clan system.
PUBG Mobile update 0.11.5 is an in-game update, which means players should not be checking their App Store or Google Play patch queues to download it. Instead, simply launch the game and wait for the small download to install. There may be a slight delay while the patch deploys across all regions, but that process should be nearly finished by the time of publication.
While the official patch notes for today's PUBG Mobile update are a little thin, it's worth noting that there are lots of big changes to come. Starting March 21, the game's Season 6 Royale Pass unlocks in celebration of the app's one-year anniversary. Once that happens, players will have an opportunity to complete new challenges to unlock themed cosmetics. If key art is any indication, Tencent has opted for cyberpunk stylings this time around. The G36C and Tukshai are valuable additions to the game, but neither evolve the meta in meaningful ways. You'll see more changes of that nature once Season 6 begins.
PUBG Mobile is available now on Android and iOS. The 0.11.5 update should be rolling out on both platforms.
What are your thoughts on the latest update for PUBG Mobile? Are you excited to try out the G36C rifle? Tell us in the comments section.