'PUBG Mobile' Update 0.4.0 Live With Arcade Mode & Training Grounds
PUBG Mobile update 0.4.0 is slowly deploying across all regions with a few new features for the popular battle royale game. The official changelog, via the game's subreddit, features an Arcade Mode, Training Grounds and more.
These changes essentially equate to an earlier build of the Chinese version of PUBG Mobile, which is reflected in the official patch notes below.
Major updates:
Arcade Mode: a new mode with 28 players and one of the six following variations: Shotguns, Sniper Rifles, All Weapons, Melee, Pistols and Item Heaven.
Training Grounds: try out all the weapons and practice your shooting skills.
Added a new setting: Dusk.
Over 20 game optimizations, including:
Enhanced combat experience.
Added Follow function (both before parachuting and after landing).
Added automatic door opening, can be enabled in Settings.
Pause between picking up multiple items automatically has been adjusted.
4x and 8x scope performance issue resolved.
Added a performance chart to the Results screen.
Adjusted sound effects and some voice chat issues.
Leaning: movement speed increased, added "Lean & Open Scope" and "Lean & Fire."
Added flipping tricks for motorcycles.
Added Nitrous Oxide engines to cars.
Previously used vehicles are now marked on the mini-map.
Added 3D Touch firing options to iOS.
If you simply can't wait for the Android update to make its way to your region, feel free to use this APK file at your own risk. Note that you may lose account or rank information as a result.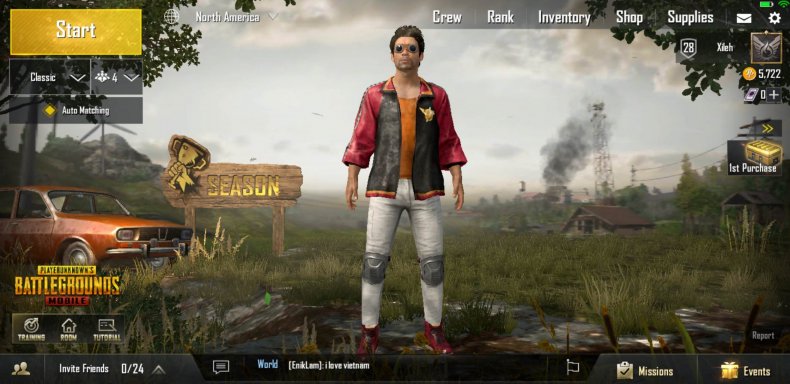 At the time of writing the update seems to be more common on the Google Play Store in scattered states across the U.S. That being said, if you're playing PUBG Mobile on iOS, don't be shocked if you've got to wait a few hours for the update to post. As with most mobile updates, it'll simply show up in the Updates section of your respective mobile store. Tap the button to update, and the file will download.
Evidence of the update first surfaced when players discovered an in-game challenge that rewards players for downloading the latest update. That challenge can now be completed once everything has been fully installed.
Despite the inclusion of a new mode, it should be noted that this version of PUBG Mobile does not feature the Mirimar desert map that's currently in testing in other regions. It's unclear when that map will become available in the English version. Overall this is a fairly substantial update, but it may not have everything the game's hardcore fans were hoping for.
PUBG Mobile is available on Android and iOS. The 0.4.0 update will eventually become available on both platforms.
What are your thoughts on the latest PUBG Mobile update? Are you excited to try out Arcade Mode? Tell us in the comments section!