'PUBG Mobile' Update 0.5.0 Adds Miramar & New Weapons
PUBG Mobile update 0.5.0 is slowly going live across mobile platforms, marking the true beginning of the game's second season of content. While your current rank will be reset, the consolation prize for the lost progress is a new map, an expanded Arcade Mode and a few new weapons.
The official patch notes are below courtesy of a post on the the PUBG Mobile subreddit.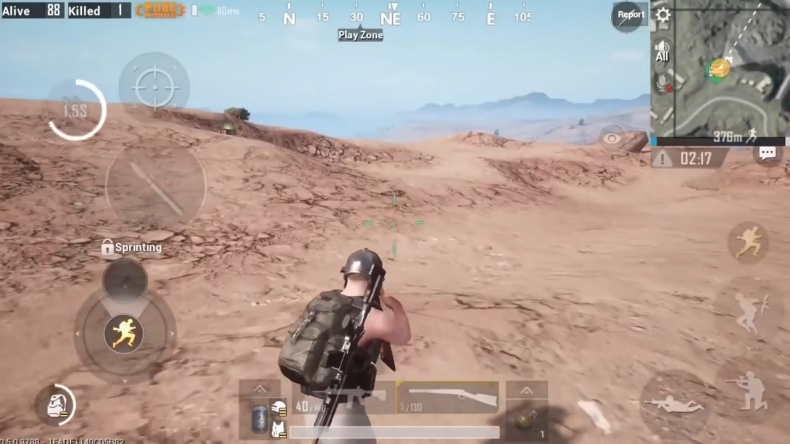 'PUBG MOBILE' 0.5.0 PATCH NOTES
What's New
Desert map ("Miramar") is now available for selection. See if you can find the new vehicles and weapons!
New Progress Mission: collect progress rewards when you reach new levels, then take on new missions. - Added weekly Activity missions: earn rewards based on your Activity.
Added local quick team feature: enter a six-digit code to team up with friends that are next to you.
Added Synergy and Connections: interact with your friends in-game to raise Synergy, then build Connections when your Synergy is high enough.
Added Regions: now you can choose your region and flag.
Added language-specific chat channels: there is now an additional channel based on the language of your choice. - Added more avatars.
Now you can collect rewards for every new tier reached in Season 2.
Added a Shop, where you can preview and purchase new outfits and items.
Added a Secret Stash, where you can purchase special discounted items
Improvements
Spectator mode smoothness improved.
Striking sounds and effects added to melee combat.
Parachute camera smoothness improved.
Initial parachute speed increased to match the PC version.
Improved climbing check during running.
Picture styles now available on all devices.
Added sound effects for breaking doors.
Improved display of personal information and results.
Improved team invitation flow.
PUBG Mobile 0.5.0 was in beta in previous weeks, so its feature set is widely known. In short, it's a slightly expanded version of the 0.5.0 update that's been live on Chinese servers for quite some time.
Update 0.5.0 was supposed to deploy alongside content Season 2 on Monday, but a critical bug delayed the release till this morning. There was plenty of community outrage over the past 24 hours, but hopefully some of that vitriol has started to heal.
While there were deployment difficulties when PUBG Mobile update 0.4.0 dropped in mid-April, it appears this particular update is going live across Android and iOS devices in fairly simultaneous fashion. Success downloading the update may vary across region in these early morning hours, but hopefully cross-platform play will be fully restored soon enough. In the event your region gets the 0.5.0 update later than others, you won't be able to squad up with any other players who have it.
To see if the update is available, simply go to the Google Play or iOS App Store and manually check for updates. The download will begin when it's available. We'll do our best to provide updates on the situation as it develops.
PUBG Mobile is available now on Android and iOS devices. The 0.5.0 update is expected to be live across both platforms.
What do you think of the latest PUBG Mobile update? Does Miramar on mobile meet your expectations? Tell us in the comments section!