'PUBG Mobile' Update 0.8 Live With Sanhok Map on Android, iOS - Patch Notes
PUBG Mobile update 0.8 is deploying now across Android and iOS, and it features the highly anticipated Sanhok 4x4 map. Read the full patch notes below courtesy of an official news post from Tencent.
'PUBG Mobile' 0.8.0 Patch Notes
New Map: Sanhok
Sanhok can be downloaded independently, so enter the game and get it right away to join your friends in the rainforest!
It also comes with new weapons and vehicles:

Flare Gun: a rare item that calls a super air drop if used within the Playzone and a Bulletproof UAZ if used outside the Playzone.
QBZ: an automatic rifle that fires 5.56mm rounds. Has both single shot and full-auto.
Duckbill: an attachment for shotguns. Reduces vertical spread and increases horizontal spread.
Muscle Car: four seats and has both a hard-top and a convertible version.
Bulletproof UAZ: four seats. Obtained from using the Flare Gun outside the Playzone.
Customizable Pick-up Settings
Pick-up quantities can now be specified in settings.
Achievements
Added more achievements. Now can be found under Missions.
Clans
Clan Perks: after getting specific items (through purchase or luck), the system will award a certain amount of UC for players to share it with other Clan members.
New Clan titles can be equipped after purchase.
Clan Rankings: now lists the most active Clans this week and this season.
Anti-Cheating Measures
Improved recognition of cheating plug-ins.
Added Report buttons to Spectator Mode, Basic Information and Results.
Dismantling Time-Limited Items
Time-Limited items can now be dismantled to BP directly.
Progress Missions
Added a Collect All button to collect rewards of all completed missions.
Royale Pass
Added new mission types to make progression more fun.
Lucky Air Drops
Chance to get a mystery drop after a match. Contents are customized!
Season Data
Season page now shows all seasons played and relevant data such as season titles, the highest tier reached and more.
Improvements
Friends can now be deleted in batches.
3D models added to vehicle and airplane finish previews in the shop.
Animation on the Season page has been optimized for certain device models.
Accidental friendly fire will not be penalized.
Chat system has been tuned.
Items contains in air drops have been tuned.
The biggest feature of PUBG Mobile 0.8 is, of course, Sanhok, which offers an entirely new arena with new items for players to use. All of its above-listed features exist on the PC and Xbox One versions of PUBG, but this is the first time players will see them on Android and iOS. Sanhok is a better fit for the mobile version because its smaller size leads to faster matches that still maintain the tension that has made PUBG so popular. Assuming Sanhok and its associated items function like they do in other versions of the game, there's no reason for players to be disappointed by what's on offer.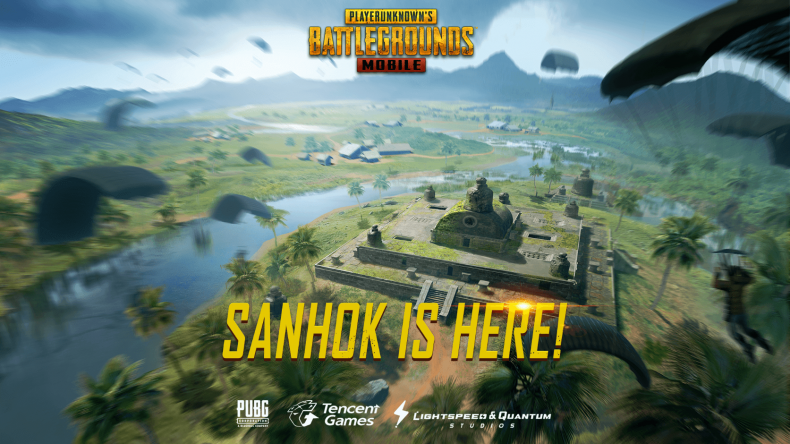 The only real drawback to Sanhok and update 0.8.0 is the added space it will occupy on your device. As mentioned in the patch notes, Sanhok is included in a totally separate download that's triggered after launching the game. Those who want to play Sanhok will have to surrender about 80MB of free space, but the requirement may be worth it to get the most out of PUBG Mobile's biggest update in a long time.
PUBG Mobile is available now on Android and iOS. Update 0.8 is slowly rolling out globally, so it may take a few hours for the content to arrive in your region.
What are your thoughts on PUBG Mobile 0.8.0. Does Sanhok make sense for shorter play sessions? Tell us in the comments section!