'PUBG Mobile' Update Adds New Outfits & Fixes 0.8.0 Bugs: Patch Notes
PUBG Mobile is getting a brand-new update today via an in-game patch. The 143MB download, presumed to bring the build to version 0.8.5, adds new cosmetics, quality-of-life tweaks and minor bug fixes. The full patch notes are below courtesy of an official news post.
'PUBG Mobile' Oct. 9 Update (Presumably 0.8.5) Patch Notes
Added outfits with exclusive emotes.
Pop-ups during login have been adjusted.
News now display information more efficiently.
Daily sign-in rewards have been improved.
Swiping in vehicle page has been tuned.
At the time of writing the update is slowly dispersing across all platforms and territories, so it may not be immediately available in your region. When it's ready, you'll be prompted to download the patch upon launching the game. Unlike PUBG Mobile's past major updates, you won't get this one via a manual app update on the App Store or Google Play. It should also be noted that users may experience a "different versions" error while trying to squad up with friends. You can read more about that problem at the link above, but it will mostly be in effect until the patch has released everywhere globally.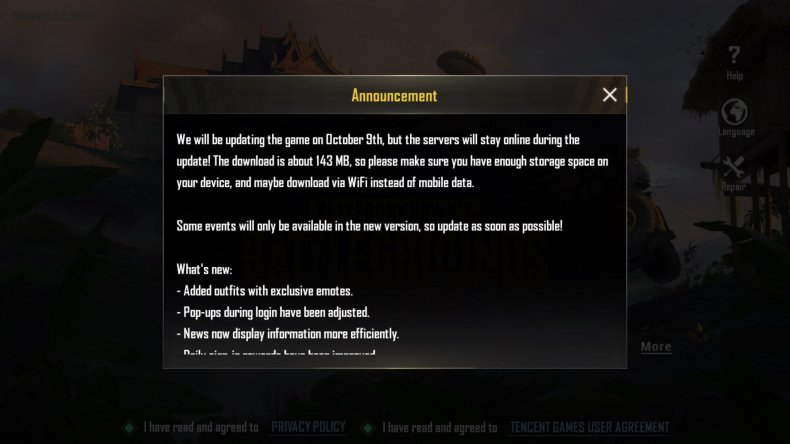 PUBG Mobile 's developers at Tencent have not officially announced this patch as version 0.8.5, but, given the recently conducted 0.8.5 beta, we have to imagine some fixes from that unfinished update have migrated to this one. Unfortunately, though, those who already have the new build suggest it doesn't fully address the chronic performance issues that cropped up when PUBG Mobile 0.8.0 released last month.
We'll update this page with more info as it arrives.
PUBG Mobile is available now on Android and iOS. The latest update seems to be heading to Android first but should be making its way to iOS shortly.
Have you downloaded today's update for PUBG Mobile? Has performance improved after installing the patch? Tell us in the comments section!