'PUBG Mobile' Update 0.9.0 Adds Halloween Skins & Night Mode - Patch Notes
PUBG Mobile update 0.9.0 has deployed on Android and iOS with Night Mode, new weapons, Halloween skins and a whole mess of bug fixes. Read the full patch notes below, courtesy of a blog post from Tencent.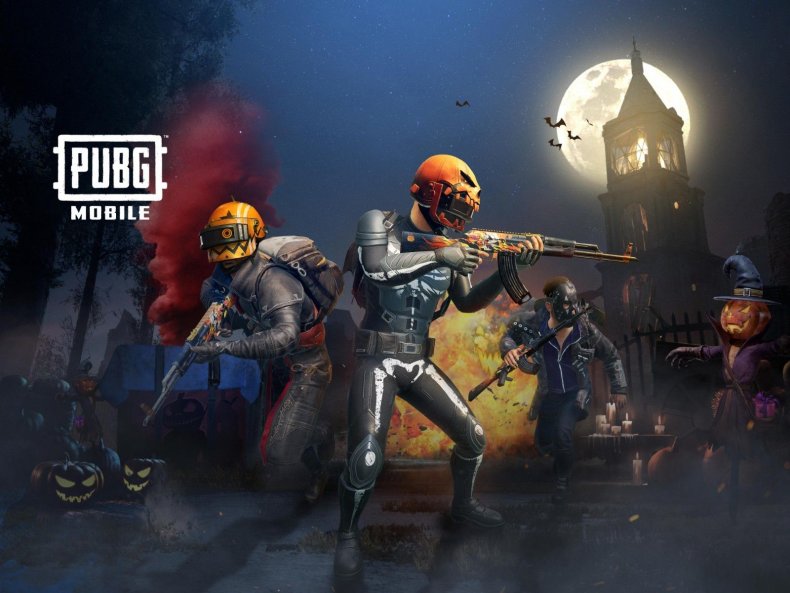 PUBG Mobile 0.9.0 Patch Notes
Weather Improvements and Festival Effects
Erangel

Added Night Mode to Erangel. The map will alternate between day and night randomly in Classic Mode.
Added Night Vision Goggles.
Added new buildings in certain areas.
Added covers next to some rivers.
Added more trees in some empty areas.

A Movie picture style has been added to settings. Once selected, the style will apply to all maps.
Halloween - In all maps, the Spawn Island has gone through a festival makeover.

Interact with other players on Spawn Island by picking up pumpkins and candies.
Enemies killed by Hellfire — AKM will become scarecrows.
A spooky face appears when a grenade explodes.
During the Halloween event period, players have a 50 percent chance to activate Night Mode.
New Weapon, Vehicle & Related Improevements
Added the QBU DMR. It fires 5.56mm rounds and can be found in Sanhok (replacing Mini14).
Added the Rony pickup truck. Only available in Sanhok.
Added a random music play feature in vehicles. This feature can be turned off in vehicle settings.
The engine sound effects of UAZ and Buggy have been remastered.
Added driver and passenger views (with improved vehicle interiors) in first-person perspective.
The bullet spread accuracy bonus from hip fire is slightly reduced when crouching or staying down.
The bullet spread accuracy bonus from hip fire is slightly increased when the player is stationary.
The vertical recoil and horizontal recoil of AKM have been reduced.
Reduced the spread accuracy bonus of certain attachments.
Light Grips now increase recoil recovery and stability.
The recoil animation when firing looks more realistic now.
QBZ and QBU now have new magazine attachment models.
The reloading animation of some weapons in both first-person and third-person perspectives have been improved.
UMP9, Vector and SLR now have new 4x scope crosshair designs.
Added an action that makes the character stand up while the motorcycle is airborne.
Added a Brake-button in vehicle driving mode one and two.
The sound effects of the Dacia have been adjusted so it sounds the same as the original PUBG.
Vehicle lights have been tuned.
Matchmaking
Added an option where the system will first find teammates that speak the same language.
Matchmaking has been improved. Finding a match should be faster now and players should reach their appropriate tiers easier. Estimated time should now be more accurate.
Spectator Mode
Players can now watch other opponent players until the end of the match after being killed.
When spectating in room mode, players can turn on projectile and bullet trajectories.
Performance
Resolved lagging issues when players encounter other players from afar, or when they open the inventory to change equipment.
Added a feature to only download the different files when updating a map. If the game client has been updated to version 0.9.0, only 13 MB of data need to be downloaded for Miramar (originally 300 MB).
Resolved some game-crashing issues.
Reduced loading time when the game is launched.
Reduced memory usage in lobby.
Resolved blurry screen issues on some mobile phones.
Improved game update mechanism and resolved issues that may cause the update to fail.
In-Game Purchases
Added the Share for Deals feature. Get your friends to help you bargain, then get the item at a huge discount or even for free!
Earn candies through a Halloween Lucky Draw to get Halloween-exclusive vehicle finishes.
Earn Trick Ticket Scraps, combine them into Trick Tickets for the lucky draw!
Customizable outfits are available. Players can now select outfit colors and logos before purchasing. Pick unique outfits for your squad now! (This feature will be launched at the same time with in-game tournaments)
Added Classic Crates which contain tons of rare items.
Redesigned some elements of the Royale Pass missions page. It is now more convenient to view the weekly missions and collect weekly mission rewards.
Added a notification for Royale Pass missions on the results page.
The "Share" tip will no longer be displayed when getting Epic items. Redesigned the share page.
Redesigned the art for the gift feature and added a Halloween envelope.
Crew Challenge
Leaders can register their Crews for the Crew Challenge tournament. There are three stages: the Qualification, the Groups and Finals. Teams will receive bonus rewards once they enter the Group stage and the Finals. Winning teams in the finals will receive great rewards.
Added new currency: Challenge Coin (players will get some Challenge Coins after each Crew Challenge game). Use this in the Crew Challenge Shop to exchange for items.
Crews are now limited to six players. Only teams with less than six players may sign up for the tournament. New teams will have a maximum of six players. Old teams with over six players may remain as they are, but they cannot recruit more players.
Room
Added advanced room settings in rooms. Advanced Room Cards enable room owners to set weapons, attachments, Playzone shrink speed and other parameters.
Added the first-person perspective of Miramar and Sanhok in rooms
Players can now invite friends to their rooms, or share the room invitation to team channels.
The entrances to rooms and training grounds have been moved to the main page.
Other Systems
Added a Halloween theme and background music to the main menu.
Added a feature to view recent likes on the friends page.
Added a Like Ranking.
Added a Clan Rename Card in the shop. Only the clan leader can purchase and use it.
Improved the achievements in team mode. Those who knock an enemy out will fulfill the killing conditions of an achievement if the enemy is killed by themselves or by their teammates.
New achievements: Eye for an eye: Kill one enemy that knocked you out in the same game. Take Me With You: Sit on a vehicle that is being driven by enemies once for over 10s. Physical Trainer: Crouch 10,000 times, jump 10,000 times, get down 10,000 times.
New honor achievements Chicken Veteran: Get a total of 500/1,000/2,000/5,000 Challenge Coins from Crew Challenge. Seasoned Soldier: Participate in a total of 10/20/30/40 Crew Challenges.
New social achievements Bargain Master: Help friends to bargain a total of 1,000/10,000/30,000/1000,000UC.
New general achievements Candy Master: Hit six other players with candy bombs/candy balls.
When one or more players in a team have different game client versions, the system will announce the player(s) with the older version.
Players can now view the update details when they download the update files.
Guest Mode has been moved to "More" on the login screen.
Added an option to filter the same first language in the team channel. If the same language is selected, players will only see the team invitation messages from those who speak the same language.
The translation feature now translates the chat into the player's first languages (no longer translates into the game client language).
The Portable Closet can be used on the Spawn Island now.
Added a few loading tips to help players understand new game content.
Character Action Improvements
Adjusted the angle and direction of the head turning action.
Added a left arm waving action when the character falls from a certain height.
The first half of the climbing action looks smoother now.
Added details when the character leaves the aircraft, opens the parachute and lands.
Getting down while running now looks smoother.
New Settings & Improvements
Added a feature to quickly switch between scopes.
Added three scope opening modes: tap, press and hold, mixed.
Added an option to adjust game brightness in graphic settings.
Improved the configuration of high & low sound effects. Players will be able to select different settings in future versions.
Added an upper limit for the number of scopes picked up.
Improved recommendations for 3x, 4x, 6x and 8x scopes.
Added customizable buttons for revive, cancel, cancel throwing, reload and overhand/underhand throws.
Projectile Improvements
Players now can switch between standing/crouching/lying down, or overhand/underhand when the grenade is triggered. Grenades can be thrown while standing sideways.
Frag grenades now deal more damage and cause tinnitus.
Molotov cocktails now deal more damage and can go through wooden doors. They can be detonated by firearms. The fire from explosion will spread on wooden floors.
Stun grenades now impact a bigger frontal area. The whiteout effects have been improved.
Other Improvements
Bullets now pierce through water but deal a lot less damage to targets under water.
Added health bar animation when the character loses or recovers health.
The map marks on the Spawn Island will no longer disappear after characters enter the aircraft. The mini-map will be actively scaled as the player moves in battle.
Added more icons in kill broadcast.
The eight main directions on the compass are easier to recognize now.
Fixed an issue of the weapon not firing properly when the fire button is pressed.
Bug Fixes
Fixed some landscape and model issues where characters or views are stuck.
Fixed an issue where collision with teammates while staying down may cause teammates to fall and lose health.
Fixed an issue where UAZ may hit characters airborne.
Fixed an issue where the camera of the passengers in motorcycle sidecars shakes unexpectedly.
Fixed an issue that caused the item list to not display properly in the backpack under unstable network conditions.
Fixed an issue that caused the firearms to not display properly in weapon slot under unstable network conditions.
Fixed an issue where vehicles with exploded tires can still be driven smoothly in first-person perspective.
Fixed an issue that caused the character to stand up again after suddenly getting down from a sprint.
Fixed an issue that caused the characters to be stuck in certain scenes.
Fixed an issue where the character animation is not properly displayed in certain status.
Fixed other known battle and system issues.
Fixed an issue where vehicles with exploded tires can still be driven smoothly in first-person perspective.
If you couldn't tell by these patch notes, PUBG Mobile update 0.9.0 is absolutely massive. Surface features like Night Mode, QBU and the Rony pickup truck will appeal to casual players hungry for new content, but there are also ways for hardcore teams to get more out of the experience with Crew Challenges. Update 0.9.0 doesn't have the glitz and glamor of a new map, but there's an absolute ton here that makes the action feel fresh and run smoother than before.
On the quality-of-life side, increased projectile-throw ability and a way to quickly switch between scopes should make combat feel faster, more fluid and seamless. As long as the controversial performance bugs that cropped up after update 0.8.0 don't reappear, most fans on any platform will appreciate this latest patch. Whether you're looking for spooky fun or improved tactical action, PUBG Mobile 0.9.0 intends to offer both.
PUBG Mobile is available now on Android and iOS. The 0.9.0 update should be available now as a large download on all applicable devices.
Have you enjoyed your time with PUBG Mobile update 0.9.0 so far? What do you think of Night Mode and the other Halloween options? Tell us in the comments section!