'PUBG Mobile' Update 0.9.5 Adds Hardcore Mode & M762 Rifle - Patch Notes
PUBG Mobile update 0.9.5 is going live across Android and iOS. The substantial patch features Hardcore Mode, the M762 automatic rifle and an assortment of new vehicles for Sanhok. While complete patch notes have yet to be released, here are the major features outlined by Tencent on the game's official subreddit.
PUBG Mobile 0.9.5 Patch Notes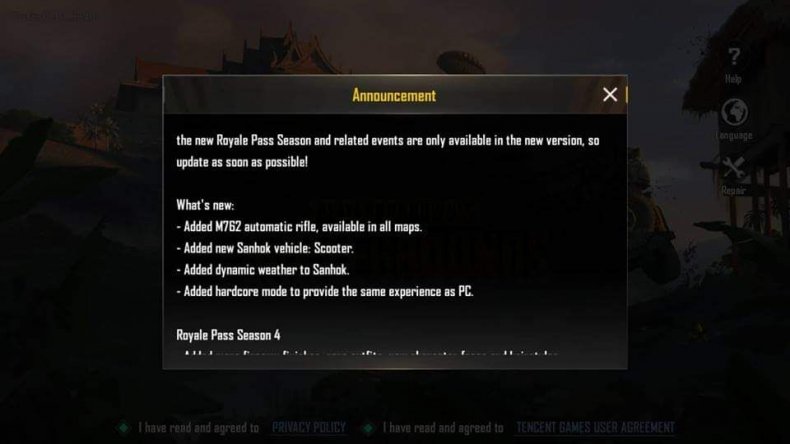 What's new:
Added M762 automatic rifle, available in all maps.
Added new Sanhok vehicle Scooter.
Added dynamic weather to Sanhok.
Added hardcore mode to provide the same experience as PC.

This means no bullets or footsteps show up on your radar. Guns also spawn unloaded, and all reloads are manual. There are no bots in Hardcore Mode either.
Hardcore Mode is only available in third-person under Arcade Mode.
Royal Pass Season 4
Added more firearm finishes, rare outfits, new character faces and hairstyles.
Fine-tuned the redemption feature.
Added Mission Cards.
Added an event where packs are discounted heavily during Black Friday.
Increased the odds of certain crate drops.
PUBG Mobile update 0.9.5 isn't absolutely massive, but it goes a long way toward keeping the mobile offshoot more in line with the Xbox and PC versions of the game. Nothing here drastically changes the PUBG formula as players know it, but it's still nice to see some of these newer additions make it to smaller screens.
Hardcore Mode is probably the biggest feature worth knowing, but even that comes with its own unique set of drawbacks. Because it's part of the Arcade suite, it doesn't play a role in seasonal rankings. Players can still earn EXP and Battle Points in gameplay, but it's not quite as "competitive-ready" as its name implies. This misnomer is compounded by the fact that this implementation of Hardcore Mode is not available from a first-person perspective at all. That may change if there's enough demand for it in matchmaking, but that's not the case right now. With the Vikendi snow map expected to make its PC debut soon, bigger things are planned for PUBG Mobile in future updates.
PUBG Mobile is available now on Android and iOS. Update 0.9.5 may take time to deploy on all platforms in all regions.
What's your take on the new update for PUBG Mobile? Are you skilled enough to give Hardcore Mode a shot? Tell us in the comments section!