'PUBG' November Twitch Rivals Squads Showdown - Results, Standings, Teams & How to Watch
PUBG Twitch Rivals action is about to start, and we want to make sure you're up to date on all the latest information. Below, get all the key details regarding start times, teams, rules, results and more.
When is the November PUBG Twitch Rivals tournament?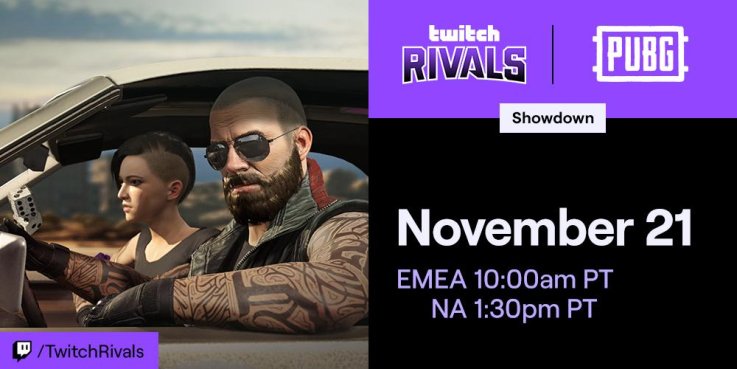 As is standard fare, the upcoming Twitch Rivals tournament is split across NA and EU lobbies. Here are the start times for each region.
EU: November 21 at 1 p.m. EST
NA: November 21 at 5 p.m. EST
Like many Twitch Rivals and esport-centric events, these start times may vary based on technical difficulties and participant availability. That being said, these suggested windows should offer fans a good estimate for when to tune in.
Where to watch the PUBG Twitch Rivals Squads Showdown
The best place to watch any Twitch Rivals action is on the Twitch Rivals Twitch channel embedded below. While individual participants will all be hosting their own matches, this stream acts as a centralized hub to recap all the big moments as they unfold. Results and standings will be reported here as well.
PUBG Twitch Rivals November Teams
While the full list of teams is still being updated to feature the 32 total Squads across both regions, here's what we know about the Twitch Rivals participant list at the time of publish.
EU
NA
PUBG Twitch Rivals Rules Standings & Results
This competition features 32 total Squads competing under the SUPER rulest. Those who don't know what that is can read a recap of the concept below.
Team size: four (squads)
Five Games

Game 1 - Miramar
Game 2 - Erangel
Game 3 - Miramar (Melee only)
Game 4 - Erangel
Game 5 - Miramar

Placement

1: 10 Points
2: Six Points
3: Five Points
4: Four Points
5: Three Points
6: Two Points
7: One Point
8: One Point
91-6: Zero Points

One point per kill
Prizing
1st - $10,000
2nd - $7,000
3rd - $4,000
4th - $3,000
5th - $2,500
6th - $2,200
7th - $2,000
8th - $1,800
9th - $1,600
10th - $1,400
11th - $1,200
12th - $1,000
13th - $800
14th - $600
15th - $500
16th - $400
Matches have not yet begun, but the latest standings and results can be found on the Twitch Rivals official Results page. This information will be updated as the matches progress.
PUBG is available now on PC, Xbox One, PS4 and mobile.
Which team will take the top prize in November's PUBG Twitch Rivals Squad Showdown? Will there be any surprises in the results? Tell us in the comments section!
'PUBG' November Twitch Rivals Squads Showdown - Results, Standings, Teams & How to Watch | Newsgeek