'PUBG' Test Server Update 11 Adds Equinox Crate & Flight Path Marker
PlayerUnknown's Battlegrounds has a brand-new Test Server update that displays flight path graphics and adds a new Equinox cosmetic crate. The latest official Steam Community post outlines the full details, including drop rates and percentages. Here's a quick recap of everything we know:
UI/ UX
A marker has been added to the map that allows players to check the flight path of the plane.

The path is visible from when players are at the waiting lobby up until the point when they fall down to their final drop destination.
Bug Fixes
There should no longer be excessive blood effects when you're getting shot in FPP mode or while aiming down sights.
Fixed issue that sometimes caused blood effects to not show up when shooting other players
Fixed an issue that was causing character silhouettes to remain visible while inside smoke
Switching weapons while prone should no longer cause certain animations to break.
Custom Game Real-Time Spectating
In the lobby's custom match list, you can select an ongoing game and watch it in real time.

Games that have the Public Spectating option set to "On" can be watched in Custom Match.

For private matches, you can spectate the game by entering a given password.
New Crates
One new paid crate and one new frying pan skin has been added.

For the purpose of security verification, Equinox crate x10, Weapon Skin Key x20, Early Bird Key x20, 100K BP will be distributed to all accounts. (Test server only)

The frying pan skin, "Target Practice," can be purchased separately as an individual item for 5,000 BP. It can be purchased only once per account.
New paid crate, Equinox Crate, will offer weapons skins. It can be earned with 25 percent chance as a Weekly Random Crate.

Equinox Crate can be opened with Weapon Skin Key, which can be purchased at the Steam store.
There is one bonus item. If you're really lucky, you can get that skin as a bonus on top of the crate's normal reward items.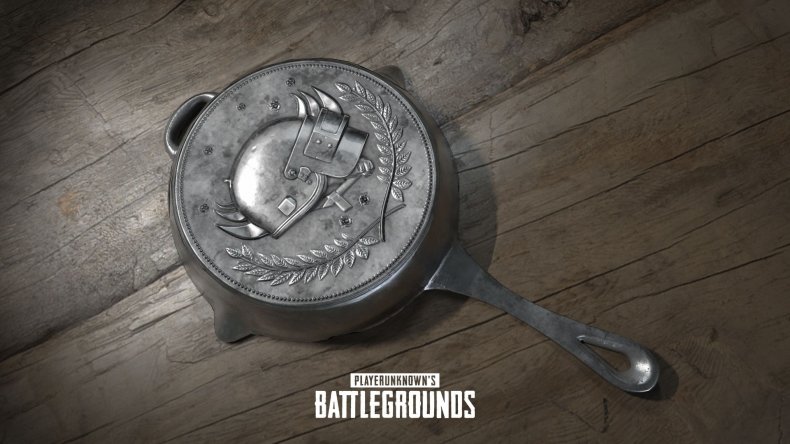 Equinox Crate Drop Rates
Desert Digital - Micro UZI: 20 percent
Desert Digital - Sawed-Off: 20 percent
Desert Digital - P18C: 20 percent
Desert Digital - Win94: 20 percent
Desert Digital - P92: 6.5 percent
Silver Plate -Tommy Gun: 6.5 percent
Silver Plate - UMP9: 3 percent
SilverPlate - S12K: 1.3 percent
Gold Plate - Groza: 1.3 percent
Gold Plate - AWM: 0.6 percent
Gold Plate - AKM: 0.32 percent
Shark Bite - M16A4: 0.32 percent
Shark Bite - Kar98k: 0.16 percent
Weekly Random Crate Drop Appearance Percentage
Equinox: 25 percent
Triumph: 15 percent
Raider 10 percent
Militia: 10 percent
Fever: 5 percent
Desperado: 5 percent
Biker: 10 percent
Wanderer: 10 percent
Survivor: 10 percent
Those are all the changes in PUBG's latest Test Server update, which is now live. Like most updates of this kind, changes applied on the Test Server will be deployed to a small number of community members before a formal release. If there's widespread negative reaction to a specific change in the update, as was the case with last week's zone changes, it's possible some items listed here may be rolled back for additional consideration.
Given that PUBG Corporation is currently focused on the second round of beta testing for its 4x4 Savage map, this particular Test Server update is a bit smaller than in the past. That being said, new chances for cosmetics are always a little exciting. Let's just hope you can score those Equinox skins without having to purchase them.
PlayerUnknown's Battlegrounds is available now on PC and in Game Preview on Xbox One. The content of Test Server updates is exclusive to PC.
What are your thoughts on PUBG's new Equinox crate? Are you glad the flight path is more visible than before? Tell us in the comments section!