'PUBG' Test Server Update 23 Adds Skorpion Gun & Conquest Mode - Patch Notes
PUBG Update 23 just deployed on Test Servers. The substantial patch features the Skorpion handgun, Conquest War Mode and plenty of bug fixes. Read the full patch notes below courtesy of a PUBG Corporation blog post.
PUBG Update 23 Patch Notes
New Weapon: Skorpion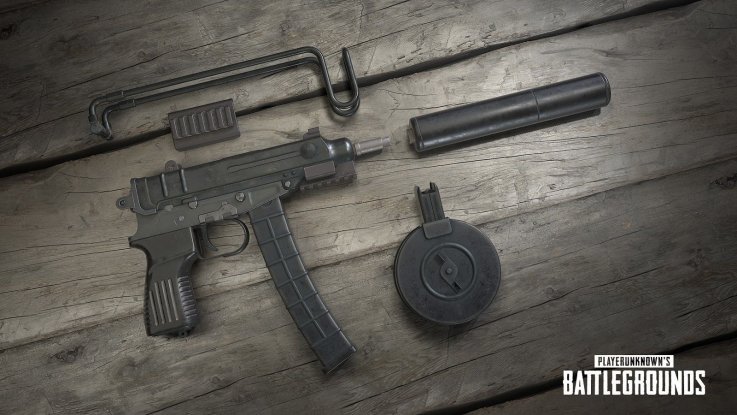 Added a new handgun, the Skorpion
The Skorpion spawns on all maps.
Single fire and full auto fire mode
Uses 9mm ammo, it can load up to 20 bullets and 40 with an Extended Magazine
Attachments:

Sight: Red dot sight
Muzzle: Suppressor
Lower Rail: Vertical Foregrip, Half Grip, Light Grip, Laser Sight
Stock: Stock for Micro UZI
Magazine: Extended Magazine only

Skorpion is also available in the Training mode.
Lobby Patch Notes
Added Patch Notes to the lobby. They can be viewed in a popup by clicking the Patch Notes icon in the top right.
Videos included in the patch notes cannot be played directly in the client.

When clicking on a video, an external browser will open to play the video.

Note: This feature will be applied once the update is moved to live servers.
Gameplay

Decreased recoil of the P18C.
We've toned down the opacity of the blue zone so that it less difficult to see through.

Thanks to all of our players for the feedback you provided regarding this. Please share your feedback with us once you've tested the changes.

Mitigated an issue where the blue zone's opacity difference was too strong depending on the map and weather type.
UI/UX
Added an on-screen dynamic key map guide which changes based on the gameplay situation.

Appears above the minimap.
Set to "On" by default, but can be switched off in Settings > Gameplay.

We've improved the control of wheel menu, making it easier for players to select items.
We've improved the Page Up/Page Down reticle changing functionality of red dot sight, holographic sight and 2x/3x scopes.

Selections are now on a loop, so players can press one button to cycle through the options.

The name of the player being watched while spectating teammates, in observer view, or killer spectating will now appear in the top left corner of the screen.
World
Made fixes and improvements to Training Mode
Optimized moving targets. Basic function is same as before but the appearance is slightly changed.
Limited the maximum spawns of water vehicles (boat, aqua rail) to two

This is a temporary solution due to a performance issue, we will implement additional improvements in the future.

Reduced visual flickering of thin objects such as electrical wires.
Performance
Improved performance by mitigating an issue causing thin objects to flicker.
Optimized particles in rainy weather.
Supply System
Survival XP can now be earned while observing teammates.
This grants 50 percent less XP than while alive.
Anti-Cheat / Report
Added the report player function to event mode games.
By pressing "R" key when spectating, you can report a player who previously killed you.

Players can report other players during a match by clicking the "Report" button on the death screen.
Up to eight recent players who killed you will be displayed as available to report.
When reporting a teammate who killed you, the option to report for team killing will be displayed.
You can only make one report per player, per game.
Skins & Items
Added multi-slot items as a new category.

These are single piece clothing items that require multiple slots to wear (Torso and Legs, for example).
If you try to wear a multi-slot item while wearing a single slot item in one of those slots, those items will be removed automatically.

Changed the reset time of the weekly random crate to Tuesday 8 p.m. EDT.
Custom Match
Added a new game mode, War Mode: Conquest

This game mode sets two Platoons (up to 50 vs. 50) against each other to capture and hold objectives within an area. Your Platoon earns points as you hold these objectives and the team with the highest score wins.
Multiple options, including capture area circle size can be adjusted in the match options.
Added a few War Mode: Conquest related presets.
A detailed guide for recommended custom match settings for this mode will be announced in a separate article at a later date.
Replays are not yet available for War Mode: Conquest matches. This functionality will be added in a future update.

Added the option to invite friends to a custom game
Added an option to adjust damage ratios (from zero to 500 percent) in custom game settings.

You can adjust the head, upper body, lower body, arm, or leg damage ratio from bullets and melee attacks.
You can also adjust the damage ratio from throwables.

Corrected issue with default configuration settings for killer spectating and red zone in Esports Mode.
Added "Camp Jackal" (Training Mode Map) as an available map for War Mode matches.
Bug Fixes
Fixed the issue where players could use weapons while swimming if they kept pushing the weapon equip button near rocks.
Fixed some exploitable spots which allowed players to enter inside cliff faces.
Fixed the issue where in FPP when character holding throwables or ready to throw throwables is moving facing the sky, his/her hand flickers and moves around.
Fixed an issue which caused the screen to shake excessively when spectating or viewing the death cam of an opponent who was firing a weapon.
Fixed the issue where when freefalling out of the plane and pressing particular movement keys, certain animations didn't play correctly.
Fixed the issue where the footstep sounds of players moving at low speed (walking when crouching) was not played to other players.
Fixed the issue where when click the "Play" button, game was frozen in the lobby.
Fixed the issue where world map and wheel menu could be opened at the same time.
Fixed the issue where a spot at the back of the truck and buggy would block bullets.
Fixed the issue where when plane flew around you, the sound of plane was not played.
Fixed an issue which caused waves to not be heard momentarily after unmuting the game sounds.
In terms of new content, PUBG Update 23 has plenty. The addition of a 50v50 Control-type mode in Conquest sounds like a lot of fun, and introducing a brand-new gun like the Skorpion always creates wrinkles that evolve the multiplayer meta. Few of the bug fixes listed above could be described as critical, but at least PUBG Corp remains committed to ironing out the kinks of its inconsistent experience.
On the gameplay side, making the Blue Zone less opaque is also a net positive, as it keeps PUBG's tactical leanings in tact. The newly redesigned zone definitely looked cooler than the previous one, but it was too easy to exploit as a means of easy kills. Taking down players in mid cycle is essential to the battle royale genre, but it's frustrating to have too many instances of being picked off while the circle closes in. PUBG Update 23 isn't a revolutionary one, but there's enough here to keep players coming back.
We should also note that, due to Wednesday's unexpected server downtime, players can claim a free Black Beanie with Headphones and 20,000 BP. Sign in by Oct. 23 to get your reward.
PUBG is available now on PC and Xbox One. Update 23 is exclusive to PC Test Servers and will likely be pushed to live sometime next week.
What do you think of PUBG Update 23 so far? Is the Skorpion your new favorite gun? Tell us in the comments section!
'PUBG' Test Server Update 23 Adds Skorpion Gun & Conquest Mode - Patch Notes | Tech & Science