'PUBG' Test Server Update 27 Adds MP5K, Loot & Flare Gun Changes - Patch Notes
PUBG update 27 has officially landed on PC Test Servers. It adds the MP5K SMG, Survivor Pass 3 content, Flare Gun tweaks and loot changes to Erangel. Read the full patch notes below courtesy of a PUBG Corp blog post.
New Weapon: MP5K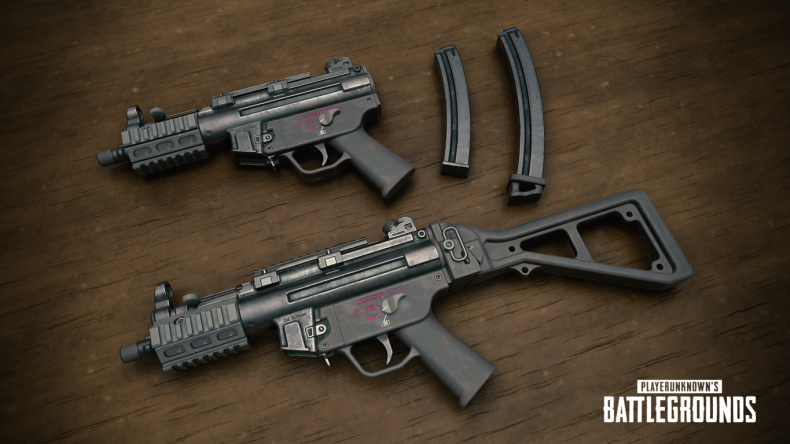 The MP5K is a brand new sub-machine gun chambered for 9mm ammunition. MP5K is exclusive to Vikendi and replaces the Vector on that map.
While the firing mechanics of the MP5K are similar to those of the Vector, it boasts a higher per bullet damage, but with a lower overall firing rate and DPS. This SMG also has a higher magazine capacity than the Vector, starting at 30 rounds by default with 40 rounds in an extended magazine.
Key characteristics of the MP5K:
High rate of fire at 900 RPM with reasonably easy to control recoil
Accommodates all attachment slots to allow for a tactical stock, different types of magazines, muzzles attachments, grips, the laser pointer and of course scopes
Base damage value of 33
Exclusive to Vikendi
Survivor Pass 3: Wild Card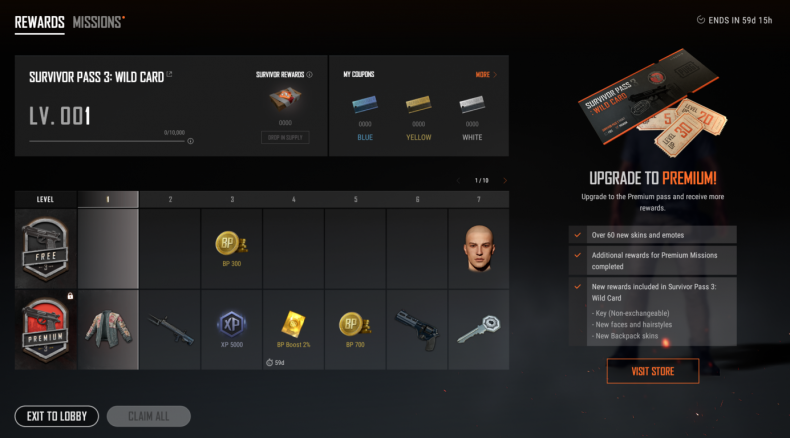 'Survivor Pass 3: Wild Card' will soon begin and includes over 60 rewards which can be obtained within the 10 week pass duration. The new pass will include improved missions which will test players skills, an in-game feature which will provide tracking of missions in real-time and even new background music and lobby.
Enjoy the new Survivor Pass 3: Wild Card!
Pass Period

Survivor Pass 3: Wild Card will run for 10 weeks from March 26 EDT to June 4 EDT

Improved Features

Mission status tracking is now displayed live in-game
Press P to view your current mission status (live update of data may have few seconds of delay)

New Missions

Daily Missions: These missions change daily, so ensure you complete each in time! You can swap out up to three missions per day
Weekly Missions: You will be able to play 10 new missions every week. You can swap up to five missions per week for new ones, and expired missions will disappear
Beginner Missions: Added 10 introductory missions that teach players about various in-game features
There are additional challenge missions to test your gunplay skills with the following weapons: Tommy Gun, Beryl M762, S686, UMP45, M16A4

Earn a weapon skin for each weapon's mission set you complete!

Rewards

Over 60 rewards total
New character face & hair items as free pass rewards
New backpack skins
Every level of the pass will grant a coupon which can be used in the coupon store to redeem items and random keys

Premium Pass and Level-up Items

Premium Pass: $9.99 (price may vary slightly depending on your region)

Players who purchase the Premium Pass will receive a free crate key for the East Erangel Police Crate

Level-up Items:

Five Levels $4.99, 20 Levels $17.99, 30 Level up item $24.99 (price mayvary slightly depending on your region)

Sales Period: March 26 10 p.m. EDT until live server maintenance on June 4

Other

Changing language is disabled while in-game to prevent a crash related to the live mission progress function
Survival Tile System Season 3
We have gathered valuable feedback from our players during Survival Title System Beta Season 2 and are launching Season 3 with some changes, including making it easier to gain points and granting coupons as you progress through the titles.
We will continue to iterate on and improve this system moving forward.
Rewards for Survival Title System Beta Season 2

Distribution of rewards for beta season 2 will be on March 26 PDT
Rewards will be distributed to players who have achieved higher than a Novice title
Rewards should not take more than a day to be fully distributed

If you have not received the reward after the announced date, please contact Customer Service

Any players who are found to have obtained a Survivor Title by violating operation policies may be subject to account restriction and/or removal of seasonal rewards

Survival Title System Season 3 Schedule

Preseason: March 19 – March 26 PDT
Start Date: March 26 PDT

Improved Survival Point (SP) Balance

We have rebalanced the rate in which you gain Survivor Points (SP) based on player feedback and it will now be easier to rank up, compared to Season 2
Survival Points (SP) earned during Beta Season 2 will be soft reset, meaning you don't have to start completely from scratch

New Rewards System

Every promotion to a new title will grant players yellow coupons which can be used to unlock items in the coupon store

These coupons can be used in conjunction with coupons received from Survivor Pass 3: Wild Card

Use the Title reward button to claim rewards

Additional Changes

You can view the rewards for each Title on the Season page
Stats will be updated and reflected after a match has ended, not immediately when you die or exit the match early
Survivor Title rank icons have been changed to roman numerals (V, IV, III, II, I)
Gameplay
Weapon Balance
M16A4

When firing using burst mode, the initial recoil has been decreased
Increased the range before damage fall-off occurs

This will help increase M16A4 efficiency when fighting over long distances

Canted Sights and the Tactical Stock can now be attached to the M16A4
The Tactical Stock will decrease recoil recovery time, animation kick and weapon sway, while also improving ADS speed and hipfire accuracy

Vector

Vector has been rechambered to use 9mm ammo
Magazine capacity has been increased to 19 bullets by default and 33 with an extended mag (was 13/25)
Damage decreased from 34 to 31 due to above changes

UMP45

The UMP9 has been rechambered to use 45ACP ammo and is now called the UMP45.
Magazine capacity has been adjusted to 25 bullets by default and 35 with an extended mag (was 30/40)
Gunshot sounds have been changed to be more realistic

MK47 Mutant

Tactical Stock can now be attached to the MK47 Mutant
The Tactical Stock will decrease recoil recovery time, animation kick and weapon sway, while also improving ADS speed and hipfire accuracy

Attachments Balance Modification

SMG and Pistol attachments have been combined and can now be used on both weapon types
Bullets Loops for Shotguns, Win94 and Kar98k have been combined into one item called Ammo Loops
Holo Sights can now attach to pistols

When equipped to Pistols, the size of the sight will be reduced to fit more appropriately

Hit Area Damage Multiplier Changes

Increased SR body shot damage from 110 percent of base damage to 150 percent
Increased SMG limb shot damage from 120 percent of base damage to 125 percent

Gameplay Balance

Decreased the overall aim punch (aim sway) applied when being shot by an enemy
First aid kits will no-longer heal instantly after use timer and will instead restore health over a 2 second period
Vehicles now block players from receiving grenade damage with a similar mechanism used for other objects. Although, depending on grenade position and trajectory, damage can still be dealt to players hiding behind vehicles.
Item Spawn Balance Modification
Erangel Loot Changes
The overall item spawn rates on Erangel have been increased. Additionally, we've increased the spawn rate of some major weapon classes. Please jump in and try the changes and let us know your feedback!
Increased spawn rate of AR, DMR, LMG and SMGs
This will improve the item pickup rate of sought-after weapons

Total combined increase of around 41 percent
Due to item changes this patch, including merging some attachments together, there is naturally a gap left in spawns which needs to be filled with other items. Because of this, we have increased the spawn rate of other items evenly. This will also result in a small increase in spawns of high priority items such as ARs, meds etc.
This also means the overall loot for other maps has also increased slightly, although no changes have been made to individual item spawn ratios on other maps.
Flare Gun Balance
We have reviewed lots of player feedback on the Flare Gun since it's release and are making the following changes:
UI/UX
Many players felt the icons and on-screen message related to Flare Guns did not match the style of PUBG as a realistic Battle Royale experience. We agree and have removed them

Removed the Flare Gun icon from the world map and mini-map
Removed the on-screen message indicating incoming special care packages
Sound Adjustments
As a result of adding Flare Guns, there were many more planes flying by regularly which led to much frustration from players due to both the volume and frequency. So, we've made the following changes

Altitude of the plane delivering Flare Gun special care packages is now set to 500m (raised from 350m)
Subsequently, the audible volume of the planes will now be lower
Adjusted Loot Balance
Reduced Flare Gun Spawn Rate to an average of three Flare Guns per game for all maps

We want the Flare Gun to be a rare item with great benefits, but at a high risk
Reduced the Care Package contents from two sets to one set in squad mode, which is the same as solo/duo mode
Reduced total Flare Gun care packages available to be called in per game

Now only two sets of special care packages and two armored UAZ can be called in per game total, down from three
Movement Rustling Sound
Weapons

Separate rustle sounds now play when equipping weapons in your hands vs holstering on your back
Identical rustling sound will be played regardless of weapon type
With the exception of Pistols, melee weapons and throwables which do not make rustling sounds

Sound level balance

Rustling sounds of backpacks, costumes, weapons are all identical in both volume and audible distance

Even though the audible range of Cloth is same with others, players can feel it sounds with shorter audible range than bag/weapons since cloth sounds are covered up by other sound effects

Audible distance and volume of the rustling sound changes dynamically based on the characters movement speed

The faster you move, the louder the noise, which can then be heard from further away

The audible range of the rustling sound is lower than footsteps
World
To celebrate FACEIT Global Summit: PUBG Classic in London this April, we've added FACEIT Global Summit advertisements to Sanhok and Vikendi.
On Vikendi look out for the big billboard in Volnova!
On Sanhok you can find some posters hanging up around Ha Tinh, Paradise Resort, Pai Nan and Boot Camp
UI/UX
UI Overhaul of PC Settings Menu
Improved the overall system menu design including, settings, team management screen and more.
Added explanations for each option in the settings
Added preview images for each graphical option in the settings
Added individual teammate volume adjust to the team management screen
Added the Key Guide screen to the menu, showing the main keys used in-game
Store Improvement
Improved the position of the character and weapon axis

This will make items and characters look more natural when previewing them

Modified weapon sizes to be similar in the preview, regardless of the actual weapon size to improve visibility
Hid 'View Detail' button when viewing non-weapon items
Hid 'View Detail' button when viewing non-weapon items
The message 'Playing' is shown to players who are playing in your 'Friends' and 'Recent' lists
If you search for players through the Search tab, players will be shown as 'Playing'
Rich Presence Integration
eSports Mode is now correctly displayed as Esports Mode (Esports Ready)
Crosshair UI Improvement for Canted Sight and Scopes
Added a new crosshair when using the Canted Sight to help players easily identify which scope they have equipped
When using your main scope, you will see the standard crosshair, with an X shaped crosshair when using the Canted Sight
Replays
The replay version has been updated and replays recorded prior to Update #27 will no longer be playable
Revised to include game audio only when exporting movies from Replay Editor
Added Highlight Replay features

Added a feature that allows players to watch multiple highlights by pressing the H key when spectating a specific player during a replay
Highlights of the selected players are generated as followed:

When the player kills or gets a knockdown on another player
When the player is killed
When the player escapes the blue zone with less than five HP
When the player wins a chicken dinner
Performance
Optimized the Network Debug Statistics UI rendering logic to slightly improve FPS
Optimized replay recording logic to slightly improve FPS during gameplay
Skins & Items
A PUBG 2nd Anniversary Cap is now available for free!

Players can redeem the cap on the featured and items page of the store
This item will be available from March 26 PDT on the live server

Availability period: March 26 PDT – April 23 PDT before the live server maintenance

Item sales for the following items will end on March 26 PDT:

Bizon Guerrilla Skin
Chinese Streamer Skins
East Erangel Police Crates

Moved to the pool of random crates
Custom Match
Removed default (preset) of the feature where players can save location in observing system

Removed default location that players could move when using Ctrl + Num button

Maintained the feature to save certain location
How to use: Save from the desired location by pressing Ctrl + Num button in FreeCam view

Changed options in Custom Match based on the 'Gameplay' changes above

Merged attachments for pistols and SMGs into one category
Merged bullet loops for Kar98K and Shotguns
Changed UMP9 to UMP45
Changed Tactical stock option from M416, Vector to SMGs, ARs
Added new weapon MP5K
Localization
Bug Fixes
World
Fixed an issue where incorrect footstep sounds were made when moving on steel floors
Fixed an issue where players could become stuck in a wall when vaulting on top of an object in a specific building on Sanhok
General
Fixed an issue where players were able to see past walls by abusing the emote mechanism
Fixed an issue where players were able to open or close doors, despite a vehicle blocking it
Fixed an issue where players were briefly able to see through a thin wall when leaning against it
Fixed an issue where when a player was damaged by two Molotov Cocktails, the player who threw the first will be credited with the kill.
Fixed an issue where the smoke coming from a grenade explosion outlines players inside the smoke grenade
Fixed an issue where players are unable to lean while standing on a crossbow
Fixed an issue where players with poor network connectivity take no damage when exiting moving vehicles
Fixed an issue which could cause your gun to reset to single fire mode, despite having the default set as full-auto.
Fixed an issue where characters hands move abnormally when switching firing mode on the Bizon
Fixed an issue where the Inventory UI displays incorrectly when equipping certain attachments on the QBZ
Fixed an issue where a specific object prevents Care Packages from landing on the ground
Fixed an issue where players are unable to be revived after the game client is forcibly closed or has crashed
Fixed an issue where certain object appear in different locations to other players
Fixed an issue which caused heavy FPS drops momentarily using hotkeys to mute or change audio channels.
Fixed an issue where automatic mini-map zoom wasn't being activated while inside the plane or parachuting
Fixed an issue which could allow players to wear items which they'd previously exchanged for BP.
Fixed an issue where using Page Up or Page Down while observing would sometimes only cycle between two players
Fixed an issue where gun recoil could appear abnormal when observing a player shooting in ADS
Fixed an issue where video length sliders in the Replay Editor were difficult to see
Fixed an issue where the join between the character mode's neck and body was visible
Fixed an issue where an abnormal line can be seen coming from the head of players with a specific appearance in Zombie Mode
As far as main features are concerned, the big ones include the Erangel loot changes, Flare Gun spawn adjustments and the addition of the MP5K SMG. Overall, what we're getting in Update 27 is a drastic uptick in the amount of valuable loot players will can find on the game's most beloved map. While action inside Erangel has felt a bit slow over the past few months compared to Vikendi and Sanhok, this change should help matches crescendo much quicker than before. The Flare Gun, on the other hand, has become far too common of an item and has now been classified as a rare pickup.
As far as smaller changes are concerned, there are a few tweaks here that many fans are talking about. The buff to the M16, for example, has been long overdue. With the new adjustments, recoil and damage fall off have drastically decreased. Also tied to weapons, the fact that SMG and pistol attachments are now shared is a pretty big deal. In the same vein as Erangel's loot changes, the update consolidates the loot pool to make PUBG's gameplay a bit simpler and more exciting. PUBG update 27 is very much a fan-first patch. As long as the implementation is bug-free, it's something most players should be happy with.
PUBG is available now on PC, Xbox One and PS4. Update 27 should migrate to PC live servers sometime next week.
What are your thoughts on PUBG update 27 and Erangel's loot changes? Are you happy that Flare Gun spawns have changed? Tell us in the comments section!