'PUBG' Twitch Rivals Tournament Results - Who Won in Duos Matchup?
PUBG streamers from Europe and North America joined forces last night to earn their share of a $160,000 prize pool. In celebration of the launch of the new Sanhok map, Duos played seven matches over a four-hour event. Twitch has been weirdly silent about advertising the winners, but we've got the results you're looking for.
Watch Twitch Rivals - PUBG - North America ft. Shroud, DrDisRespect, Deadmau5, & AnneMunition from TwitchRivals on www.twitch.tv
Here are the main standings you should know for North America.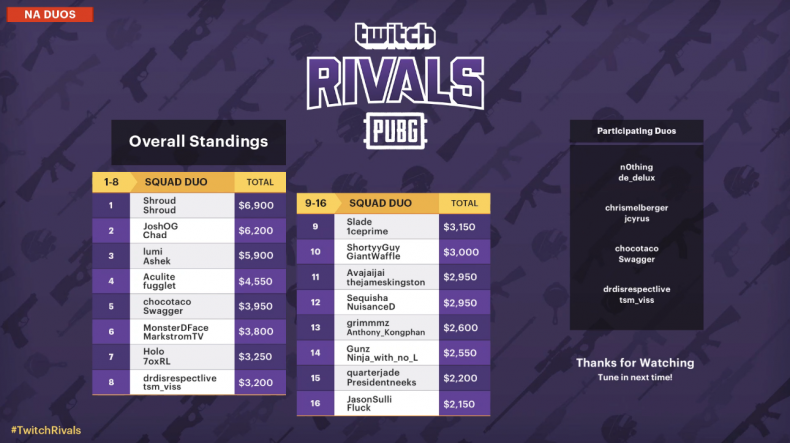 Shroud/Just9n: $6,900
JoshOG/ Chad: $6,200
lumi /Ashek: $5,900
Acculite/fugglet: $4,550
chocotaco/Swagger: $3,950
MonsterDFace/MarkstromTV: $3,800
Holo/7oxRL: $3,250
drdisrespectlive/tsm_viss: $3,200
Slade/1ceprime: $3,150
ShortyGuy/GiantWaffle: $3,000
Avajaijai/thejameskingston: $2,950
Sequisha/NuisanceD: $2,950
grimmmz/Anthony_Kongphan: $2,600
Gunz/Ninja_with_no_L: $2,550
quarterjade/Presidentneeks
JasonSculli/Fluck: $2,150
Players were awarded a maximum of $2,000 for a first-place finish with a cap of $80,000 per region. For those who'd like to see how each individual match panned out, we have those standings too.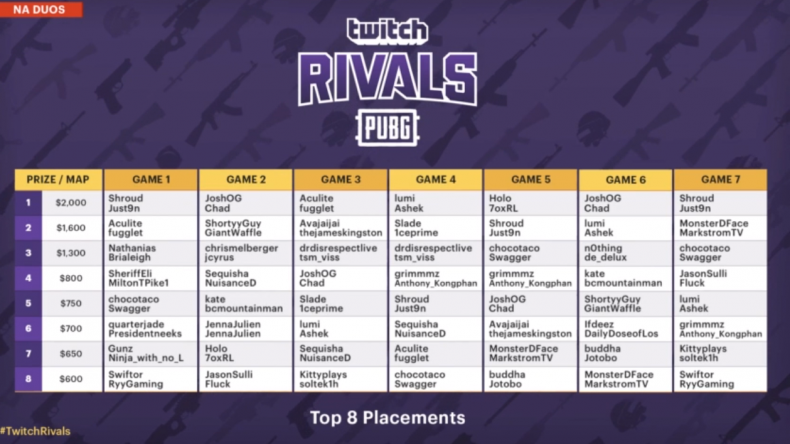 As the top results would indicate, team Shroud and team JoshOG more or less dominated the night with two first-place finishes. Honorable mention also goes to Acculite and fugglet as well, who were perhaps the most consistent top finishers of the bout.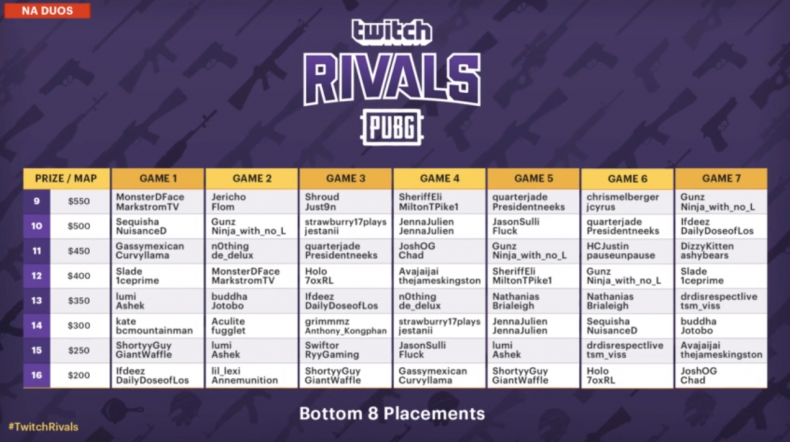 The tournament built up to a bizarre conclusion with Shroud and chocotaco held up in a hut to begin their epic final battle. Shroud tossed smoke grenades to set up his attack, only to find a naked troll player and choco swinging a pan. Shroud apparently didn't get the signal that choco wanted to end the match with a pan duel, so he easily shot his foe and claimed victory. The lack of challenge sort of invalidates all the tactical gameplay that came before it, but the miscommunication made for a surprising finish.
While the action itself was fun to watch, this most recent Twitch Rivals tournament is somewhat emblematic of PUBG's larger struggle to legitimize itself within the esports community. PUBG's action is tense enough to draw an audience, but issues with stream snipers and trolls were common enough that it detracted from the competition. It's even more troubling when Twitch itself does little to advertise the event or its stream while it's underway.
Luckily, however, the archive is embedded above for those who'd like to see it unfold. Twitch Rivals has never been perfect in terms of its organization, but it's always a blast to watch the best content creators give it their all.
PUBG is available now on PC and in Game Preview on Xbox One.
What's your take on the most recent PUBG Twitch Rivals tournament? Are you happy with the results? Tell us in the comments section!