'PUBG' Update 1.64 Fixes Loot and Skins on PS4 and Xbox—Patch Notes
PUBG update 1.64 has officially landed on consoles, but it doesn't add much to the existing PUBG 10.3 content base that debuted on Sony and Microsoft's platforms in late February. Those who were having issues with looting or skin clipping will likely appreciate this list of changes, however. Read the full patch notes below courtesy of an update to the original 10.3 update blog post.
PUBG Console update 1.64 patch notes (PS4 and Xbox One)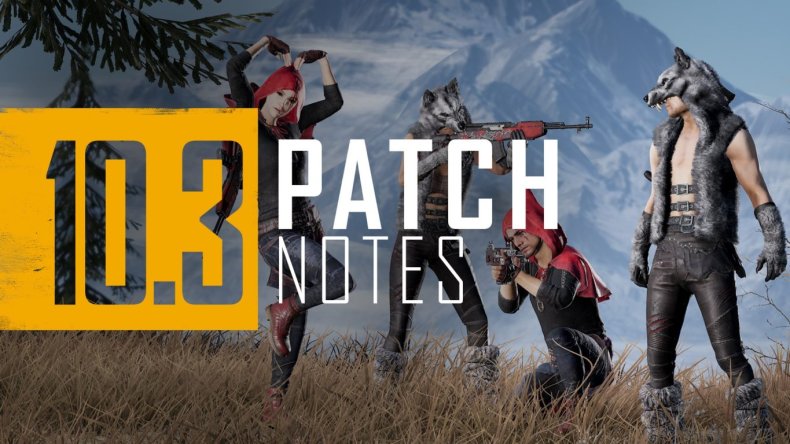 Bug Fixes
Fixed the issue where items weren't spawning inside warehouses in Ha Tinh
Fixed an issue that prevented the customization filter for Rony skins from working correctly.
Fixed a visual issue when previewing parachute items
Fixed an issue when previewing the PGI.S Colorshift Pan
Fixed an issue related to observing with x-ray enabled while viewing players inside vehicles
Fixed an issue causing clipping with female character models and the Faceless Freak Mask
Updates
New PGI.S lobby BGM has been updated.
4th Anniversary Graffiti Contest winners designs were added to Erangel, Miramar and Vikendi.
Transparency of the inventory UI has been increased.
New Skin Items Release
March Mayhem(six Set items, three Gear skins, one Vehicle skin)

Sales period:25 March 2021 14:00 KST ~30 July 2021 14:00 KST

Date Night Deals(four Set items, four Weapon skins, two Emotes)

Sales period:18 March 2021 14:00 KST ~20 May 2021 14:00KST

No Strings Attached(three Set items, three Weapon skins, two Vehicle skins, two Emotes)

Sales period:31 March 2021 14:00 KST ~12 May 2021 14:00 KST

Emotes Sales Period

Sales period:31 March 2021 14:00 KST ~30 March 2022 14:00 KST

LEENALCHI x JINJO CREW Emote

Sales period:18 March 2021 14:00 KST ~17 June 2021 14:00 KST

WHAT BIG GUNS YOU HAVE! Emote sales extension

Victory Dance 41, Victory Dance 42

Sales period:23 February 2021 14:00 KST ~22 February 2022 14:00 KST
In other words, instead of adding major features to the game, this latest PUBG download mostly amounts to a large hotfix. From a gameplay perspective the biggest change comes to Sanhok, as that map's loot spread is finally where it used to be. Those containers in the center of the Ha Tinh point of interest were an integral part of its loot pool, and that gameplay aspect has now been restored. Beyond that, if you were having issues with cosmetic previews or glitches when equipping certain skins, that's largely what this new patch sets out to address. There are a few new bundles to be purchased as well, but we imagine the vast majority of players will avoid those at all costs.
This new, minor update arrives as players lie in wait for Season 11 content that leaks suggest is expected to debut sometime next month. All that's been teased about the upcoming Survivor Pass is that it intends to offer players "new story content" to further ground them in the PUBG universe. Especially given Fortnite's recent Marvel-inspired story cinematic that kicked off that game's sixth Battle Pass season earlier this week, PUBG Corp has just been served a tall order if it intends to expand the lore of its own battle royale. For now, however, update 1.64 adds a thin layer of polish before that major update deploys.
PUBG is available now on PC, Xbox One and PS4. The aforementioned update is exclusive to Xbox One and PS4.
What are your thoughts on this new update for the console version of PUBG? What do you expect to see during Season 11? Tell us in the comments section!