PUBG 's 1.0 update has released on Xbox One, and it features the game's first-ever Sanhok Event Pass. In addition to the game's $29 starting price, the Event Pass offers opportunities to unlock free and paid cosmetics through Oct. 4 at 8 p.m. EDT.
What is the 'PUBG' Event Pass?
The PUBG Event Pass is very similar to Fortnite's Battle Pass. It's a way to directly unlock cosmetics by completing special gameplay-related challenges. All players have access to the free tier of the Event Pass, but a $9.99 (or 1,000 G-Coin) Premium tier offers the most enticing rewards.
Those who decide to purchase the premium pass retroactively unlock any rewards earned prior to their purchase of the pass. Unlike the PC Event Pass, none of the console cosmetics have timed use periods.
'PUBG' Xbox Event Pass Rewards
Here's a list of all the premium rewards players will be able to unlock via the Sanhok Event Pass. The number corresponds to the required level.
400 XP
Temporary five percent BP boost
500 BP
Jailbird t-shirt
Escapee Pants
200 XP
Escapee Shoes
BP boost
Silver Plate Mini14 Skin
700 BP
Beach Shorts
200 XP
Jailbird Joggers
Temporary BP boost
Escapee Jacket
500 BP
Guard Pants
700 BP
Guard Cap
200 XP
Gold Plate P92 Skin
Guard Jacket
Rash Vest
Rose-tinted Glasses
BP Boost
Beach Shirt (Coral
2,000 BP
Twisty Top (Beige)
Guard Shirt
Paradise Bottom
You can see images of the free and paid rewards below.
Levels one-10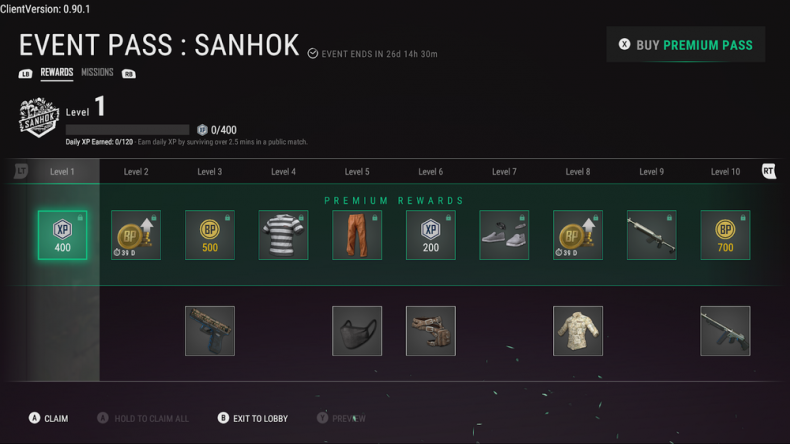 Levels 11-20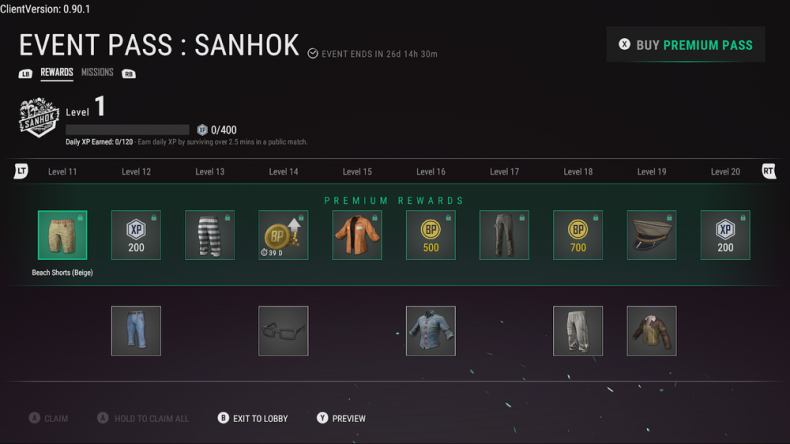 Levels 21-30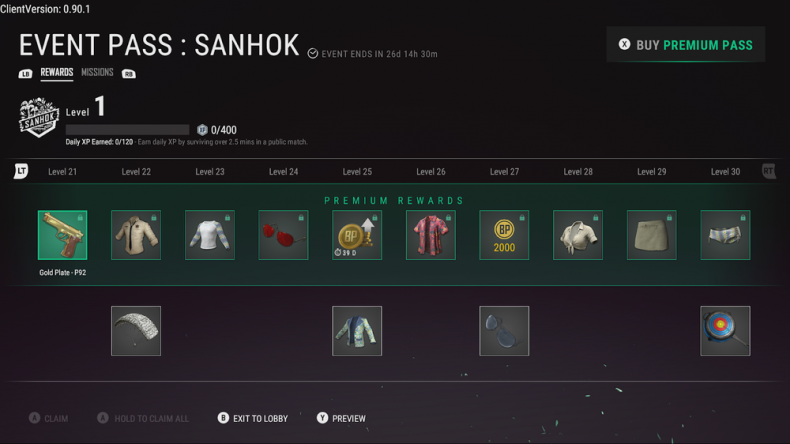 'PUBG' Event Pass Challenges
Here's a list of Event Pass Challenges PUBG players can complete to unlock the above-listed cosmetics.
Daily: Earn 120 XP by completing these challenges and surviving at least 2.5 minutes in a single match.
Play for one hour on Sanhok
Drive for at least one minute in a single game
Reach top five in Squads
Normal
Deal 500 damage and kill at least one player in a single game
Travel 100 km in vehicles
Play 30 games on Erangel pr Miramar
Kill 100 players
Week 1 Sanhok Challenges
Kill 10 players
Drive 10km in any vehicle
Kill three players using handguns
Travel 50km by any means
Pop 20 tires
Reach top five five times
Kill multi-stage challenge
That's everything you can get in PUBG's Sanhok Event Pass. For more on PUBG's 1.0 release, check out the full patch notes for the update.
PUBG is available now on PC and Xbox One.
What are your thoughts on PUBG's Xbox Event Pass for Sanhok? Will you be paying $9.99 for the premium skins? Tell us in the comments section!