'PUBG' Xbox Test Server Week 4 Update Live - Patch Notes, Dates & Times
PUBG 's Miramar Test Server has gone live for the last time, and we've got the dates, times and patch notes you should be aware of for the final test period. The details arrive via an official forum post, and we've summarized them below.
WHEN DOES 'PUBG'S MIRAMAR TEST SERVER START AND END?
Here are the dates and times for the fourth and final iteration of the Miramar Test Server.
Started : May 18 at 11 a.m. EDT
Ends : May 24 until Miramar migrates to live servers. The Test Server will even be active during downtime. An exact release time for the live update is not yet known, however.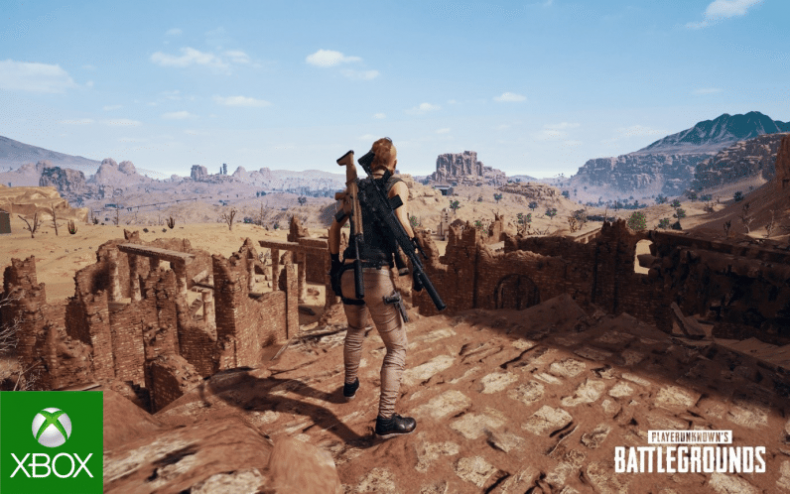 HOW DO I GET 'PUBG'S MIRAMAR TEST SERVER & WHAT CAN I PLAY?
To take one last crack at the PUBG Test Server on Xbox, simply search for "PUBG Test Server" in the Microsoft Store. Anyone with access to the Game Preview version of PUBG can download the latest version of the Test Server for free.
Once you've got the latest build, Solos, Duos and Squads will be available across Miramar and Erangel.
WHAT ARE THE PATCH NOTES FOR THE LATEST XBOX TEST SERVER?
You'll find the changes listed below.
Optimization / Stabilization
We have modified world loading processes, allowing buildings and their interiors to load simultaneously and reducing the overall rendering time.

Miramar requires additional work to bring it to the same level of optimisation as Erangel.

Optimized shadow in certain situations to reduce crashes
Settings
Option of turning off Aim Acceleration has been separated, and the slider that sets the acceleration degree has been changed from 0~10 to 1~10.
Settings tab order has been changed
Name and description of "Control Setting" has been modified
Slider range of the "Vertical Sensitivity Multiplier" has been adjusted to 50 percent–150 percent.
World
Vehicle and weapon spawns have been increased on Miramar.
Bugfixes
Fixed bug where vertical movement speed wasn't representative of settings chosen
Fixed an issue where inverted control settings were being applied to the emote UI
Fixed a problem that sometimes messed up movement while aiming down sights in third person perspective (it was happening when aim acceleration was turned off).
You can now freelook while automatically swimming forward in water.
Fixed an issue preventing some teammates' map markers from showing on the compass
Sights should no longer become blocked while in ADS position after attaching high-magnification scopes.
Fixed a problem preventing weapon display UI colorblind mode from being applied properly
Fixed the description of the "Auto Swim" button in the gamepad guide
Fixed some problems preventing interacting pop-ups from functioning properly in certain situations

The in-game UI was sometimes failing to update when reloading a firearm to indicate freed up inventory space.
The interaction key sometimes failed to show when certain actions were performed in front of a door.

Emotes can no longer be used while preparing to throw grenades.
Fixed the problem causing over-the-shoulder views to sometimes lock up when opening the emotes UI
Fixed the problem wherein turning off BGM in the lobby setting window didn't work
Fixed the problem preventing players from changing seats in vehicles
The emotes UI no longer improperly displays on the victory screen
Improved situations where other player's motorcycle will look as if it was going under the terrain while driving
None of these changes offer a significant improvement over Miramar's performance in previous weeks, but, considering it's the final version of the Test Server, that's probably a good thing. Most of the tweaks listed here are small improvements to iron out uncommon complaints. While aiming continues to be a sore spot for Xbox players, the slight changes to menu organization might make the console experience a bit better than before.
Those who find a critical bug should know the Bug Bounty contest has officially ended, but there's still a reddit thread for players to leave feedback for developers. When the final version of Miramar goes live on May 24, it will likely be very similar to this one.
What are your thoughts on the final Miramar Test Server for Xbox? Will PUBG's desert map be well received on console? Tell us in the comments section!