"Public Deserves to Know" if NRA is Violating Charitable Purpose: House Democrat Wants Documents from NRA
Congressman Brad Schneider sent a letter to National Rifle Association (NRA) CEO Wayne LaPierre on Wednesday requesting that the head of the gun rights group release a trove of information related to the NRA's numerous internal struggles that, in recent weeks, have seen the ouster of its top lobbyist and the departure of its longtime PR firm.
"I am requesting the National Rifle Association of America make public documents that can help determine if wrongdoing by the NRA has occurred and whether these activities warrant reconsideration of the NRA's tax-exempt status," Schneider wrote. "The American public deserves to know whether your tax-exempt organization is operating according to its intended social welfare purpose."
The letter enumerated eight different areas where the NRA might have documents related to its ongoing financial and governance scandals, including the resignation of former NRA president Oliver North, audits of its relationship with ad firm Ackerman McQueen, oversight of potential conflicts of interest and infusions of cash from its sister foundation.
Schneider, a Democrat, is a member of the House Ways and Means Committee, the chief tax-writing committee in the lower chamber which also has oversight over the non-profit sector. His office told Newsweek that this apparent probe into the NRA's tax-exempt status was being conducted in his individual capacity and not on behalf of official committee business. The letter requested that LaPierre provide any relevant documentation by July 9, though it is unclear if LaPierre will comply.
In May, Schneider sent a letter to Internal Revenue Service Commissioner Charles Rettig requesting that the IRS open a probe into the NRA's finances after an initial wave of allegations had emerged. Newsweek then spoke with many of Schneider's colleagues on the committee who amplified his call for the IRS to begin an investigation into the NRA's tax-exempt status.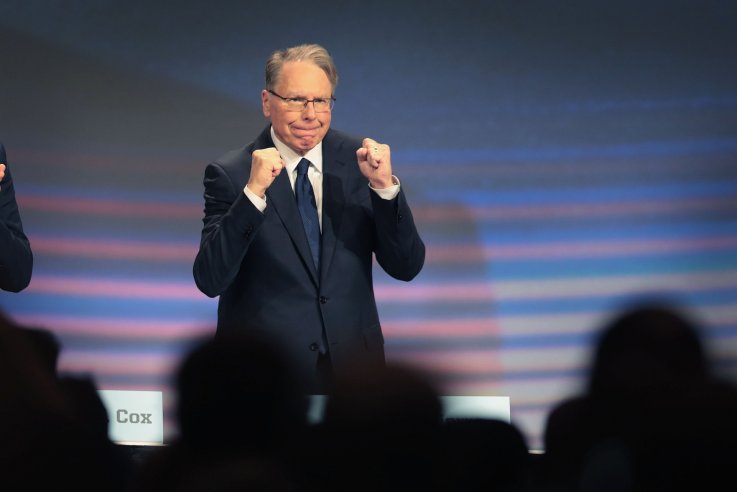 On Wednesday, the same day Schneider sent his letter to LaPierre, Chris Cox — the NRA's number-two official and chief lobbyist — resigned after being put on leave the prior week. Cox had been accused of helping North to foment a coup against LaPierre earlier this year.
North, while serving as NRA president, was also on Ackerman's payroll, an arrangement experts have said is unusual and raised conflict-of-interest questions. Since their falling out, Ackerman and the NRA have exchanged a flurry of lawsuits, alternately accusing each other of working to undermine their relationship. The NRA is reportedly shopping around for a new PR firm while working to extricate itself from its contract with Ackerman, who in turn is trying to prevent the NRA from abandoning its lucrative obligations under their contract.
An April investigation from The New Yorker was among the first to unearth numerous allegations of financial misdeeds, including uncontrolled spending, self-dealing and lax budgetary oversight. The group was revealed to have spent 12 percent of its total expenses in 2017 on ad-related services.
Schneider's letter references a recent investigation from The Washington Post which found that the companies of NRA board members were being chosen as contractors, something Schneider suggested could violate federal tax law and jeopardize the group's tax-exempt status.
"Public Deserves to Know" if NRA is Violating Charitable Purpose: House Democrat Wants Documents from NRA | Politics