Public Figures React to Charlie Hebdo's Muhammed Cover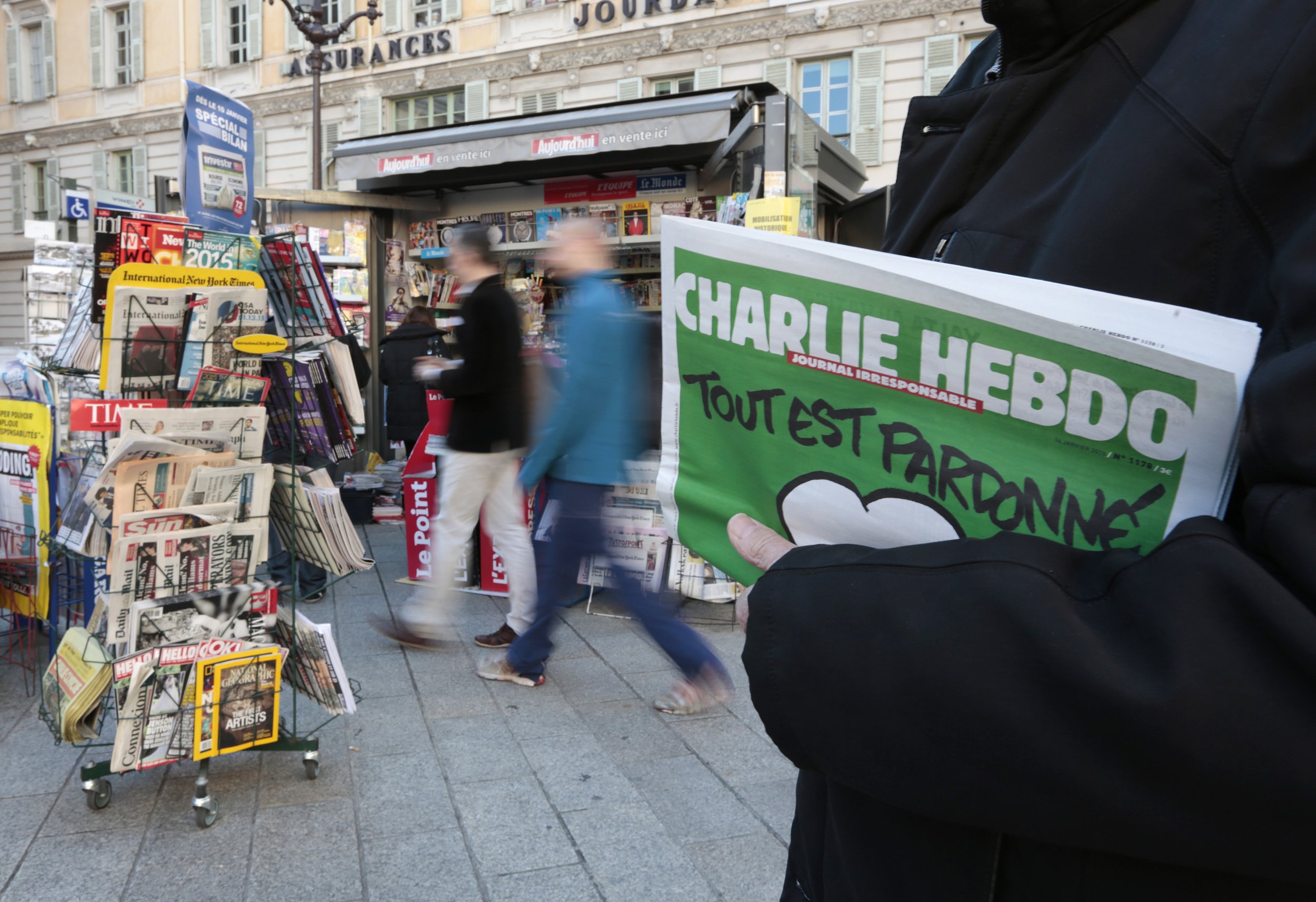 The first edition of Charlie Hebdo to be published since gunmen attacked the satirical magazine's headquarters was published on Wednesday, produced by the surviving cartoonists and contributors, and it was as controversial as ever.
The cover of the new edition, which sold out within minutes in French shops this morning, depicts the Prophet Muhammad, a tear running down his cheek, holding a sign saying "Je Suis Charlie" ("I am Charlie") below the headline "Tout est Pardonne" ("All is forgiven").
The divisive nature of the magazine has left to a mixed response from public figures, which are listed below:
Surviving columnist at Charlie Hebdo, Zineb El Rhazoui:
"We don't feel any hate to them [the terrorists]. We know that the struggle is not with them as people, but the struggle is with an ideology. We feel that we have to forgive what happened. I think those who have been killed, if they would have been able to have a coffee today with the terrorists and just talk to ask them why have they done this … We feel at the Charlie Hebdo team that we need to forgive."
Iran's foreign ministry spokeswoman:
"[The cartoon] provokes the sentiments of Muslims the world over."
British prime minister, David Cameron:
"When your freedom of expression is attacked in this way, I don't think it's surprising people want to stand up and fight for the freedom of expression they believe in. I think it's right we all hold that view. Even if there are people – and there will be many Muslims who are offended by a depiction of the prophet – being offended by something is not a justification for violence.
I am a Christian. I obviously do not like seeing the religious things I hold dear mocked in an unpleasant way. But, in a free country, if people want to attack my religion and my beliefs, you accept that because it's part of living in a free country. I think we are at risk because there are a group of people who believe in this fanatical death cult of Islamist extremism. You can't appease them; they hate our democracy, our freedom, our freedom of expression, our way of life. It would be wrong to think there are a set of behaviours we could adopt to make us safer."
Egypt's Grand Mufti:
"This edition will cause a new wave of hatred in French and Western society in general and what the magazine is doing does not serve coexistence or a dialogue between civilisations."
Former French prime minister, François Fillon:
"I have always defended Charlie Hebdo. There can be no debate on freedom of expression, never."
Radical cleric, Anjem Choudary:
"Ridiculing Mohammed is attacking his personality. It's not just a cartoon, it's insulting, it's ridiculing, it's provoking. And I'm sure there's someone somewhere who will take the law into his own hands. It's inevitable.There will be repercussions. I think there will be someone somewhere who will retaliate."
Turkey's Deputy prime minister, Yalcin Akdogan:
"Those who are publishing figures referring to our supreme Prophet are those who disregard the sacred. [Such a move is] open sedition and provocation".
Mayor of London, Boris Johnson:
"You cannot have a march through the streets of Paris attended by 46 world leaders, 4 million people, climaxing with a shout of 'We are not afraid' and then not print the central object of contention. Of course they are right to do that and I am afraid it is absolutely vital now that everybody stands up and defends their right to publish. You may not agree with what they have done, you may be offended by what they have done, but you should defend their right to publish it.
Head of a Parisian mosque, Hammad Hammami:
"We don't want to throw oil on the fire. We consider these caricatures to be acceptable. They are not degrading for the prophet."
The Muslim Council of Britain
"Following the shocking murders in Paris, condemned by Muslims all over the world, and subsequent moves to depict the Prophet Muhammad ﷺ once again, Imams from the UK and abroad have come together to issue the following advice to those concerned about the depiction.
Most Muslims will inevitably be hurt, offended and upset by the republication of the cartoons. But our reaction must be a reflection of the teachings of the gentle and merciful character of the Prophet (peace be upon him). Enduring patience, tolerance, gentleness and mercy as was the character of our beloved Prophet (peace and blessings be upon him) is the best and immediate way to respond. We urge governments, civil society and our media to foster a culture of mutual respect and unity, not one of division and disdain."
Director of Faith Matters, Fiyaz Mughal:
"The protection of free speech is fundamental to liberal democratic societies. It is a cornerstone of it, though we need to be mindful that freedom of speech is framed within civil and criminal laws such as libel or hate speech.
Editors have always had the chance to print or nor print and that choice should be maintained. Within this debate, it should be noted that many within Muslim communities will take deep offence to the cartoons since by enlarge Prophet Muhammad has not been depicted and they will see it as a way of humiliating their beliefs.
No doubt, extremists can also use this grievance and already ISIS accounts and others have pushed out the narrative that Muslims will not fully be accepted into Europe and cite the Charlie Hebdo cartoons as an example, of how according to them, Muslims are humiliated. So, there are real risks here in the way that deep insult can turn into a further sense of isolationism and even potential support for more extreme narratives."
The Muslim Association of Britain:
"Muslims should react in the same way our prophet - with calmness, grace and the best of manners. We shouldn't stay silent, but we should still be decent and peaceful because we do not want to fuel the flames.The attacks last week were carried out by perpetrators claiming an Islam that I do not recognize, nor do hundreds of thousands of Muslims. That is why it is so disappointing and insensitive that they have gone and published this. We stood behind the magazine, we came out in our thousands at the March on Sunday. I am appalled."