Public Health School Deans Urge Trump to Triple Coronavirus Testing or Face Cycles of Shut Down
Four public health school deans called on the Trump administration Thursday to require businesses to create more coronavirus tests by using the Defense Production Act.
Testing capacity for the coronavirus has been called a priority for reopening the country safely, including U.S. schools. Some schools have been closed for the entire academic year due to the threat of community spread.
Dean Perry N. Halkitis of the Rutgers University School of Public Health, Dean Laura A. Siminoff of the Temple University School of Public Health, Dean Craig H. Blakely of the University of Louisville School of Public Health and Information Sciences, and Donna K. Arnett of the University of Kentucky College of Public Health all signed individual statements urging an increase in coronavirus testing.
Siminoff wrote that testing needs to increase threefold. "If we do not commit these resources," Siminoff said, "we will be doomed to a cycle of shut down, re-opening, resurgence of the virus and then shutting down again."
Advocacy group Public Citizen encouraged the House of Representatives to pass the Heroes Act, a new piece of coronavirus relief legislation that would include $75 billion for expanding testing capacity. Public Citizen and the school health officials called on the Senate and the White House to address the allegedly inadequate testing capacity throughout the country.
"Until an enormous national program of testing and contact tracing is fully funded and implemented, the ongoing varying attempts by states to reopen American businesses—even partially—are fatally flawed and pure folly," said the director of Public Citizen's Health Research Group Dr. Michael Carome.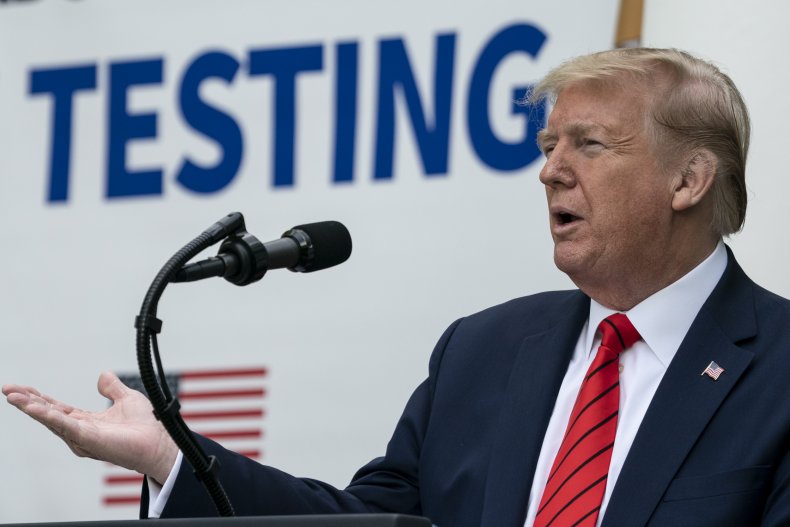 Trump has used the powers granted to him by the Defense Production Act to impel private manufacturers to divert their manufacturing processes to create personal protective equipment (PPE), testing swabs and ventilators.
Closing schools was a decision made on a state-by-state basis as part of stay-at-home orders enacted by governors. According to some experts, it may require more time to ascertain which states can safely reopen educational facilities. During an appearance before a Senate panel on Tuesday, infectious diseases expert Dr. Anthony Fauci said he wasn't sure if schools should reopen in the fall.
"We'll just have to see on a step-by-step basis," Fauci said. "We have a very large country and the dynamics of the outbreak are different in different regions of the country, so I would imagine that situations regarding schools will be very different in one region versus another."
Trump said on Wednesday that he disagreed with Fauci's opinion, calling it "unacceptable."
In a Thursday interview with Fox Business host Maria Bartiromo, Trump insisted that the U.S. must open its schools as part of reopening the country. "We can't keep going on like this," Trump said. "You're having bedlam already in the streets."
On Monday, the White House coronavirus task force announced it would be delivering $11 billion to states to help expand their coronavirus testing capacities.
Newsweek reached out to the U.S. Department of Health and Human Services for comment. This story will be updated with any response.