Public School Teachers Quitting at Record Rate: 'I Had to Quit for My Sanity'
Public education employees are leaving their jobs faster than ever recorded, according to government data reviewed by The Wall Street Journal.
Teachers, janitors and other education professionals departed their jobs at an "average rate of 83 per 10,000 a month" in the first 10 months of 2018. This figure denotes the fastest resignation rate since the Department of Labor began its measurements in 2001.
The departures, driven in large part by low pay rates and poor working conditions, included educators and employees who had spent years in the field.
"I had to quit for my sanity," 43-year-old Sara Jorve, who left her position teaching science in Oklahoma after 12 years, told The Wall Street Journal.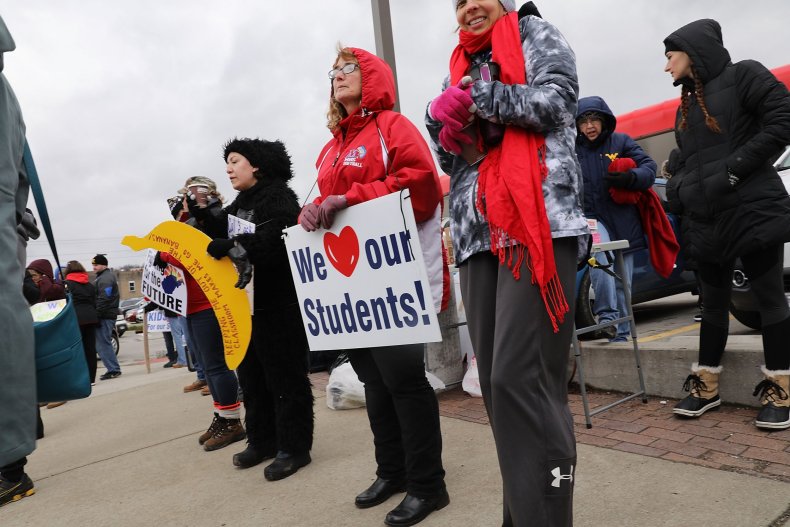 The financial situation of Jorve, who was getting paid so little she needed financial assistance from her parents, is not unusual for the profession.
Teachers in six states held protests this year.
The demonstrations began February in West Virginia, where education professionals held a nine-day walkout. The strike ended after Governor Jim Justice approved legislation that raised wages 5 percent for teachers.
In April, Oklahoma educators followed suit. The South Central state's protest ended with teachers and support staff getting raises.
Although the teachers did not achieve their objective of ending the capital-gains tax exemptions received by wealthy individuals, they praised the strike's outcome, and urged people to vote.
"We got here by electing the wrong people to office," president of the Oklahoma Education Association Alicia Priest said, according to The New York Times. "We have the opportunity to make our voices heard at the ballot box."
Arizona teachers staged a walkout that ended in May, with Governor Doug Ducey giving teachers 20 percent pay raises and more money to pay for classroom materials, the Times reported.
Other teacher actions took place in Kentucky, North Carolina and Colorado, according to U.S. News and World Report.
Teacher salaries vary greatly across states, Time reported in May. While public school teachers in New York—the state with the highest average pay—make a salary of more than $79,150 annually, those in South Dakota earn the least, getting an average salary of $42,025.
A 2017 report from the Organization for Economic Cooperation and Development found that teachers in the U.S. earn far less than people with similar education levels who are working other jobs, The Washington Post reported. American teachers make, on average, between 55 and 59 percent of the salaries of other professionals with comparable schooling levels.