Public School Group Takes on DeVos, Reopening Schools, Says She's 'Gambling with Our Kids' Lives'
A public schools advocacy group is taking aim at Education Secretary Betsy DeVos for her push to fully reopen schools as a debate rages in the U.S. about whether to send kids back to the classroom in the fall.
Protect Our Public Schools (POPS), a non-profit organization comprised of current and former educators, students and parents, will cruise around the streets of the nation's capital Tuesday through Thursday with a mobile billboard that features DeVos plastered on the side of a large truck, according to plans first shared with Newsweek.
The signs feature hefty criticism of the Trump administration official, including charges that she is "gambling with our kids' lives," has "no plan, no funding, no experience," and questions "how many of our lives will you and your boss risk by forcing schools to reopen?"
The push by DeVos, President Donald Trump and congressional Republicans for schools to reopen in the coming weeks comes as new daily cases in the U.S. are at an all-time high and alongside a threat to withhold federal assistance from education institutions that refuse to hold in-person classes.
The mobile billboard display will cost $15,500 and will travel around Washington, D.C., to places such as the U.S. Department of Education, the U.S. Capitol building, K Street (home to the city's lobbying sector) and the Trump International Hotel located just blocks from the White House and the Capitol.
"We are talking about children, teachers, and families getting sick—or even dying," POPS Vice President Ellen Offen, a former Detroit Public Schools teacher, said in a statement. "We can't make rash decisions—like forcing all schools to reopen without a plan for safely doing so—when it could mean thousands more dead."
POPS also plans to take the billboard to DeVos' home town in Michigan in the coming weeks and to circle her house. One of the billboards tells DeVos to "stop hiding in your mansion" and to "start protecting our kids."
In a statement to Newsweek, an Education Department spokesperson called the billboard "a cheap ploy to get attention" and contended it is "safe and necessary" for students to return to the classroom.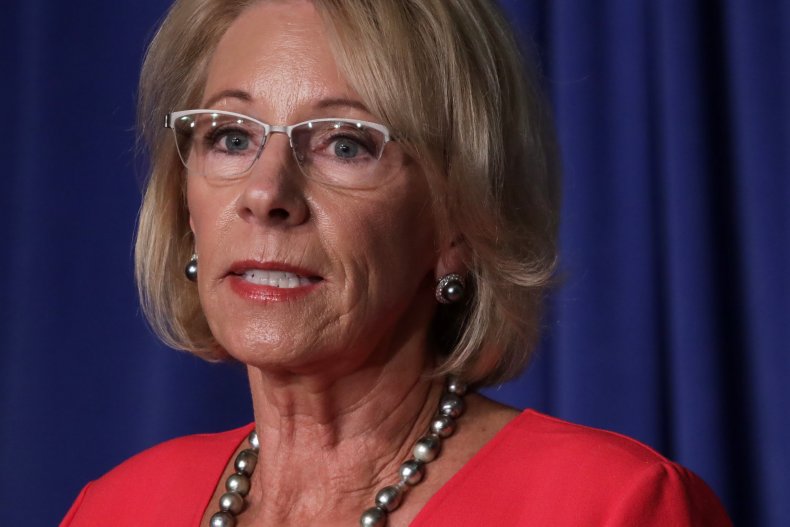 "This is not news; it's a cheap ploy to get attention, and Newsweek is taking the bait. Instead of reporting what's on a billboard, look at the facts," said Education press secretary Angela Morabito. "It is safe and necessary for kids to return to school in the fall. The CDC and the American Academy of Pediatrics agree, and the data demonstrate that the best thing for kids' learning and social-emotional development is a safe return to schools in the fall."
The Centers for Disease Control and Prevention reversed guidance last week to say it's "critically important" to reopen schools, even as health experts and government officials warn that doing so should be done on a case-by-case basis rather than a blanket reopening across the country.
And the American Academy of Pediatrics, along with various education groups, said the benefits of returning to the classroom stretch far beyond learning, such as "social and emotional skills at school, get healthy meals and exercise, mental health support and other services that cannot be easily replicated online."
A coronavirus economic stimulus package by Senate Republicans and the Trump administration released Monday evening included $105 billion for education, including $70 billion for K-12 schools and nearly $30 billion for higher education. An additional $5 billion would go to governors to distribute how they please to any educational institution.
But some of the K-12 money comes with conditions. About two-thirds of the $70 billion for grade schools would only be distributed to those who reopen for in-person classes and meet specific benchmarks.
Senate Democrats are pushing for roughly $175 billion for K-12 schools and $130 billion for higher education. But where the two political parties disagree most is tying aid to reopening. Democrats have vehemently rejected calls by Republicans, Trump and DeVos to tie federal relief to whether institutions open their doors for in-person teaching.