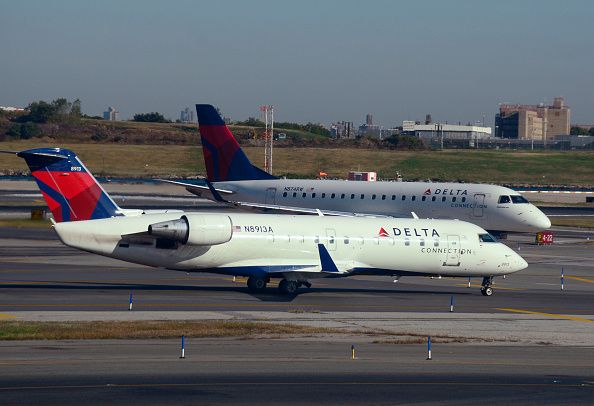 Joining the Mile High Club could get you a long sentence once you're back on the ground.
A couple caught apparently in flagrante on a Detroit-bound Delta Airlines flight last month found that out the hard, er difficult, way, earning a citation from the FBI after their plane came back to earth from seventh heaven.
Don't blame the G-men for running the G-spot: It's their job. Local cops simply don't have jurisdiction over anything that happens in the skies.
"Even if it is considered to be a misdemeanor crime, the FBI will get involved because it is a matter of federal jurisdiction," New York City lawyer Arkady Bukh told Newsweek.
In the case of the randy pair revving up on their way to the Motor City, the sex wasn't likely to have aroused the authorities until several passengers complained about the "highly intoxicated" 48-year-old woman with her head in the lap of the 28-year-old man next to her in row 26, according to the Detroit Free Press.
They ultimately attempt to join the airborne ecdysiast club, a skyway thighway that supposedly includes supermodel Miranda Kerr, Kim Kardashian, Johnny Depp and pilot John Travolta.
Detroit airport authorities likely only called in the feds because the woman was not cooperative and "yelled and screamed" as she was taken to a holding cell. The man claimed his partner "had fallen asleep in his lap" and that the couple "did not have intercourse." He also admitted he "grabbed her breasts on the outside of her clothes," which may have raised eyebrows with authorities.
In the end, both passengers were issued citations. Delta Airlines did not permit the woman to book her flight through the airline, but she was able to book another flight and leave the next day.
The FBI says there were 57 investigations into sex assaults on airplanes last year, up from 40 the year before. In August, a 16-year-old girl was allegedly sexually assaulted during a red-eye flight from Seattle to Newark, New Jersey. The victim claims she woke to find 28-year-old Vijakumar Krishnappa touching her inner thigh, NJ.com reported.