Public Trust Is Vital to Defeating COVID-19. Trump Has Lost It | Opinion
The White House Office of Science and Technology Policy declared last week that "ending the COVID-19 pandemic" was one of the Trump administration's top accomplishments. Unfortunately, that couldn't be further from the truth. The crisis is worsening, with no end in sight.
Nine months since the United States first declared COVID-19 a public health emergency, the country recorded nearly 100,000 new cases on Friday alone. Our hospitals are filling up again and deaths are rising. Models predict that approximately 170,000 additional Americans will die from COVID-19 over the next three months. Yet the Trump administration is still failing to provide a comprehensive, well-coordinated and scientifically driven federal response to the pandemic.
One of the core values central to the medical profession is the public trust—a faith in one another and our intentions to do good for others. It is essential for delivering care to patients, implementing infection prevention measures and empowering individuals to keep themselves as well as others safe. To stop this pandemic, save lives, reopen our country and rebuild our economy, we need our nation's leadership to take urgent steps to repair this trust:
First, commit to transparency. The federal, state and local public health response to COVID-19 should be fully transparent to the public, including its expectations of us, successes, failures and lessons learned. Armed with the right information, Americans from all walks of life will take responsibility and rise up to meet this challenge. Remaining faithful to the truth also allows us to empower individual liberty and personal responsibility.
Second, lead with science. The evidence behind public health principles such as wearing masks and social distancing to reduce spread of the virus is clear. Similar to how the coronavirus does not care about the political party affiliation of who it infects, science and data are neither Democratic nor Republican. They should objectively drive our response.
Third, adapt to changes. Since the beginning of the pandemic, we continue to learn new information on a nearly daily basis that requires us to adapt to this dynamic challenge. We must be flexible and make course corrections when new evidence is available.
Fourth, restore unity in America. With daily tragedy from this pandemic, we have a unique opportunity to channel this pain and grief into collective action. We can unite Americans under a common apolitical mission of shared responsibility and service to each other to defeat the coronavirus and rebuild a more perfect union. This will only happen if we move swiftly to honor the truth and repair the public trust.
We are committed to being part of the solution. Physicians and health care workers across the country—both young and old—have responded courageously, often endangering themselves to care for patients without adequate personal protective equipment. As of September, a likely underestimated 1,700 health care workers had already died of COVID-19 in the line of duty.
Unfortunately, President Donald Trump has obscured the truth from the beginning, which has made it difficult for many Americans to know what information to trust and how to protect themselves.
Since February, including this past week, the president has made at least 38 baseless claims that COVID-19 is either going to disappear or is disappearing. He also made the ridiculous and reprehensible claim that doctors exaggerate the severity of COVID-19 for their own personal profits. The president has perpetuated other bizarre, discredited and dangerous theories, and he has been identified as the single "largest driver of misinformation during the COVID-19 pandemic."
This negligent pattern of denial has also extended to members of the president's team. Donald Trump Jr. declared last Thursday that the number of COVID-19 deaths in the U.S. is "almost nothing," on yet another day that saw more than 1,000 Americans die of the coronavirus.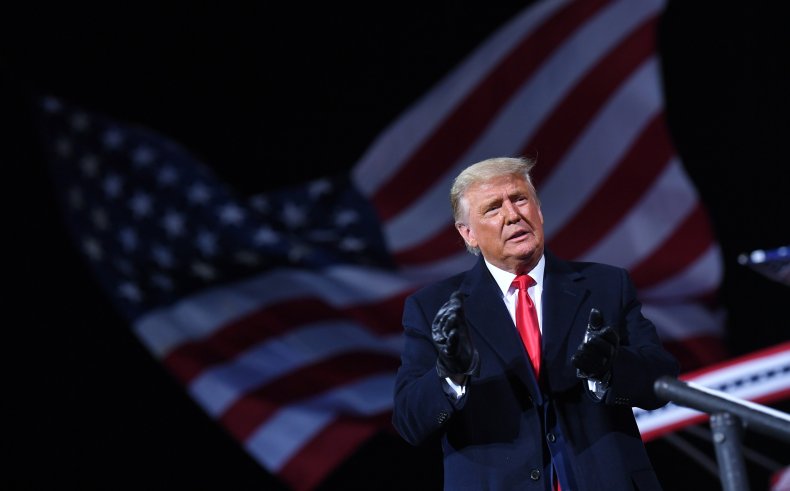 The president also regularly fails to role model the basic behaviors necessary to prevent the spread of COVID-19. He acts as though mask wearing is of questionable benefit, even though his own government declared nearly six months ago that we should all wear masks. His mass rallies knowingly put thousands of individuals at risk, not to mention their families and communities. A study just released from Stanford found that 18 summer Trump rallies resulted in more than 30,000 cases of COVID-19 and likely led to more than 700 deaths.
Instead of listening to scientists and health experts who could have helped our country to contain the coronavirus and reopen more quickly, Trump has attacked them personally. He has actively worked to damage the credibility of Dr. Anthony Fauci and other distinguished public servants. Indeed, the president warned supporters at a recent rally that if Joe Biden is elected, the former vice president will "listen to the scientists."
The president has further undermined traditionally nonpartisan scientific institutions such as the Centers for Disease Control and Prevention, whose only agenda is to serve the American public with the best science available. He also continues to pit Americans against each other, speaking about coronavirus activity in terms of red or blue states and cities, as if not all Americans are worthy of the same concern.
In contrast, Biden has a long record of building public trust. At his core, he believes that every American life matters and has value. That is why thousands of doctors, nurses and health care workers across the political spectrum—Democrats, Republicans, independents and more—are speaking out in this election to support Biden.
With over 90 million Americans having already voted, we are witnessing citizens no longer willing to stand on the sidelines of history as our loved ones, communities and country are in danger. The worst is yet to come, but you have the power to help. That power begins by exercising your right to vote for leaders who will commit to restoring the public trust and leading us out of this national crisis.
Dr. Edward Sheen is a gastroenterologist. He is a member of the faculty at Washington University and Stanford University. He was a White House fellow under President Barack Obama.
Mathew Alexander is a medical student at Virginia Commonwealth University.
Dr. Alice Chen is a general internist in Washington, D.C. Twitter: @atychen.
Dr. Ali Khan is a general internist in Chicago. Twitter: @alikhan28.
Dr. Joseph V. Sakran, is director of emergency general surgery and a trauma surgeon at Johns Hopkins Hospital. Twitter: @JosephSakran.
The views expressed in this article are the authors' own.