Publix Refused to Write 'Summa Cum Laude' on Cake Because It Thinks 'Cum' Is Profanity
The family of a graduating senior was left furious after a grocery store censored a personalized cake message celebrating his achievement of graduating summa cum laude.
Cara Koscinski, from South Carolina, ordered a cake for her son Jacob from Publix, which appeared unimpressed with one of the words she wanted to be displayed on the sheet cake.
When Koscinski placed the order online, she was not allowed to write her customized message of choice for the cake: "Congratulations Jacob. Summa Cum Laude class of 2018." Instead, when she typed the inscription into Publix's message box, the system starred out the word "cum," identifying it as a profanity, The Washington Post reported.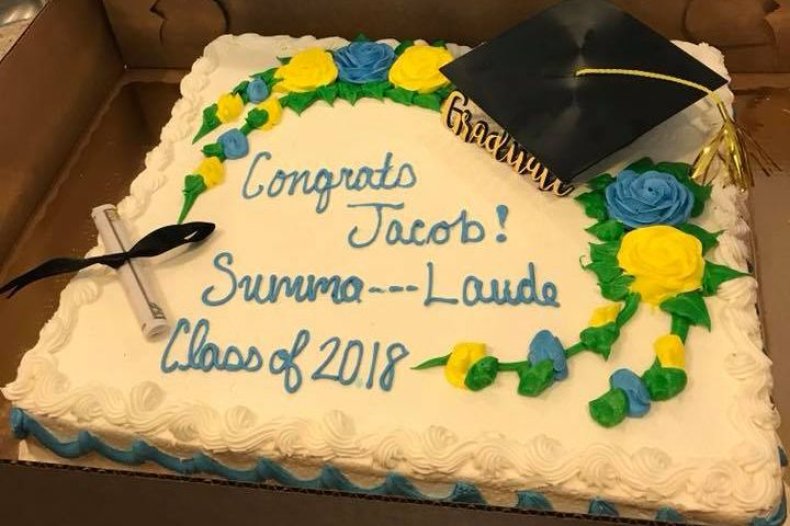 Despite Koscinski explaining in the special instructions box that "cum" is Latin for "with," the grocery store decided to replace the word with three dashes, leaving Koscinski and her son red-faced as they attempted to explain the mix-up to elderly relatives who had joined them to celebrate.
In a Facebook post, Koscinski, whose son graduated from a Christian-based home-schooling program, wrote: "How utterly ridiculous and I will be speaking to a manager for a refund."
"Shame on you Publix for turning an innocent Latin phrase into a total embarrassment for having to explain to my son and others (including my 70 year old mother) about this joke of a cake," she added. "My son was humiliated!!! I seriously couldn't make this crap up!!!!"
The family was offered, and accepted, a refund for the $70 cake, but turned down an offer from the store to make them another one.
Speaking to ABC News 4about the censorship of her son's cake, Koscinski said: "You would just think that the bakery has done many cakes before—this cannot be their first graduation. This can't be the first student to graduate summa cum laude."