Nights Like 'Super Saturday' Won't Save Pubs, Unions Warn
As England's pubs and restaurants were allowed to reopen on July 4 following an easing of lockdown restrictions, many were hoping that pubs would see strong sales figures which would help set the sector and the economy as a whole on the road to recovery.
Although no one expected a weekend to make up for over three months of lost income, some pub owners had been optimistic of strong takings and customers eager to make up for lost time.
However, according to the founder of the Hospitality Union Jonathan Downey, whose group represents over 3,000 business owners working in the hospitality sector, despite the excitement to re-open on Saturday, many had an extremely disappointing weekend of sales.
Downey told Newsweek that the figures were particularly bad for those pubs located in city centers.
"Some suburban pubs did alright, but city centers were still desolate," he tells Newsweek.
"What we found in Soho [in central London] is that, though it was busy on the streets there, a lot of the consumption was cans bought from newsagents and supermarkets and just young people gathering where there were other young people, not necessarily buying from their local bars and restaurants."
Downey said some pub owners had told him that their sales levels were at 35 percent of what they would normally expect on that weekend.
"Some places are only down 25 percent but costs are up significantly because of all these new measures," he says.
"It's great to be reopened but in terms of the financial performance it was absolutely disastrous."
Downey said many had been more optimistic about people coming to the pubs as the lockdown was eased, but that "just didn't happen."
He believes it will take up to a year for things to return to normal.
"Some behaviors change for good and we don't know how that's going to impact the high street," Downey says.
He is urging the government to open up the rest of the hospitality and leisure sectors immediately, including gyms and bowling alleys.
Asked about concerns it could lead to rise in the number of infections, he said: "They've [The government] have got to get the rest of hospitality and leisure reopened now, there's all this fear about mayhem and chaos and fighting and it's all bulls**t, people are being careful and hospitality business owners are very professional operators.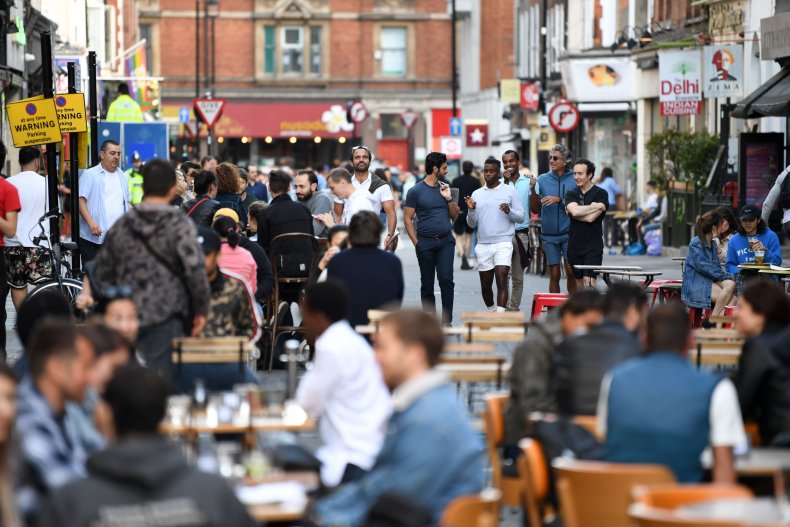 "It not possible to keep people two meters apart in anyway in a venue, it's just not possible and they've got to stop pretending that it's making any difference, it's not."
Downey also said the government needed to start a campaign to get people out again.
He said: "They spent millions, tens of millions advertising, terrifying a nation about the dangers of a virus that is really damaging and deadly to a very small percentage who are very vulnerable and susceptible but seems to be harmless to the vast majority of people, so we've got to be realistic about this."
Downey believes a significant chunk of the population is still wary about going out and that is a mindset he says must be changed if the hospitality sector is to survive.
He said: "I still think a good 40 percent of the population is terrified of going out and who think that by going out your deliberately killing nurses, I don't know how we change that mindset it's not going to be an overnight thing."
Downey said he was not convinced a second spike would lead to a major rise in infections and deaths.
"More people under the age of 60 will die from drowning than COVID-19 this year", he said.
David McDowall, chief operating officer for BrewDog, a multinational brewery and pub chain, said that the company runs around 70 pubs in the U.K. and those in England that had reopened over the weekend traded at just below 50 percent of last year's level.
He said: "In any normal situation that's a pretty poor set of numbers, but we're actually reasonably pleased with that, it's probably slightly ahead of what we expected I think."
McDowall believes it could be 18 months before pubs which are based in financial or office-based areas return to normal, echoing Downey's worries that pubs in city centers and business districts had suffered the most.
"It's simply because of the fact that all of the officers where we serve and where our customers work are pretty empty," he said.
McDowall said he was hoping that the chancellor sets out changes to value-added tax (VAT, a goods and services tax) to help the hospitality sector.
He said: "Our biggest challenge moving forward is going to be how we resurrect consumer confidence.
"The success of hospitality and rebooting is going to be directly correlated to how we resurrect consumer confidence as a sector but also supported by government. VAT announcements are very important because we need to find a way to get consumers confident about going back into pubs restaurants, retail and leisure and we need to do that a time when everyone's probably feeling the pinch over how much money they've got and how much disposable income they've got in their pockets, so that's a difficult challenge."
Asked about concerns that the reopening of could lead to a rise in infections after three pubs in England announced they were closing again after customers tested positive for COVID-19, McDowall said that from what he had seen from pubs at the weekend, was customers taking care of each other,
He said: "Hospitality operators are experts in public safety, it's a highly regulated and licensed industry and sector and the livelihoods of people that operate within it are predicated on protecting those licenses, so I think it's a pretty safe and regulated environment for people to congregate in and to drink.
"It's far safer and more regulated than for them to take beers to the park."
The Treasury has been contacted for comment.