In August, nearly one year after Hurricane Maria wrecked Puerto Rico's electrical grid and plunged its 3.4 million residents into darkness, island officials heralded a milestone: The lights were back on. The state-owned electric company even tweeted a photo of a smiling family it said was the last to receive power.
But Christine Nieves, an activist in Mariana, didn't celebrate. She and her small mountain community near the southeastern coast had already restored electricity—on their own. Tired of waiting on the government's halting repairs, she worked with a band of self-described "anarchistic organizers" from the mainland to install a small solar grid, one of more than a dozen like-minded efforts across Puerto Rico. By the time electric workers showed up, Mariana was two months ahead of them. (The Puerto Rico Electric Power Authority declined to comment for this article.)
The power uprising over the second largest blackout in world history provides a window into the civic and political landscape in a place where government institutions, saddled by bankruptcy and a federally appointed management board, failed in devastating ways. It also underscores a sobering reality a year after Maria: Many Puerto Ricans are, to some extent, still on their own. For eight months after the storm, Mariana residents lived without stable means of lighting, refrigeration or laundry. "People were on the verge, psychologically and physically," says Nieves.
She and her partner established Proyecto de Apoyo Mutuo, or Project for Mutual Aid, to coordinate clean-up efforts, prepare meals and check on locals after the storm. The initiative attracted the attention of a mainland group called Mutual Aid Disaster Relief, whose founding members did disaster relief work in New Orleans following Hurricane Katrina. To MADR co-founder Jimmy Dunson, Nieves's efforts echoed his own group's "anarchistic organizing"—revolution with more purpose than protest. MADR volunteers were already in Florida, helping in the aftermath of Hurricane Irma, when family and friends alerted them of the dire situation in Puerto Rico. They pooled their own money and solicited donations to purchase water purifiers, solar power equipment and plane tickets to the island.
"It was quite surprising when they showed up to our operations, and they kept coming back," says Nieves. Together, the two organizations distributed food and water and provided basic health care, setting up a key project: the installation of a solar-powered "micro-grid" in Mariana, a self-sustaining electric system owned and managed by the community.
Working with local construction workers, electricians and even firefighters, volunteers overcame understaffed ports and destroyed roads to import a solar array, battery bank and storage container to protect all of the equipment from future storms. Total cost: $60,000, funded by donations. The grid now powers an abandoned school turned communal kitchen, a laundromat and an office, where residents can charge their electronics and tools. The system does not reach individual homes, but its modular design can be expanded or transported to where need is greatest.
Twenty miles to the northwest, volunteers have installed a smaller system in Caguas, a city in the heart of the island. Despite police efforts to block them, locals seized a building and turned it into the Centro de Apoyo Mutuo, or Center for Mutual Aid. "There are over a dozen mutual aid centers all throughout Puerto Rico," says Dunson, "and if the funding comes in, we will work with each and every one of them to set up similar photovoltaic systems."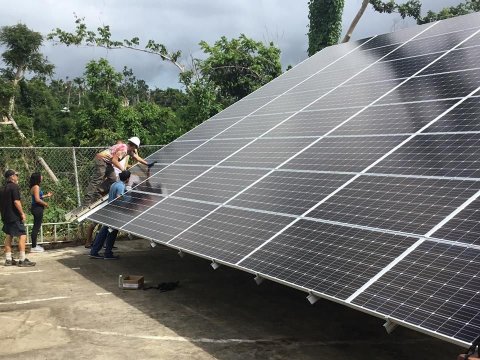 While there's been little proselytizing in Mariana, radical ideas are in the air. "What we have talked about is self-governance," Nieves says, "and we've talked about self-organizing." She uses the Spanish term autogestion, or self-management, which anarchists have advocated since the time of Pierre-Joseph Proudhon, the 19th-century French philosopher who was the first to describe himself as an anarchist. Is the movement supported by authorities? "That question assumes that local government and police are actually involved and active," says Nieves with a laugh.
Elsewhere on the island, law enforcement has pushed back. Dunson describes one incident from October: Arriving in several vehicles, including an armored car, police conducted a night-time raid on a church that MADR was using as its base of operations in Guaynabo, a municipality west of San Juan. According to Dunson, officers claimed they were acting on a call about kidnapping and questioned the volunteers at gunpoint, asking if they were building bombs, involved in "antifa" or advocated the overthrow of the U.S. government. After searching their belongings without consent, Dunson says, police evicted them from the church, threatening them with arrest if they returned. (Calls to the Puerto Rico Police Press Office went unanswered.)
While Dunson acknowledges that authorities sometimes assisted MADR by providing volunteers with food, water and other supplies to distribute, he argues that government is nevertheless poorly suited for disaster relief. The state-owned electrical grid, for example, was allowed to fall into such disrepair that even after Maria passed, it suffered at least two more big outages following patchwork repairs.
"The government has access to a vast quantity of money and supplies," he says. "But even if everybody in that institution had the best of intentions, due to their top-down nature, they do not have the fluidity or flexibility that more grassroots initiatives have." He cites reports of supplies rotting in government offices and accusations that both island agencies and federal authorities hoarded desperately needed construction materials.
Unfortunately for both sides, another hurricane might be about to put his theory to the test.