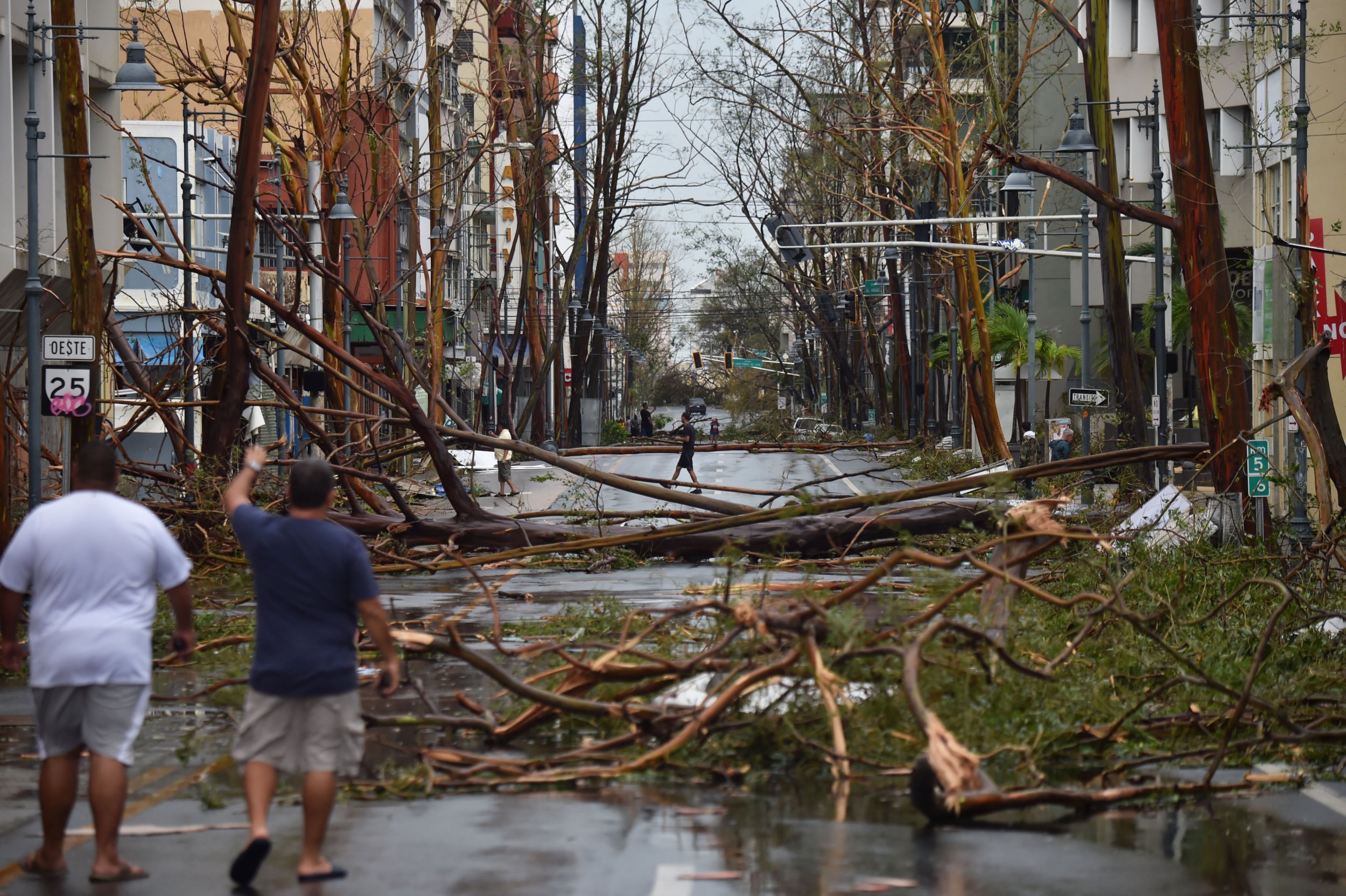 When Carmen Yulín Cruz, the mayor of San Juan, Puerto Rico, told reporters while begging the White House for help that "people are dying," she wasn't exaggerating.
Her city and much of the island is coming up on two weeks of suffering after Hurricane Irma, which not only knocked out power for the entire population but also left scores of people without clean drinking water, easy access to gasoline, readily available food and much-needed medical care. Although the death toll is officially 16 right now, that number will almost definitely go up.
"Sadly, the island is so badly damaged that there is no ability to communicate—no way to know the number of people who may have been killed in the storm itself with houses coming down, debris," Stephen E. Flynn, the founding director of the Global Resilience Institute at Northeastern University, tells Newsweek.
Hurricane Maria slammed Puerto Rico on September 20 as a Category 4 storm, bringing with it torrential rains, high winds and huge risks to an area just starting to recover from Hurricane Irma. The director of Puerto Rico's emergency management agency told reporters during the storm that he predicted he'd "find our island destroyed." Trees fell, buildings flooded and entire communities were effectively cut off from the outside world.
But the chaos didn't end when the storm passed.
Many Puerto Ricans who survived the storm are now in life-threatening situations, Flynn says. Hospitals have limited power from generators that rely on diesel—which is now in short supply. Doctors who are spread out in various communities have no backup power and, because of their size, aren't likely to get any of the limited supplies coming in.
All of this leaves the sick and elderly at risk.
"Anybody who's already vulnerable and going for a long period of time without power and is reliant on medications, electronic monitoring, medical devices … as the days march on—and the days are marching on—they become a much more frail population," he adds.
The general population is hurting, too. Some may be trapped; some may starve. Others may encounter diseases in contaminated floodwater like several Texans did after Hurricane Harvey or see their chronic illnesses worsen without treatment.
Even the cleanup efforts are dangerous. "People are going to have to clear the debris, and they're using heavy equipment to do this—machetes and so forth," Flynn says. "That almost always translates into injuries."
Flynn isn't the first to raise alarm about the potentially climbing number of Maria casualties. The Center for Investigative Journalism suggested this week that the government either wasn't revealing or didn't know the full loss of life, writing on its website that "there are dozens of hurricane-related deaths and the number could rise to the hundreds."
Because aid is so desperately needed, Trump has been criticized for not doing enough to help Puerto Rico. He waived the Jones Act so shipments of supplies could reach its people faster, but on Saturday he picked a Twitter fight with Cruz, the San Juan mayor.
Moving forward, Flynn says better preparation for these types of natural disasters is necessary. He cautions emergency management authorities against focusing too much on the before and during stages of a storm and overlooking the after.
For Puerto Rico now, though, all he can hope for is immediate help.
"There is significant suffering," Flynn adds. "It's a humanitarian disaster, in my view, and needs to be treated that way."