Puerto Rican Hurricane Survivors Set to Be Evicted From FEMA Housing and Offered One-Way Ticket Back to Devastated Island
Nearly 1,800 Puerto Rican hurricane survivors scattered across the United States will be evicted from their temporary housing this weekend, according to the Federal Emergency Management Agency (FEMA).
"After 10 months of providing emergency shelter through Transitional Sheltering Assistance (TSA), FEMA is ending the program on June 30 for Hurricanes Harvey, Irma and Maria survivors," the agency wrote in a statement. "Intended to provide emergency shelter, TSA is a temporary solution that bridges survivors into more permanent options."
The program has spent $432 million on lodging, typically in hotel rooms, for the hurricane survivors and has successfully transitioned 97 percent of TSA participants into more permanent home solutions. But uncertainty abounds for the remaining 3 percent who will be forced to leave their hotel rooms Sunday morning. A FEMA representative told Newsweek Thursday that the agency has offered counseling and a free one-way ticket back to Puerto Rico to all who remain in the program.
Still, some advocates say that FEMA hasn't done enough to care for displaced Puerto Ricans, especially when compared with its response to Hurricane Katrina and Rita. "The same program for those displaced by Hurricanes Katrina and Rita were extended to 26 months. PR victims have only been given 9 months," tweeted Lin Manuel Miranda, who is of Puerto Rican heritage,Thursday.
The 1,800 survivors left in TSA housing are "people with health issues, no family members and other extenuating circumstances," Federico de Jesús co-founder of BoricuActivatEd, a political advocacy group and member of Power 4 Puerto Rico told Newsweek. "There's no reason they should be left to fend for themselves, it's inhumane."
The largest share of families requiring housing assistance currently reside in the Osceola and Orange counties in Florida, where housing is expensive and hard to come by. Orange County, home to the city of Orlando, is the third worst area in the country for affordable rent, according to the The National Low Income Housing Coalition. A shortage in affordable housing comes partially from a lack of funding, In March, Florida spent $185 million flagged for housing trust funds on school safety, according to the Orlando Sentinel.
Local organizations are bracing for the worst. "One of the strategies is looking at the different homeless organizations to see what they can do because people are going to be homeless," Gladys Cook, technical advisor at Florida Housing Coalition, told NBC News.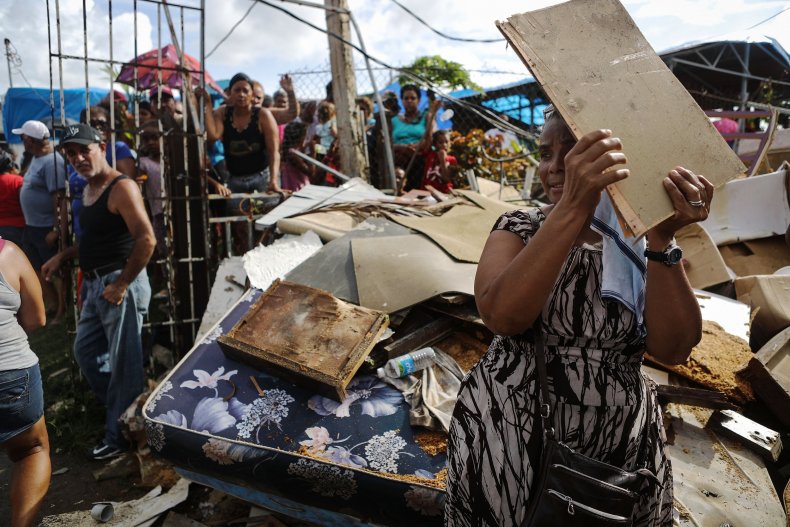 A last-minute effort by Democratic Florida Senator Bill Nelson to extend TSA housing for hurricane survivors was blocked by Wisconsin Senator Ron Johnson, a Republican, on Thursday.
"People are about to get shut out of the temporary housing that they have," Nelson said on the Senate floor. "Some of them have lost everything because of these storms. Too many are still unable to find work or to find affordable housing, and especially the security deposit. For many of them, the only thing that they have is the help that FEMA is providing—but that's only good for two more days."
Victor Valentín Crespo, a 55-year-old widowed father of three with a chronic leg injury, is one of the survivors who will be kicked out of his Florida hotel on Sunday. After a long and unsuccessful search for affordable housing, he gave up and agreed to take the plane ticket back to Puerto Rico. He told NBC News that his home on the island is uninhabitable but that he hopes to find some loan assistance to purchase a new one. "Where would I go after June 30? I was afraid of ending up in the streets with my kids," he said.
De Jesús says that he recently met with 100 Puerto Rican families still staying at hotels in Springfield, Massachusetts, and was struck by the stories he heard. One woman told him she left the island in search of medical attention after her sister died and her son suffered serious injuries from hurricane debris. A renal condition prevents her from working, and Puerto Rico still doesn't have the infrastructure available to treat her son. She's unsure of what she will do when she is forced to leave her hotel this weekend.
"We want people to have a choice, we don't want to force them to go back to the island if they don't want to," said De Jesús. "There's a lot of misinformation out there, and the Trump administration claims we're blowing up our budget, but the cost of housing these people is nothing, it's just a drop in the bucket."