Puerto Rico Governor Endorses Trump, Says He Represents Puerto Ricans: 'Nobody Is Perfect'
Puerto Rico Republican Governor Wanda Vázquez Garced endorsed President Donald Trump on Tuesday and urged the roughly 5.5 million Puerto Ricans living domestically to go and vote on Election Day.
"Use your vote and evaluate who represents and thinks about Puerto Ricans in their most difficult time," Vázquez Garced said in a Monday interview with Telemundo. "It is Donald Trump."
Vázquez, an outgoing governor who lost her GOP primary in August, was scheduled to join Trump's campaign efforts in Orlando this year before the pandemic impeded her plans. The Republican and Trump share a good relationship. In February, she suggested that their rapport was the reason why the president provided federal funding to the unincorporated U.S. territory.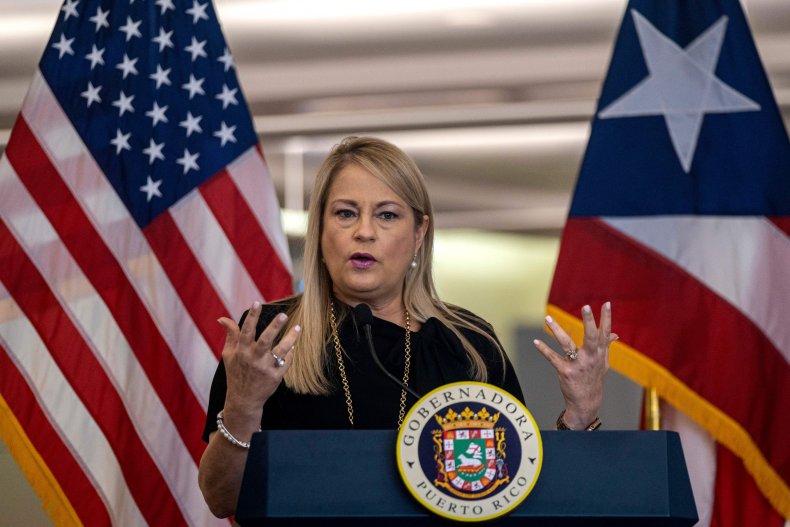 In October 2017, the president faced intense criticism, including from San Juan Mayor Carmen Yulin Cruz, for throwing paper towels into a crowd during his visit to the island in the aftermath of Hurricane Maria.
After Trump's televised meeting with local officials during his roughly five-hour presidential trip to the island two weeks after Maria, Cruz called the event a "PR, 17-minute meeting" and said his decision to throw paper towels into a crowd was "abominable."
The president defended himself from the backlash, calling it "Fake" news coverage. "A great day in Puerto Rico yesterday," Trump tweeted in 2017. "Most showed great warmth and friendship."
When asked about the paper towel controversy, Vázquez Garced told Telemundo, "Nobody is perfect."
In a statement on Tuesday, the Republican National Committee (RNC) insisted that the governor's endorsement further proved that Hispanics are enthusiastic about Trump.
Democratic Presidential Nominee Joe Biden's campaign team has called the endorsement "desperate" and said it won't land with Puerto Rican supporters. "For the thousands of families who had to leave the island, for all those we've lost, for those who still struggle everyday to keep a roof over their heads and food on the table, it is three years too little and too late," Biden campaign Latino adviser Tatiana Matta said in a statement.
The latest Wall Street Journal/NBC/Telemundo poll, released September 20, showed Biden with a significant lead—62 to 26—over Trump among nationwide Latino voters. The results were roughly in line with exit polls taken in the 2016 presidential election, which had then-Democratic nominee Hillary Clinton garnering 66 percent of the vote, compared to Trump's 28 percent.
Biden and Trump have both campaigned heavily among the Latino community this election cycle. Trump launched his Latinos for Trump initiative earlier this year, while Biden recently made an appearance at a September Hispanic Heritage Month celebration in Florida.
Newsweek reached out to Biden's campaign for further comment.