College students in Puerto Rico joined the widespread condemnation of Governor Ricardo Rosselló after leaked messages show the unpopular governor making derogatory comments about female politicians.
On Saturday, Puerto Rico's Center for Investigative Journalism published nearly 900 pages of private text messages between Rosselló and top government officials. The release of the messages prompted multi-day protests and a digital campaign calling for Rosselló to step down.
Among those advocating for the governor to resign was Hamilton creator Lin-Manuel Miranda, who utilized the hashtags "RenunciaRossello" and "RickyRenuncia" on Twitter. Lin-Manuel's father, Luis Miranda, Jr., who moved to New York City from Puerto Rico, also penned an article criticizing the governor as being ineffective for the island.
"Puerto Rico deserves better. Those of us in the diaspora are committed to continue pushing Puerto Rico's agenda but as we fight the good fight, we need a Governor that will be respected in the halls of Washington and in the streets of El Barrio," Luis posted on Twitter.
In the leaked messages, Rosselló questioned if San Juan Mayor Carmen Yulin Cruz stopped taking her medication when she announced her plans to run for governor and called former New York City Council speaker, Melissa Mark-Viverito a "puta," the Spanish word for "whore." A homophobic reference was also made about musician Ricky Martin and a series of middle finger emojis were reportedly directed at the federal control board tasked with overseeing the island's finances.
"All my solidarity with my friend @CarmenYulinCruz in the face of the misogynistic and unacceptable attacks of @ricardorossello," Mark-Viverito wrote on Twitter. "Women are not 'whores' or 'daughters of whores,' we are fighting, courageous and worthy human beings who contribute to society. Enough of the machismo!"
The leak also revealed discussions about how to manipulate public opinion and discredit the work of a federal police monitor and journalists who were critical of the governor's administration, according to NPR.
The Puerto Rico College Democrats issued a statement on Sunday that called for the governor to resign immediately and rejected the sexist and homophobic comments. The student-organization said the governor betrayed the values of the Democratic Party and the people who elected him.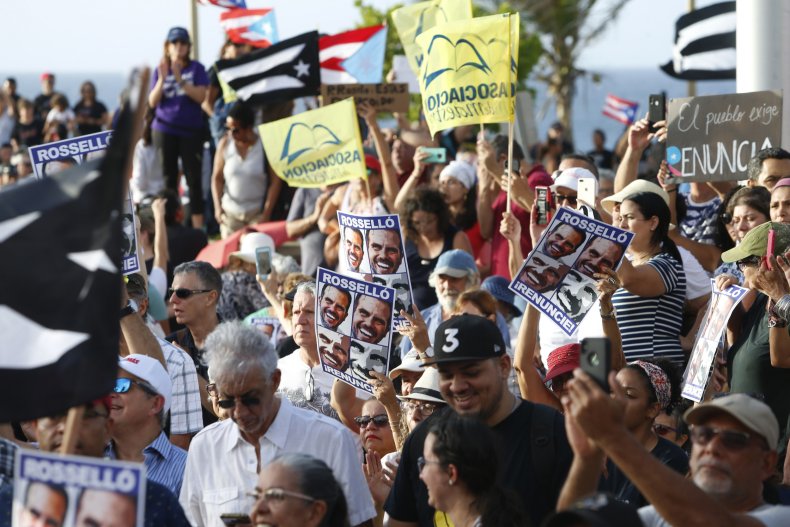 The College Republican Federation of Puerto Rico didn't call for Rosselló to resign in their statement, but said he should not seek re-election because his words and actions were beneath the office he represents.
"This incident, united with last week's arrests of former members of his cabinet and contractors close to his administration, have generated further distrust in the federal government about Puerto Rico's accountability in managing public funds," the statement said.
Former secretary of Puerto Rico's department of education Julia Keleher and Ángela Ávila-Marrero, who led Puerto Rico's Health Insurance Administration, were arrested on Wednesday. They were indicted for allegedly directing $15.5 million in government contracts to business friends, according to NPR.
On Monday night, a protest against Rosselló turned violent in Old San Juan, resulting in the arrest of five people and injuries to an estimated two dozen police officers, according to NBC News.
"We emphasize that peaceful demonstrations are an exercise of the fundamental rights of citizens, but violent acts and destruction of property have no part of a peaceful demonstration, and will not to be tolerated," Rosa Emilia Rodríguez-Vélez, U.S. Attorney for the District of Puerto Rico, said in a statement. "We are disheartened by the violence that some groups have taken and we will investigate and prosecute anyone who has violated federal law, to the fullest extent of the law."
Secretary of State Luis G. Rivera Marín and Chief Financial Officer Christian Sobrino resigned after the messages were leaked but in spite of calls for him to step down, Rosselló said he wasn't leaving.
"I'm not proud of what I did," he told CBS News. "Those were merely comments — but they were hurtful comments. So, I apologize for what I've done but again, I need to move forward and continue on the work we're doing for Puerto Rico."