Puerto Rico Governor, San Juan Mayor Chide Donald Trump For Continued Opposition To Allocating More Disaster Relief Funds For Island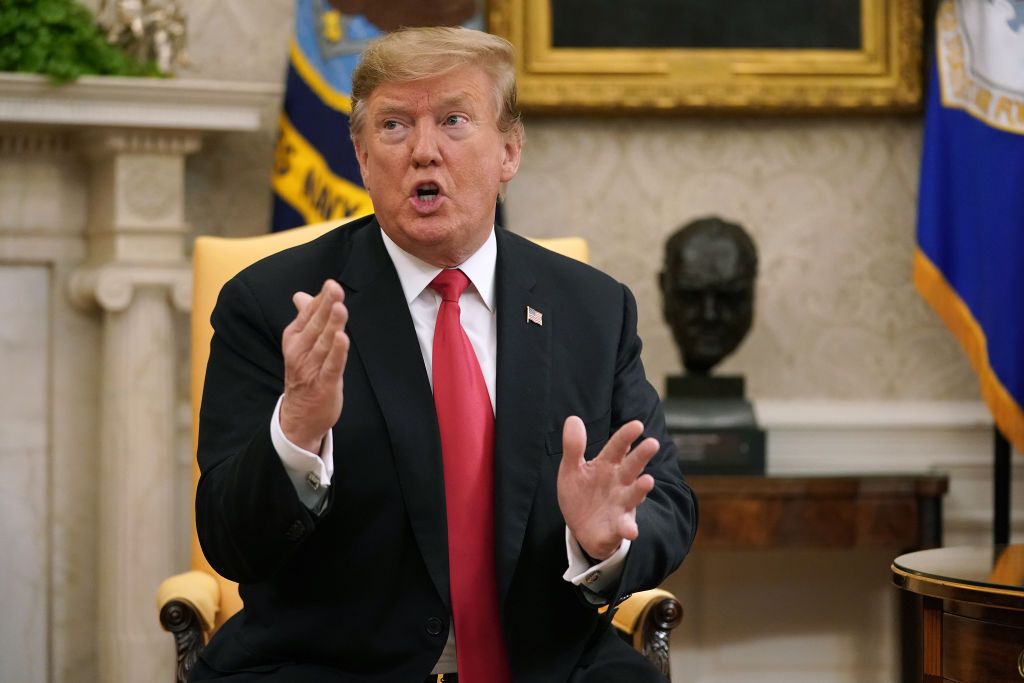 Hours after President Donald Trump took to Twitter to criticize continued requests for more disaster relief from Puerto Rico, the governor of the U.S. territory and the mayor of its largest city both lashed out at the president.
"Mr. President: STOP spreading misinformation! #PuertoRico has not received $91b (only 300M in permanent work). It's not "us" vs "them". It's about Americans in need," Puerto Rico governor Ricardo Rossello wrote on Twitter, retweeting Trump's initial message about the island to add his comments.
In March, Trump told a group of press outside the White House that he has "taken better care of Puerto Rico than any man ever."
"Puerto Rico has been taken care of better by Donald Trump than by any living human being. I think the people of Puerto Rico understand it. But you do have a mayor of San Juan that frankly doesn't know what she's doing," the president said, referring to Carmen Yulín Cruz who has frequently criticized the Trump administration's treatment of the island.
Speaking to MSNBC's Nicole Wallace on Tuesday, Cruz called the president a "fake news cartoon" and asserted that Trump has allowed 3,000 Puerto Ricans "died on your watch."
"They died because your government was inefficient, ineffective and unable to do its job," Cruz said. "Secondly, again, you should fire whomever told you $91 billion dollars were given to Puerto Rico.
"There are still 30,000 people with rooftops who are not good enough, if a tropical storm comes we have to move all of those people out of harm's way. We have $600 million that the president is holding hostage. Because his vanity is much higher than his humanity is. $600 million to feed 1.3 million Puerto Rican people. ...What kind of man is he that he looks the other way when people need to be fed? He continues to embarrass himself. He continues to embarrass the office of the presidency," Cruz added, saying that suicide rates and suicide attempts have gone up by 60% since the storm.
"We are a country that is asking our fellow human beings to help us. The president continues to not understand what his job is all about. He throws a temper tantrum and he holds people hostage," the mayor added, citing the 35-day government shutdown over a border wall with Mexico that left 800,000 federal employees to be unpaid for weeks.
Trump has often said that the United States has given the island $91 billion in aid and that Puerto Rican officials misused the funds in an effort to pull the country out of debt. The White House reiterated those comments in a statement to NBC News on March 27, saying, "the Trump administration will not put taxpayers on the hook to correct a decades-old spending crisis that has left the island with deep-rooted economic problems."
It remains uncertain where Trump obtained the $91 billion figure, though the number is one estimate for the damage done by Hurricane Maria when it struck the Puerto Rico, Dominica and the U.S. Virgin Islands in September 2017. In November 2017, Rosello asked for $94.4 billion in aid from the United States, while Texas and Florida requested $61 billion and $27 billion to rebuild after separate storms impacted those states.
According to the Washington Post, estimates for aid sent to the island is near $25 billion, though the figures are unofficial.
"Yes, we are wonderful people: we have weaved American Flag, the fabric of our nation, with our sacrifice and valor fighting in every war since WWI. We are Americans, we are your citizens," Rosello continued on Twitter in response to the president. "Puerto Ricans ARE American farmers! American teachers! American citizens! American everything! @SenateGOP, @SenateDems - I urge you, take action on your commitment and empathy to Americans in need. Mr. President, once again, we are not your adversaries, we are your citizens."
Rosello later tweeted former Secretary of State Hillary Clinton, actress Alyssa Milano and chef José Andrés, all of whom tweeted support for the island.
Speaking to Wallace, Cruz said called Trump the "faker in chief" and asked Trump to "put his ego aside and do his job."
"Most of all, we need the president to develop a heart," Cruz said. "This man is heartless. This man is vengeful. This man racially discriminates against people that are not like him, and he is willing to let people starve, to let people die."
Cruz also urged American citizens to call their Congressmen and Senators to ask them to support the country.