Lights Off in Puerto Rico As Power Outages and Dirty Water Plague Islanders After Hurricane Maria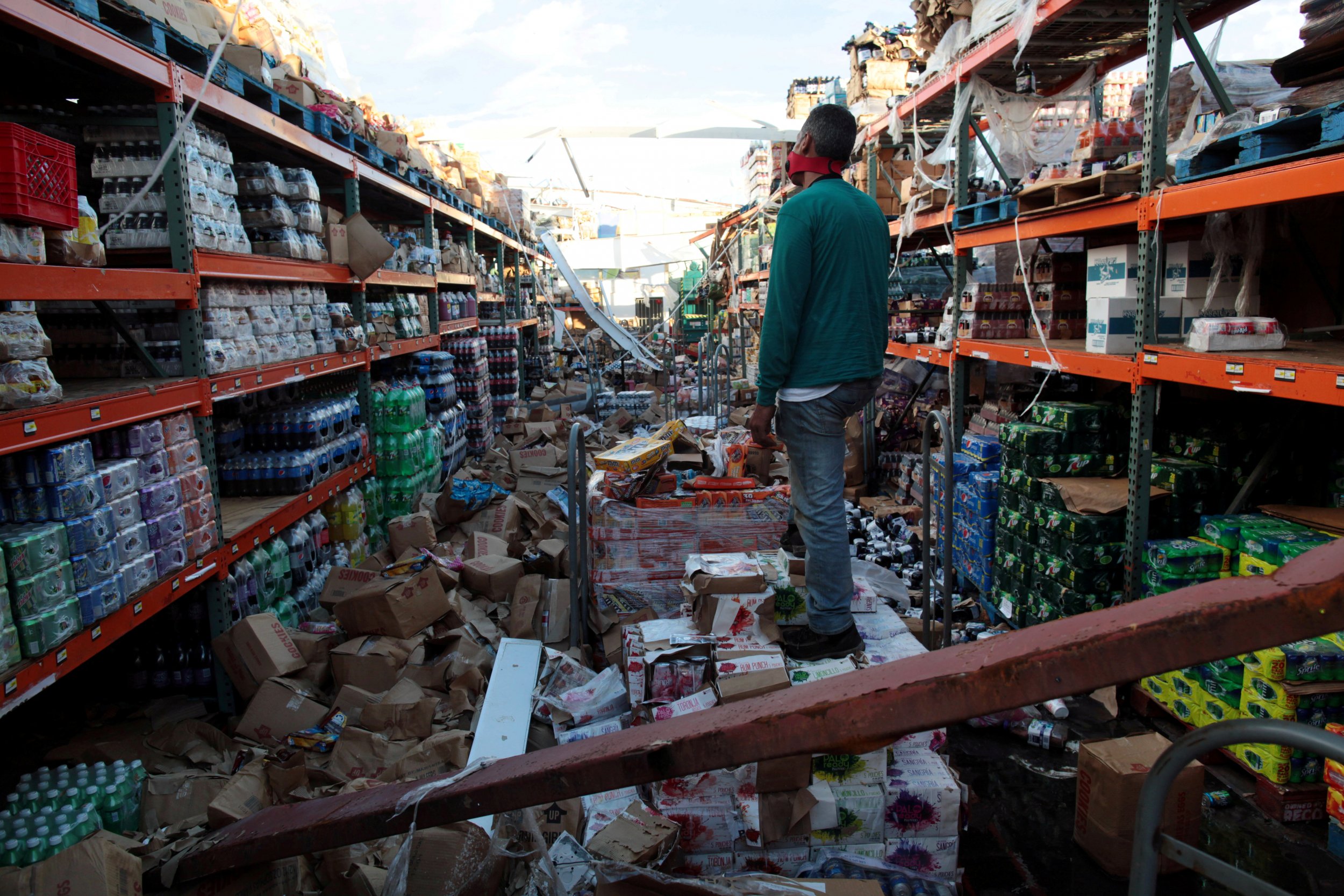 Nearly two months after the Category 4 Hurricane Maria barrelled into Puerto Rico, 60 percent of Puerto Ricans still don't have power.
That number temporarily surged to 80 percent on Thursday morning, when a power line repaired by Whitefish Energy failed—wiping out power for millions of Puerto Ricans, reported BuzzFeed. Friday morning, the number appeared to have rebounded back to 60 percent without power, according to Puerto Rico Electric Power Authority's status update.
Around one in five Puerto Ricans still don't have water, according to PREPA. A lack of cell phone service plagues one in 10 and around 15 percent of gas stations are still closed.
What looms in the background of the ongoing disaster—and what is far less documented—are the potential health crises that could arise in the wake of such a severe natural disaster.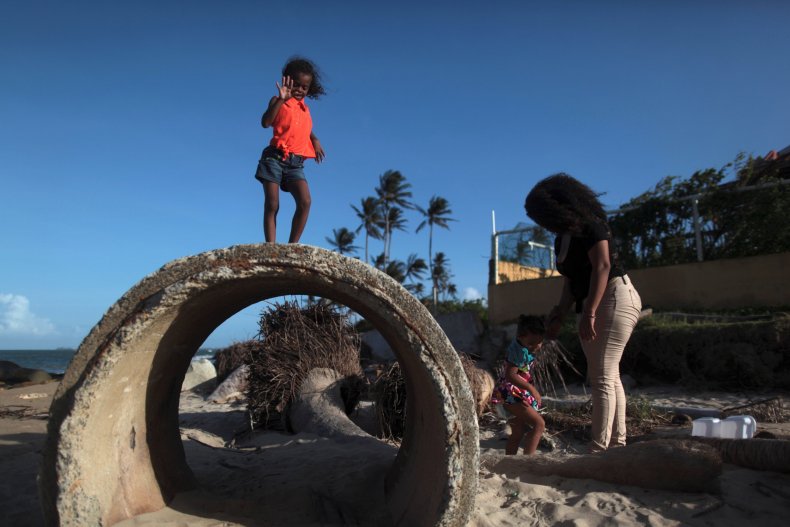 "After storms and hurricanes, with that level of damage we're seeing in the Caribbean, one can only surmise that all of these problems are being worsened by the terrible damage from those repeated storms," said Kim Knowlton, a senior scientist at the Natural Resources Defense Council.
Excess standing water, lack of access to clean drinking water, and piles of debris are breeding grounds for waterborne and mosquito-borne diseases.
Knowlton, who studied health effects in the aftermath of Hurricane Sandy in New York, listed off all the potential public health concerns aside from those illnesses: carbon monoxide poisoning from using generators improperly, spoiled food, unusable medicine, medical devices that don't work without power, skin infections, and, in the long term, respiratory issues resulting from mold.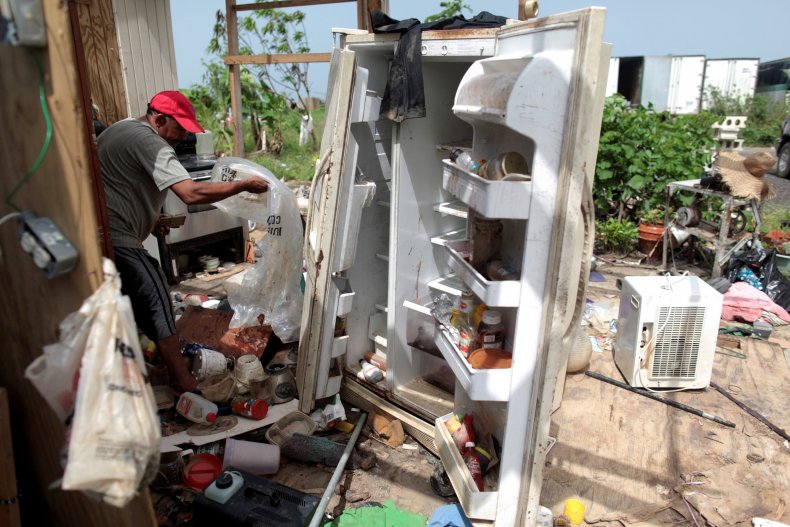 Collecting rainwater or using drinking water that itself has to be boiled creates further risk of catching illnesses. But in hard to reach places where access to bottled water or money to buy bottled water may be short, there aren't other options.
"You would do it, I would do it, anyone would do it," said Knowlton. "Those containers, unfortunately, can serve where the mosquitoes can live, breed, lay eggs."
"People are much more likely to be in contact with insects that can carry diseases like dengue," she said. And Zika, chikungunya, and yellow fever, she added.
The official death toll is at 55, but this doesn't reflect the recent inflated death rate.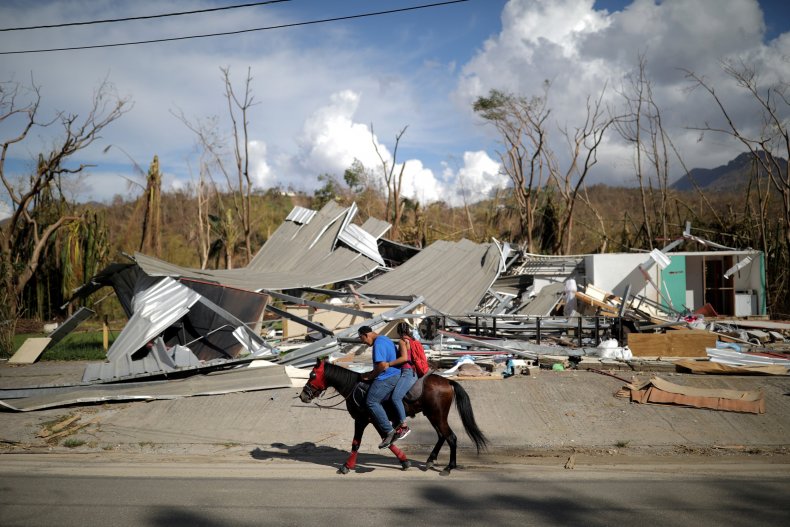 Puerto Rico said over 472 people died this September than the same month last year—but only 55 are attributed to Maria. BuzzFeed first reported that over 900 bodies were cremated on the island since Sept. 20 when the storm hit, but none were attributed to the hurricane, which has raised questions about the legitimacy of how those deaths were counted. There have been 18 confirmed cases of leptospirosis, a waterborne bacterial disease, which has killed four people in the official count, reported The Miami Herald . A photograph of doctors performing surgery by flashlight was noted in The Atlantic.
Massachusetts Senator Elizabeth Warren along with 11 others wrote a letter to the Centers for Disease Control and Prevention requesting information on the spread of water and vector-borne diseases in Puerto Rico and the U.S. Virgin Islands during the recovery from Hurricanes Irma and Maria.
"To date, hundreds of thousands of Puerto Ricans do not have access to running water; meanwhile, wastewater treatment plants are relying on generator power, and a significant fraction are not operational," the senators wrote Nov. 7. "Left with no other options, many Puerto Ricans are bathing, washing clothes, and drinking from unsafe water—including streams and rivers contaminated by raw sewage."
The senators cited 76 suspected cases of leptospirosis in Puerto Rico as well as outbreaks of stomach flu and pink eye. Cholera, which is not typically a disease seen in Puerto Rico, could spread easily with the current sewage and sanitation conditions if the bacteria were to arrive in the island. Though Puerto Rico declared an end to its Zika epidemic, the senators warned that standing water left behind from Hurricane Maria could undermine recent progress. The U.S. Virgin Islands has also seen at least one case of leptospirosis and a case of Zika.
The senators requested the information from the CDC by Nov. 21.
In a House oversight hearing on Tuesday, the executive director of the island's federal oversight board said the territory will need $13 billion to $21 billion over the next two years to keep the government operating and cover salaries for police officers, teachers, and other employees, reported Bloomberg . A Senate hearing on the recovery efforts in Puerto Rico and the U.S. Virgin Islands is scheduled for Tuesday morning.