Updated| A new rule championed by Federal Communications Commission Chairman Ajit Pai would limit internet and phone access for millions of low-income and elderly Americans.
Pai's proposed changes to the Lifeline program, which currently serves 12 million Americans by providing subsidized phone and internet service, would cut service to about 70 percent, or 8 million, of them. Many of these recipients live in Puerto Rico and rely on Lifeline for assistance as they recover from Hurricanes Maria and Irma.
Hurricanes Irma and Maria, hitting Puerto Rico just two weeks apart in September of 2017, caused billions of dollars in damage to the island and left many citizens without access to essentials like food and healthcare. Maria was the worst storm to hit Puerto Rico in over 80 years, killing at least 60 people. The island's infrastructure was permanently damaged by both storms and 86 percent of the island was left without electricity. Experts estimate it will cost at least $95 billion to repair the damage.
"Proposed changes to the Lifeline Program would limit access to millions of Americans, many of whom live in Puerto Rico," said Manuel Laboy, secretary of Economic Development and Commerce of Puerto Rico. "This action would disrupt the positive momentum we're already seeing in the strengthening of Puerto Rico's economy and the transformation of the island."
Last week, a group of Democratic Senators including Kamala Harris, Bernie Sanders, Kirsten Gillibrand, Jeff Merkley, Edward J. Markey, Ron Wyden, Richard Blumenthal, Elizabeth Warren, Dick Durbin and Cory Booker wrote a letter to the FCC chairman questioning his motives.
"The Lifeline program is essential for millions of Americans who rely on subsidized internet access to find jobs, schedule doctor's appointments, complete their school assignments, interface with the government, and remain connected in a digital economy," they wrote. "The program helps Americans—including disproportionate numbers of families with children, veterans and people of color—survive."
The letter also questioned the economic reasoning for the program change. "It is unclear why the FCC would spend billions of dollars to expand access to broadband while at the same time make Lifeline less accessible to those who need it most," it read.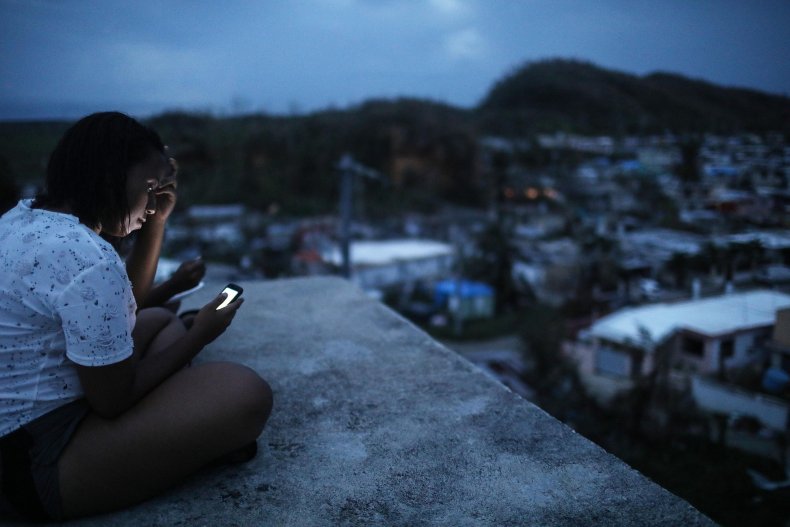 The Lifeline program is a 33-year-old bipartisan program started under President Ronald Reagan and bolstered by Presidents George W. Bush and Barack Obama. Low-income Americans are granted a monthly household subsidy of $9.25 to help pay for internet and phone service. Changes proposed by Pai would prevent telecom companies that don't provide their own infrastructure, like AT&T or Sprint, from offering the subsidized plans. About 70 percent of users are on a plan that doesn't use its own infrastructure. The Lifeline service is paid for through special service fees on phone bills.
"I really struggle to figure out what Pai is trying to accomplish here," said Blair Levin, a senior fellow at the Brookings Institution who oversaw the development of the National Broadband Plan at the FCC. "He's trying to figure out how to bridge the digital divide and yet he wants to undercut a program helping millions of Americans." This isn't about trying to make the rule fairer for service providers to bolster the free market, he said.
GOP officials have been grooming Pai for a possible gubernatorial run, according to a report from the New York Times. "Perhaps he wants to go run for office in Kansas and there are a lot of rural phone companies in Kansas," said Levin. "He wants to take money away from larger companies and give it to phone companies in Kansas."
Pai says the money will help rural telephone companies by encouraging providers to build networks there. But "the amount of money redistributed will be small, and how are they going to distribute it?" Levin asked. "Rural telephone companies have huge problems. There needs to be a much bigger, more systematic way of thinking about this."
These changes are a "death sentence," for vulnerable Americans, said Luis Belén, CEO of National Health IT Collaborative for the Underserved, a nonprofit that works closely with the U.S. government and the Puerto Rican health care community. "Lifeline is a tool that is utilized to alert and communicate with underserved communities in times of disaster," he said.
In Puerto Rico, where 550,000 people, or about 17 percent of the total population, use the Lifeline program, communities are much more isolated and poverty is much more extreme than it is in the continental United States, according to the Census Bureau. "These are rural communities two hours away from any real health care," he said. "We're not talking about giving these people unlimited texting. This isn't a luxury. This is something people use to take care of their basic needs."
It doesn't make sense to get rid of a tool that can significantly reduce health costs and cut off communication with Americans after a year with a number of deadly weather events, said Belén. "This is an inexpensive tool that saves us a lot of money down the line."
The FCC did not respond to Newsweek'srequest for comment.
This story has been updated to include more information about the hurricanes that hit Puerto Rico in 2017.