Puerto Rico Morgue Overflows With Unclaimed Dead After Hurricane Maria
Budget cutbacks since Hurricane Maria devastated Puerto Rico in 2017 have left its morgue unable to cope and forced it to store bodies in four refrigerated containers nearby.
The U.S. territory's Bureau of Forensic Sciences said its six pathologists can only perform a maximum of 325 autopsies per year and it has been overwhelmed in the wake of the hurricane last September whose unofficial death toll is in the thousands.
"We've never been in this kind of situation before and we don't want to reach this point," bureau head Monica Menendez told Agence France Presse.
El Vocero reported that of the bodies kept in the morgue, 52 have not been claimed "for family or financial reasons." Another 36 bodies identified after Hurricane Maria struck also have not been claimed.
Get your unlimited Newsweek trial >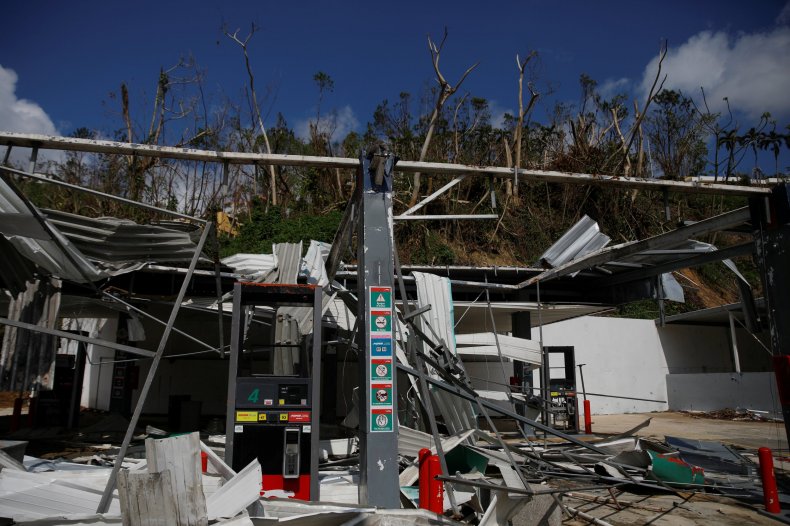 Meanwhile there are 49 bodies which have been identified but not claimed and are mostly the elderly or people who died alone in hospitals. The agency has not had the resources to carry out autopsies on another 128 corpses, El Vocero reported.
Puerto Rican legislator Juan Oscar Morales Rodriguez said on Twitter: "The situation in light of the high volume of pending cases, lack of space and specialized personnel requires immediate attention."
There has been much criticism of the U.S. government's response to the disaster. New York Governor Andrew Cuomo is calling for a federal investigation into the response he described as a "national disgrace."
Get your unlimited Newsweek trial >
The official death toll from the hurricane was only 64. However, a new survey by Harvard and other institutions published in the New England Journal of Medicine, point to a toll of more than 4,600 people, mostly due to delays in medical care.
That would make it the deadliest natural disaster to hit U.S. soil for a century and a death toll twice as high as Hurricane Katrina in New Orleans in 2005. Democrats in the U.S. Senate are looking for a standard federal process to calculate deaths from natural disasters.
Senator Kamala Harris said in a statement to Vox: "Whether it be Hurricane Maria or another natural disaster to come, the accuracy of the death toll has a direct impact on an area's recovery.
"We cannot allow our government's failed response in Puerto Rico to ever happen again. The ability to accurately count victims of natural disasters will give accurate information to grieving communities and help us understand how we can mitigate the damage of future disasters."
Puerto Rico Morgue Overflows With Unclaimed Dead After Hurricane Maria | World