Puerto Rico has been plagued by hurricanes, earthquakes and political turmoil in recent years. But the tiny island has gained a badge of honor that may surprise some: it's the most vaccinated place in America.
The U.S. territory has fully vaccinated more than 2.3 million residents, amounting to just over 73 percent of its population, according to U.S. Centers for Disease Control and Prevention (CDC). The island also has among the lowest COVID-19 infection rates in the U.S.
While some people across the U.S. mainland continue to resist vaccine mandates, Puerto Rico successfully vaccinated a majority of its residents by "putting science before politics," Daniel Colón-Ramos, a Yale University professor who heads the coalition of scientists advising Puerto Rico's government on the coronavirus pandemic, told Newsweek.
"Social distancing, use of masks among children and adults, and vaccinations were not as politicized in Puerto Rico as compared with the rest of the U.S," he said. "In part, I think this had to do with the trauma that Puerto Rico went through after the hurricane, and shortly after, the earthquakes."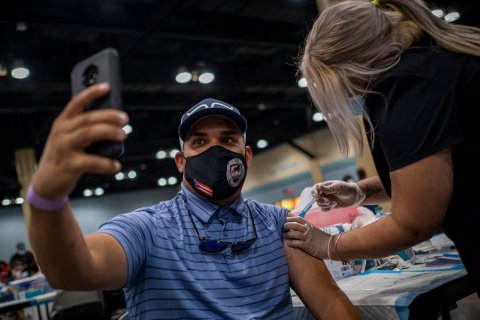 He added that although Puerto Rico is "a very politicized society, there was consensus among political leaders who largely agreed that the priority had to be to use science to save lives, and that the success in public health results from strong public policy and individual decisions that affect the collective whole."
Colón-Ramos added: "We conservatively estimate just the vaccination efforts have saved hundreds of lives."
Puerto Rico's success shows that it's not just "wealthy" New England states that can achieve high vaccination rates, Dr. Ashish Jha, the dean of the Brown University School of Public Health, recently noted on Twitter.
Jha wrote that when people think of highly vaccinated places in the U.S., they think of states like Vermont or Massachusetts—and that Puerto Rico's successful vaccination program "has gotten way too little attention."
He noted that Puerto Rico is "quite poor" compared to much of the U.S. but is actually about five times bigger than Vermont.
"So how has PR [Puerto Rico] done it?" Jha wrote. "Best I can tell, they've done this largely by not tying vaccines to politics. They pay less attention to mainland politics. All their political parties actively support vaccinations. And generally, political identity & vaccinations are not intermixed."
Colón-Ramos said Puerto Rico Governor Pedro Pierluisi followed much of the advice that was given by the scientific coalition. "The communication with his team was constant," he said.
Stacy Wood, a professor of marketing at North Carolina State University who has researched COVID-19 vaccine promotion, told Newsweek that Puerto Rican leaders were "savvy" about which strategies would work best in their communities.
Pointing to a dozen strategies she and her co-authors assessed in a recently published study, Wood said healthcare workers in Puerto Rico were "quick to use techniques that helped people understand the vaccine, like analogies and messages about vaccine mandates, rallied people using a 'common goal' identity as united Puerto Ricans rather than based on political party."
She added: "I suspect, similar to our findings in the Caribbean and Latin America, the ability to evoke anticipated regret was also particularly strong as people in Puerto Rico have concerns about their access to well-equipped hospitals."
Puerto Rico's politicians, scientists, healthcare workers and journalists "collaborated to send informed messages to the public on the pandemic situation, and upcoming medical and scientific breakthroughs," Colón-Ramos explained.
He said there was also the understanding that measures needed to be taken to prevent the island's healthcare system from collapsing as it did after Hurricane Maria struck.
"After Hurricane Maria, public health concepts such as 'flattening the curve' and its broader societal impacts of a collapsed healthcare system were intuitive for most Puerto Ricans," he said. "By the time the vaccine rollout happened, there had been many public conversations in Puerto Rico about how vaccines worked, what RNA was, the importance of herd immunity, mostly led by grassroots efforts of first time partnerships between scientists, health care professionals and community leaders."
Colón-Ramos also noted that Puerto Rico's high vaccination rate "counters traditional biased tropes that certain marginalized populations cannot and do not make decisions on their own or in the larger public health benefit."
He added that it demonstrated how health disparities can be overcome if resources are distributed equitably.
"When resources are distributed equitably AND when local scientists and health care leaders are able to direct their own strategies, they can perform better than most U.S. jurisdictions," he said.
Wood said state leaders in the U.S. and other countries can learn from Puerto Rico's success.
"The key insight that other leaders—both state-level leaders in the U.S. and leaders in other countries—is that there is a bigger toolbox in terms of vaccine messaging strategies and they can't treat vaccine promotion as a 'one size fits all' campaign; they must use different tactics with different folks," she said.
"They have to look at what specific worries that people have about getting COVID (not getting the vaccine) and remember to speak to those concerns—is it about getting sick, about long COVID, about being stuck at home, losing work, losing customers, or caretaking for sick family?
"The vaccine can lower the risk of all of these things, but messages and mandates should speak to each group's primary worry."
Colón-Ramos' advice? "It's pretty straightforward. This is a pandemic, it's a virus. It doesn't care about politics... It requires a multi-pronged approach to get out of it, and wishful thinking is not going to make it go away, it requires the integration of science.
"For the first time in human history during a pandemic, we have the tools to be able to get out of it quickly. Now it's our choice if we want to implement those scientific tools or not to get out of it."