Puerto Rican Day Parade Will Celebrate Island's Resiliency After Hurricane Maria
The 61st annual Puerto Rican Day parade in New York City will be held on Sunday, June 10, but it's also Louis Maldonado's first time as the board chairman of the National Puerto Rican Day Parade committee.
Maldonado has served on the board since 2014, but this will be his first year as chairman. Two million people will be participating in this year's parade theme of "Un Pueblo, Muchas Voces"—One Nation, Many Voices—which "celebrates the creativity and diversity of thought in Puerto Rico and across the diaspora," according to the website.
In celebrating the culture and the people of Puerto Rico, Maldonado told Newsweek that he is excited about using this year's parade as a platform to discuss Puerto Rico and the island's recovery after Hurricane Maria struck the U.S. territory on September 20.
"This is an opportunity to use the parade as a platform to continue providing people with information and knowledge not only of our culture but to these important issues," Maldonado said.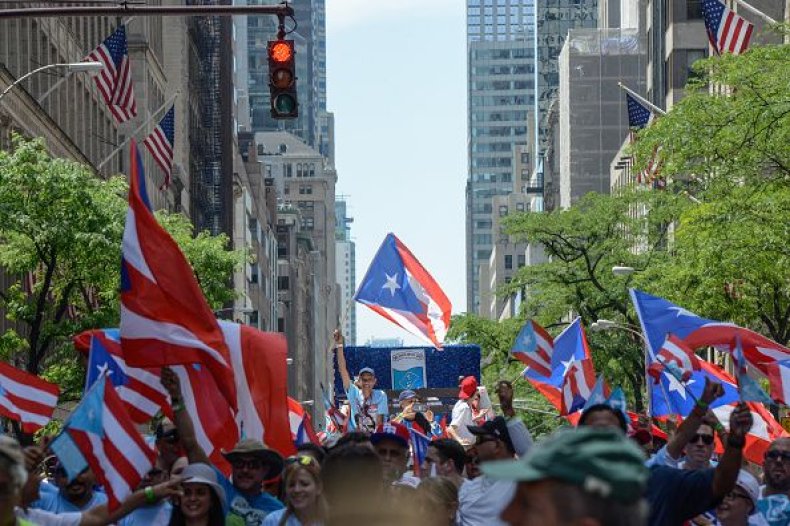 The hurricane slammed the island with 155-mile-per-hour winds and more than 30 inches of rain, causing power outages and destroying homes. The devastation caused the death of an estimated 4,645 people, but the death toll could be more.
Maldonado and the board discussed how they should appropriately approach the parade this year after the hurricane. This year, the parade will focus on honoring the people who have helped Puerto Rico after the storm and celebrating the resiliency of the island. Honorees for this year's parade include parade grand marshal and actor Esaí Morales, musician Lucecita Benítez and former New York Yankees catcher Jorge Posada.
"All the heroes, the celebrities, the community, the organizations, the Good Samaritans—these are the people who can represent everyone who is helping Puerto Rico recover," said Maldonado.
Maldonado said he was asked how he could have a parade after the destruction the hurricane caused, but he and the board wanted to show the progress the island has made and that "it's not all doom and gloom."
"A lot of folks have asked, 'How can you have a parade when this is happening?'" Maldonado said. "There is always something to celebrate and our people need this uplifting. It is our responsibility to have this parade for Puerto Rico."
The chairman said he and the board have received a lot of support in holding the parade from people like Governor Andrew Cuomo and the Puerto Rican community.
"It's really one of those days that no matter who you are or where you come from, everybody feels a little Puerto Rican that day," Maldonado said.