Puerto Rico Mayor Slams Trump White House for Hurricane Response: "People are Dying!"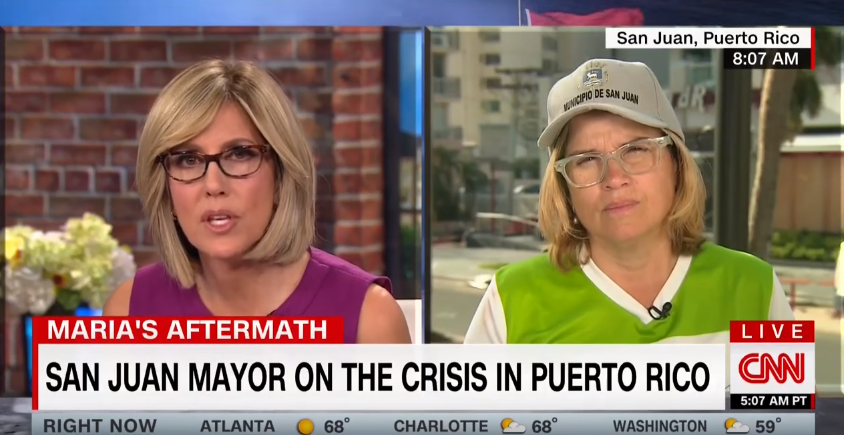 The mayor of Puerto Rico's capital city slammed the White House for calling its Hurricane Maria relief efforts a "good-news story" when, in fact, "people are dying."
San Juan Mayor Carmen Yulin Cruz made the comment on CNN Friday morning after acting Homeland Security Secretary Elaine Duke had defended what critics say has been a tardy response to the crisis in the U.S. territory.
"Well, maybe from where she's standing it's a good-news story," Yulin Cruz said. "When you are drinking from a creek, it's not a good-news story. When you don't have food for a baby, it's not a good-news story. When you have to pull people down from their building—I'm sorry, but that really upsets me and frustrates me.
"When you have people out there dying, literally scraping for food, where is the good news?" she continued. "Dammit, this is not a good-news story. This is a people-are-dying story. This is a life or death story. This is—there's a truck load of stuff that cannot be taken to people story. This is a story of a devastation that continues to worsen because people are not getting food and water."
The White House has been touting its response to the devastation in Puerto Rico, blaming the media for misrepresenting its efforts. On Thursday, after Duke was criticized for calling it a "good-news story," Trump added in a tweet, "Military is now on site and I will be there Tuesday. Wish press would treat fairly!"
But officials tell Newsweek aid coming from Washington has been slow-moving and badly organized, as FEMA and the National Guard work to deliver food and supplies to regions disproportionately impacted by flooding and debris.
Related: Here's how Donald Trump could actually be impeached
"The federal response has been very slow and uncoordinated," said Rep. John Garamendi (D-Calif.), a ranking member of the subcommittee on maritime transportation. "What needs to be done is freight movement on the island itself."
The National Guard and FEMA have been conducting search-and-rescue missions across the island this week, as planes and ships deliver commodities across the Caribbean for regions affected by Maria and Irma, including Puerto Rico and the U.S. Virgin Islands. Meanwhile, the vast majority of Puerto Rico is without power and 44 percent of the island lacks clean drinking water.
"The good news is we are getting heard," Yulin Cruz said. "The good news is there's boots on the ground. The good news is people from FEMA have their heart in the right place.… For heaven's sakes, somebody let them do their job. Let them get the food in hands of the people and then talk about good news."
By Friday, at least 36 hospitals and 90 banks had reopened, as well as 34 dialysis centers across Puerto Rico, Governor Ricardo Rossello said at a morning press conference. Local officials say it could take anywhere from four to six months until power is fully restored across the island of nearly 3.5 million people. Countless residents have boarded cruise ships and planes throughout the week in route to Florida, telling reporters, "we don't even know when we're coming back."