Puerto Rico Says More Than 900 People Were Cremated After Hurricane Maria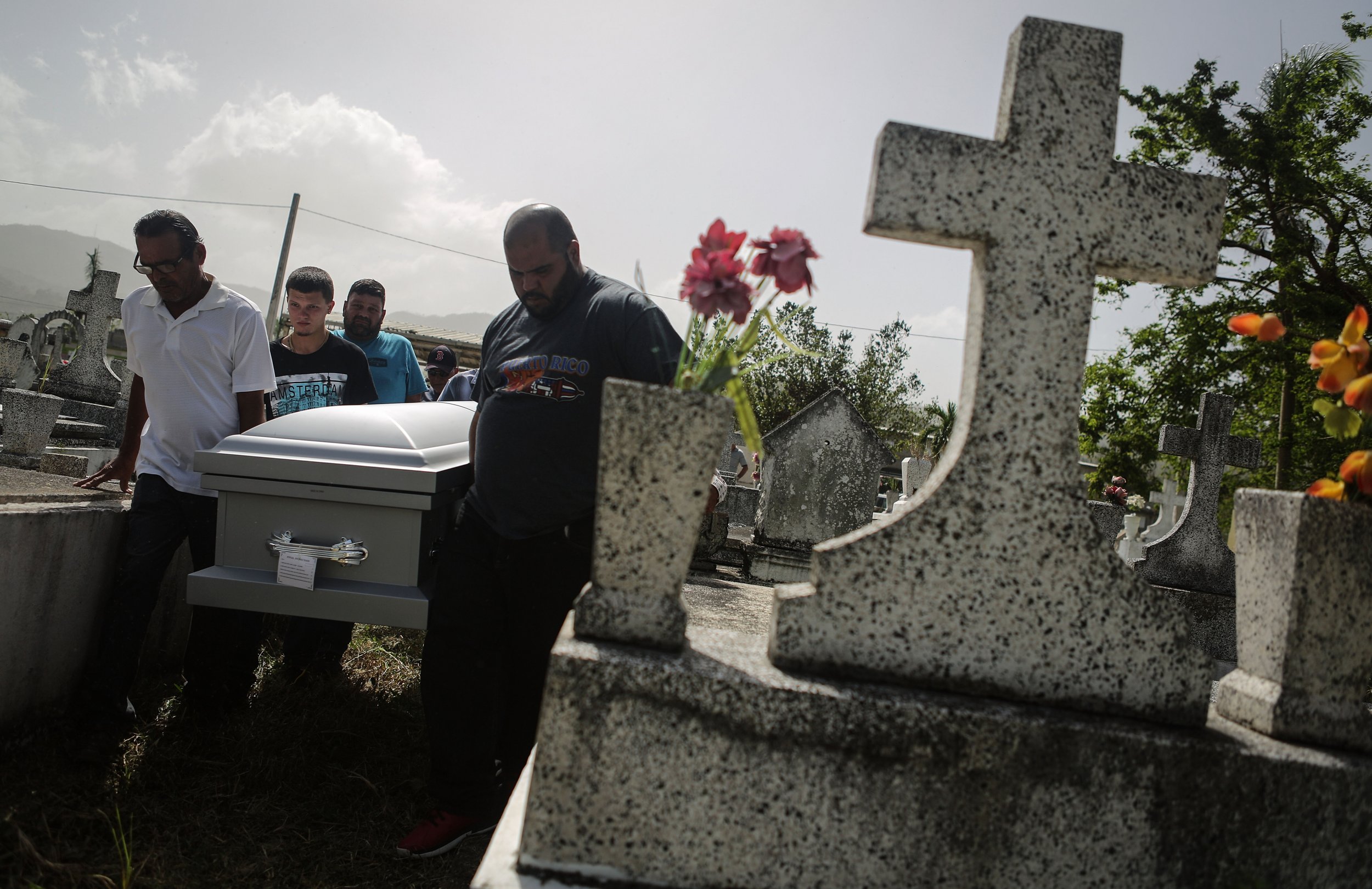 More than a month ago, Hurricane Maria swept through Puerto Rico leaving the island with extensive damage. In addition to the physical destruction seen throughout the U.S. territory, 51 people lost their lives as a result of the storm, according to the official death toll from Puerto Rico's Department of Public Safety. But, the actual number of deaths may be much higher.
Since September 20—when the Category 4 storm made landfall on Puerto Rico—911 bodies were cremated on the island, BuzzFeed reports. But, none of those deaths were caused by the hurricane, Karixia Ortiz Serrano, a spokesperson for the Department of Public Safety, told BuzzFeed. Rather, they were all deemed "natural deaths."
After hearing of the report, David Begnaud, a CBS News Correspondent who has extensively been covering issues related to the storm, reached out to public safety officials who were able to confirm the number of cremations and explain the process.
"By law, the Bureau of Forensic Science must authorize all the cremation requests of the family members of the deceased. During the process, several documents are analyzed: the death summary, the death certificate, the ballot, the medical summary or document that certifies or gives evidence of the cause of death, and the form that the family completes for requesting a cremation. This form also establishes if the family member agrees or doesn't agree with the circumstance of the death. In that sense, the 911 authorizations of cremations during the previously established period are of natural deaths at the time of specific evaluation and there was no suspicion that would stop the requested process," according to the statement obtained by Begnaud.
In a video posted to Twitter on Saturday morning, Begnaud explains that he plans to investigate how the 911 deaths compare to previous time frames. It may not be an unusually high number, according to an analysis reported by The Washington Post. But, it still doesn't explain whether the deaths were hurricane-related or not.
"The reality is we probably will never know," Joe Trainor of the University of Delaware's Disaster Recovery Center, told The Washington Post.
The reports come shortly after President Donald Trump compared the death tolls of Hurricane Maria and Hurricane Katrina, which caused severe damage in the Gulf Coast in 2005 and killed more than 1,800 people. At the time of Trump's comments, the official death toll was 16.
"Every death is a horror," Trump said during a meeting in San Juan, "but if you look at a real catastrophe like Katrina and you look at the tremendous -- hundreds and hundreds of people that died and you look at what happened here with, really, a storm that was just totally overpowering ... no one has ever seen anything like this."