Puerto Rico Shelters Flooded with Hundreds of Abandoned Cats and Dogs After Hurricane Maria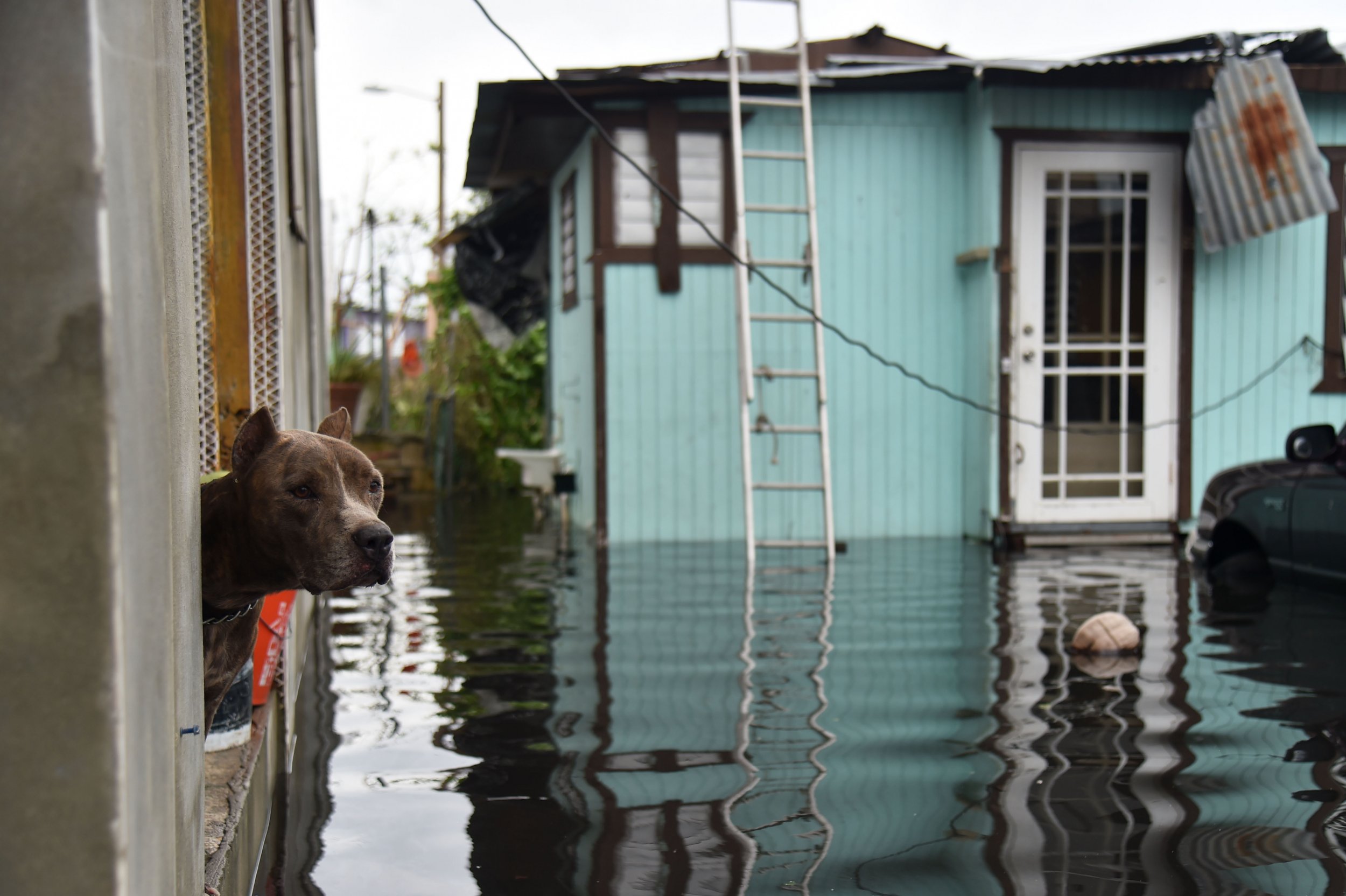 Three months after the devastating destruction of Hurricane Maria, Puerto Rico grapples with a failing electricity grid, exorbitant debt and a rising death toll. Now, animal shelters witness the side effects of the damage as they have received an unprecedented number of forsaken pets.
The Associated Press reports that Puerto Rico's shelters have received hundreds of dogs and cats—even a pet pig and a fighting cock—after their owners decided to leave the island due to economic hardships or opted to forsake their animals as they try to recover from the tempest. The shelters already faced problems housing stray animals even before the hurricane that pummeled the U.S. territory in September.
Some of Puerto Rico's five government-run shelters and more than 30 nonprofit animal centers lost their roofs, food and cages, but the state of these facilities has not deterred pet owners from leaving them there. AP reported that animals are being thrown over the shelters' fences, are tied to gates or left with money under their collars.
"We previously picked animals on the streets, but now I found them at my doorstep," Carmen Cintrón, founder and administrator of Santuario Canita in the municipality of Guayama, told Puerto Rican newspaper El Vocero. "Heartless people without scruples or conscience leave their animals on the streets because they're sick…When they leave them in front of [the shelter] I can't do anything but pick them up."
Santuario Canita provides shelter to 740 dogs and 12 cats but is unable to receive more pets after Maria left the sanctuary in shambles. "We lost at least 20 animals, not because they were physically injured but because they felt anxiety and fear from the hurricane," Cintrón said. "We could have moved 200 animals to a school or another refuge, but that could have been even more dangerous."
Other animal shelters face a similar situation. The Humane Society's no-kill shelter has a capacity for 80 animals but it has 120, and roughly 250 people have added their pets to the shelter's list. "The situation is horrible," Claribel Pizarro, executive assistant at the Humane Society of Puerto Rico, told AP. "They want to turn in pets every single day."
There are no official numbers, but animal rights activists estimate that the number of stray animals increased after the hurricane because the shelters were closed, while the number of puppies has gone up because spay and neuter operations immediately stopped after the disaster.
After the hurricane, several groups began to fly pets to no-kill animal centers in the continental U.S. On Sunday, the Animal Rescue Fund of the Hamptons in Long Island, New York, received more than 100 dogs and cats. "By saving these 130 animals, that means that we're really able to help the shelters down there bring another 130 animals off the streets of Puerto Rico," Scott Howe, director of the Animal Rescue Fund of the Hamptons, told Newsday.
Last week, famous dog trainer Cesar Millan visited some of the island's animal shelters and helped volunteers and rescuers. "A lot of times [animal rescuers] forget about themselves, so they need encouragement to continue their work," he told El Vocero.