Puerto Rico, US Virgin Islands Will Have to Wait for Billions in Mitigation Disaster Aid, HUD Says
Billions of dollars in federal money to mitigate the effects of future natural disasters will soon be made available to several states hard hit by Mother Nature in recent years, according to two senior Department of Housing and Urban Development (HUD) officials.
The U.S. territories of Puerto Rico and the U.S. Virgin Islands will also receive large sums of money. However, due to concerns from the department about potential misuse of funds, the roughly $9 billion for the island nations devastated by Hurricane Maria will have to wait, likely meaning the funds will not be provided in time for the 2020 hurricane season.
"We're particularly concerned about the controls Puerto Rico had in place. Recent events have increased that risk even more," said one senior HUD official on a conference call with reporters Friday.
The officials on the call would not allow reporters to use their names on-the-record, requiring that they only be identified as "senior HUD officials."
"[Puerto Rico is] already a high grantee, not just because of the past financial issues, but we're giving them $20 billion, which is larger than Louisiana received after [Hurricane] Katrina," the officials continued. "Right now, because of the government instability, we have serious concerns. We want to make sure we're pumping the brakes, that we're being prudent and that the money is being spent properly. I think we owe that to the American taxpayer."
HUD plans to make available two pots of money totaling $16 billion previously approved by Congress. The first will be for nine states and has the potential to be dispersed within months:
Texas $4.3 billion
Louisiana $1.2 billion
Florida $633 million
North Carolina $168 million
South Carolina $158 million
West Virginia $106 million
California $88 million
Missouri $42 million
Georgia $27 million
The second disbursement of money will be for Puerto Rico, $8.29 billion, and the U.S. Virgin Islands, $774 million, on a timeline that the two officials would not specify.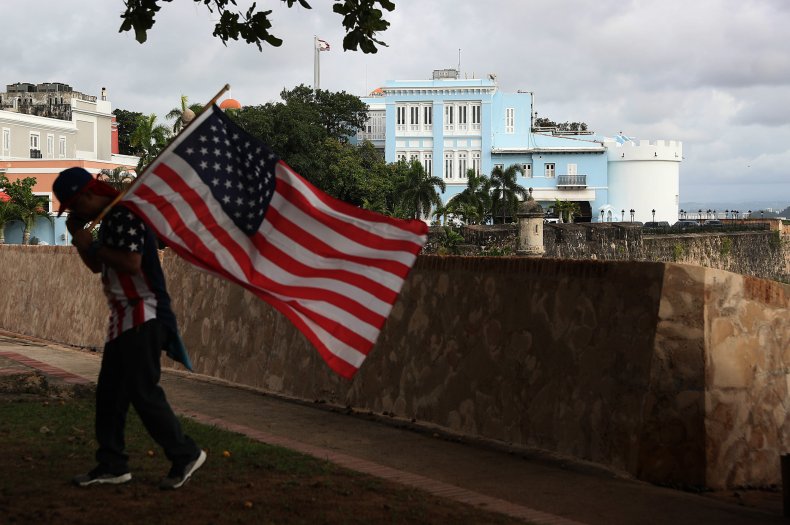 Amid mass protests in recent weeks over leaked private chats that showed the governor disparaged victims of Hurricane Maria, which killed thousands and devastated the island in 2017, Ricardo Rosselló announced he would vacate his spot as governor of Puerto Rico effective Friday. The U.S. territory was already in the midst of a financial crisis with mounting debt prior to the storm.
"With the unrest in Puerto Rico, it's doubly important we're really focused on our funds down there," the senior officials said. "In the meantime, we didn't want to hold off on the funding for the states because it's important that we give the states an opportunity to plan for next hurricane season and going forward."
Earlier this year, Congress appropriated $19 billion to Puerto Rico to be allocated by HUD for recovery efforts, contrary to the repeated falsehoods by President Trump that the territory has received more than $90 billion. There are five HUD officials, in addition to a "financial monitor," who are currently in Puerto Rico reviewing how a fraction of the federal money that's been dolled out is being used due to "past mismanagements of funds," according to the senior officials.
Rather than the new HUD money being used to subsidize local government with disaster recovery, such as help individuals rebuild homes, as the HUD officials said funding would normally do, it will be used for large projects that states develop to help prevent and mitigate damage from future natural disasters. One example given by a HUD official was the hardening of electrical grids.
"These mitigation projects—we're not looking at small, little rejects," the HUD official said. "We're looking at much larger projects that are not just going to help them next year, but are going to help them 12, 13, 14 years down the road."
A notice will be sent to the nine states in the coming weeks outlining the "rules of the road" for the type of mitigation plans HUD is looking for. States can then submit their plans at any time, but no later than deadlines that will be set ranging from February to April, depending on the state. Once submitted, HUD will take up to 60 days to approve the plans, at which point a line of credit will be made available for the states to begin their projects.
"We want to give as much flexibility to the states as possible. We feel it's the states who are in the best position to determine how they can mitigate risks," the officials said. "We're looking at the plan closely to make sure the money is being spent on good, solid projects that accomplish the mission of mitigation of protecting against long-term risks. We'll review it, but we don't want to tell the states how to spend the money."
Lawmakers from states receiving the money applauded HUD's move in various statements, including North Carolina Republican Senators Richard Burr and Thom Tillis, South Carolina Republican Senator Lindsey Graham and Texas Republican Governor Greg Abbott.
"Our hope is that these rules will be limited, allowing for the greatest flexibility to best protect coastal communities as quickly as possible," said George P. Bush, commissioner of the Texas General Land Office, who will be responsible for administering Texas' funds. "We are now in the third month of the 2019 Hurricane Season – these funds cannot come quickly enough."