Puerto Rico's Hurricane Maria Death Toll: How Does New Number of Casualties Compare to Katrina, Other Natural Disasters?
The death toll from Hurricane Maria in Puerto Rico is thought to be much higher than official government counts, a new Harvard study revealed Tuesday. The island's official death toll is 64, but the study found that an estimated 4,645 people died during the hurricane and its aftermath.
For six weeks, researchers knocked on doors and asked residents if anyone had died in their homes. The Puerto Rican government, which has hired George Washington University to conduct a survey on the hurricane's death toll, welcomed the latest results.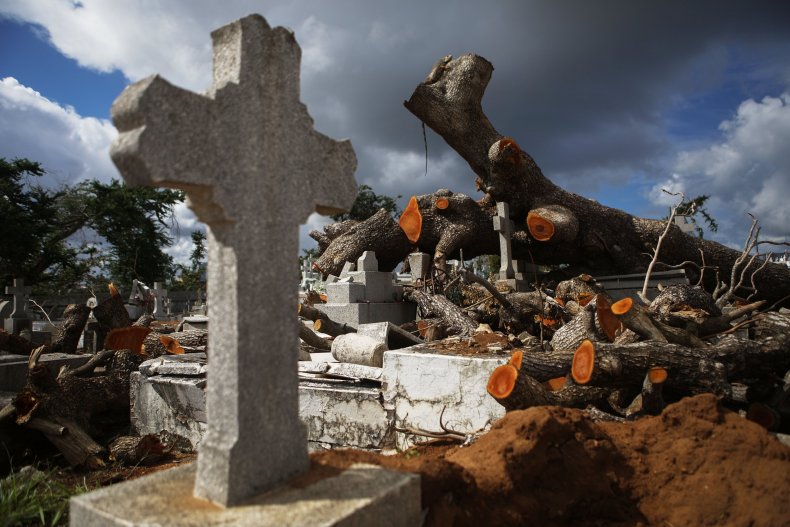 "We welcome all studies," Governor Ricardo Rosselló said at a press conference Tuesday, according to CBS News. "We want the real number to come out. We had a protocol that really was subpar, and we recognize it."
Harvard researchers concluded that the island's final death toll could reach as high as 8,500. Official numbers place the death count throughout the Caribbean and the United States at around 112.
But how does Hurricane Maria compare with other major natural disasters? If the numbers found in the study are accurate, Maria would be the deadliest hurricane in recent U.S. history, surpassing 2005's Hurricane Katrina, which killed 1,833 people, USA Today reported. The deadliest hurricane in U.S. history is the Great Galveston Storm of 1900, which killed between 8,000 and 12,000 people.
Hurricane Mitch, which killed 19,325 people in Central America, the Caribbean and the United States in 1998, is considered to be the deadliest hurricane to strike the Western Hemisphere, according to the National Oceanic and Atmospheric Administration (NOAA).
Some of the deadliest natural disasters have occurred in the Indian Ocean. In 2008, Cyclone Nargis killed 138,366 people, most in Myanmar. Nearly 90,000 more people died that year in the Sichuan earthquake in China, according to the United Nations International Strategy for Disaster Reduction.
Four years earlier, at least 230,000 people across 14 countries were killed after an earthquake in the Indian Ocean triggered a massive tsunami, which struck on December 26, 2004. It affected 5 million people, with at least half a million injured and 1.7 million left homeless, Oxfam said at the time.
The 2018 Atlantic Hurricane season is set to begin on June 1 and is estimated to be fairly busy. On May 24, the NOAA released its initial outlook for the hurricane season. Forecasters predict there is a 70 percent chance of 10 to 16 named tropical storms, of which five to nine could become hurricanes, The Sun News in Myrtle Beach, South Carolina, reported.
The NOAA predicts that the season will have one to four major hurricanes, Categories 3 or above, with wind speeds of 111 mph or higher. The agency noted that average hurricane seasons typically have 12 named storms, of which six become hurricanes and three major hurricanes.
Correction: A previous version of this story incorrectly listed Hurricane Maria as the deadliest hurricane in U.S. history. The deadliest hurricane was the Great Galveston Storm of 1990.