Who Is Pufferfish From 'The Masked Singer'? All the Clues so Far
The Masked Singer is back for its sixth season, with a whole new host of celebrities competing to keep their identity a secret thanks to quirky, elaborate costumes.
Pufferfish is one such famous face who remains a mystery, though reality show's first episode gave away a number of clues as to who she could be.
Here is everything we know so far about Pufferfish.
What are the clues to Pufferfish's identity?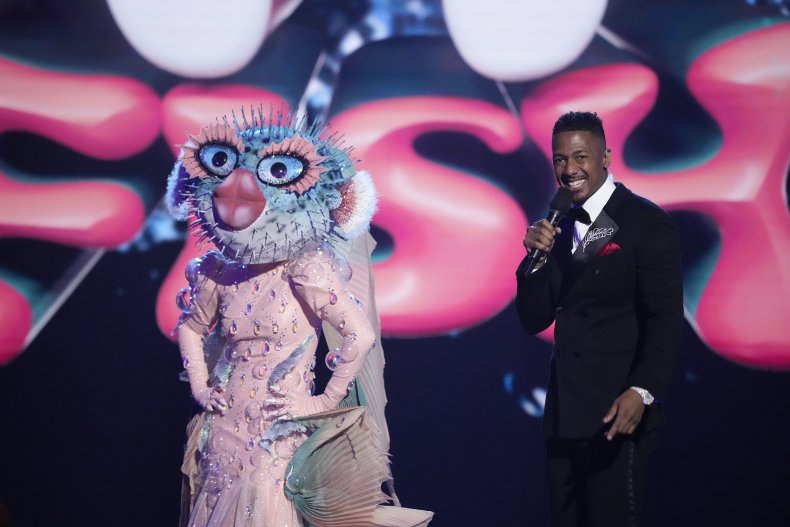 She sang "Say So" by Doja Cat for her debut on the competition show, and declared she had chosen the character of the pufferfish because she is "the queen of the sea."
In the first clue package given about Pufferfish, the mystery celebrity told viewers that she was "excited about becoming the Pufferfish because I know a thing or two about defending myself."
The spaceship-themed clip also saw her reveal she wanted to "blend in" for most of her life but wasn't able to because she was a "weird kid in science class who messed up all the experiments."
Pufferfish added that her voice has always been "different" though that wasn't in a good way, and she learned to "stand up" for herself from a young age which she hopes will help her "stand out" in the competition.
As well as the things she said, there were a number of visual clues in her video including a disco ball, dry ice science experiments, a scale with two beakers on it, a boomerang, an erupting volcano, and a white guitar that had the word "guitarra" on it.
Who do the judges and fans think Pufferfish is?
The judges Ken Jeong, Robin Thicke, Nicole Scherzinger, Nick Cannon and Jenny McCarthy gave a wide variety of guesses for her identity.
They suggested that Pufferfish could either be: Paula Abdul, Issa Rae, Maya Rudolph, or Jessica Alba.
Despite the judges guesses, many fans are convinced that the Pufferfish is none other than Toni Braxton from both the clues and her singing.
Interestingly, the judges named Braxton as a possible guess for Skunk's identity.
Who was eliminated from the premiere episode?
Pufferfish appeared on the first episode alongside Octopus, Skunk, Bull and Mother Nature, and she was one of three stars to be declared safe from elimination.
It was Octopus and Mother Nature who were the bottom two following their debut on the show, with the former being chosen to be unmasked.
Octopus was revealed to be NBA player Dwight Howard.
The Masked Singer Season 6 airs Wednesdays at 8 p.m. on Fox.