Pulitzer Prize for Feature Photography Awarded to Reuters for Rohingya Crisis Coverage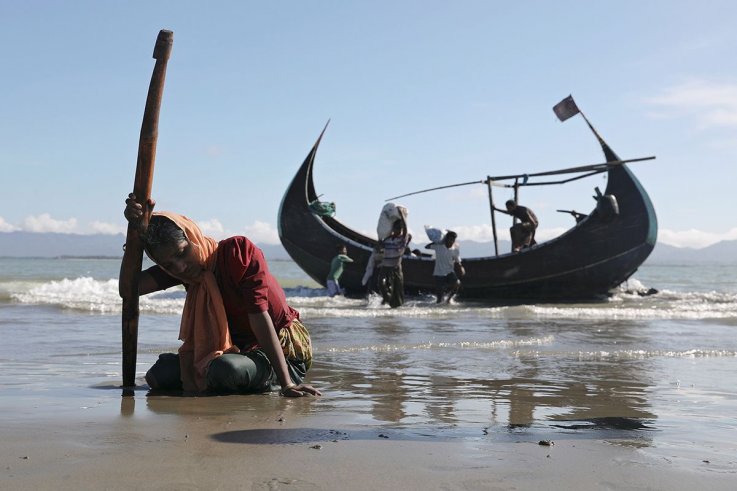 The Pulitzer Prize for Feature Photography has been awarded to Reuters for a series of hard-hitting photographs documenting the Rohingya refugee crisis in Myanmar and Bangladesh.
Announcing the prize at an awards ceremony in New York, Pulitzer administrator Dana Canedy commended Reuters photography staff for "shocking photos that exposed the world to the violence Rohingya refugees faced in fleeing Myanmar."
Nearly 700,000 Muslim Rohingya have fled Buddhist-majority Myanmar into Bangladesh since August 25, 2017, when the army began "clearance operations" following an attack on police posts by a group of Rohingya insurgents.
The Pulitzers, the most prestigious awards in American journalism, also honored U.S. media for their work on some of the most pressing domestic issues such as pervasive sexual harassment in the workplace and the investigation into Russia's involvement in the 2016 U.S. presidential election.
The New York Times and the New Yorker magazine shared the honor for Public Service for their reporting on sexual harassment allegations against Hollywood producer Harvey Weinstein. The reporting revealed "explosive, impactful journalism that exposed powerful and wealthy sexual predators," the Pulitzer board said.
Reuters Editor-in-Chief Stephen J. Adler said: "In a year in which many Pulitzers were rightly devoted to U.S. domestic matters, we're proud at Reuters to shine a light on global issues of profound concern and importance. The extraordinary photography of the mass exodus of the Rohingya people to Bangladesh demonstrates not only the human cost of conflict but also the essential role photojournalism can play in revealing it."
Reuters reporters Wa Lone and Kyaw Soe Oo have been jailed in Myanmar since December 12, charged under the colonial-era Official Secrets Act, after investigating the killing of 10 Rohingya Muslim men in Rakhine state.
The Pulitzers have been awarded since 1917, after being established in the will of newspaper publisher Joseph Pulitzer. The 17-member Pulitzer board is made up of past winners and other distinguished journalists and academics. It chose the winners in 14 journalism categories plus seven that recognize fiction, drama, history, biography, poetry, general nonfiction and music.
— Reuters contributed to this report.