Pulitzer-Winning Graphic Novel 'Maus' Banned by Tennessee School Board for Language, Nudity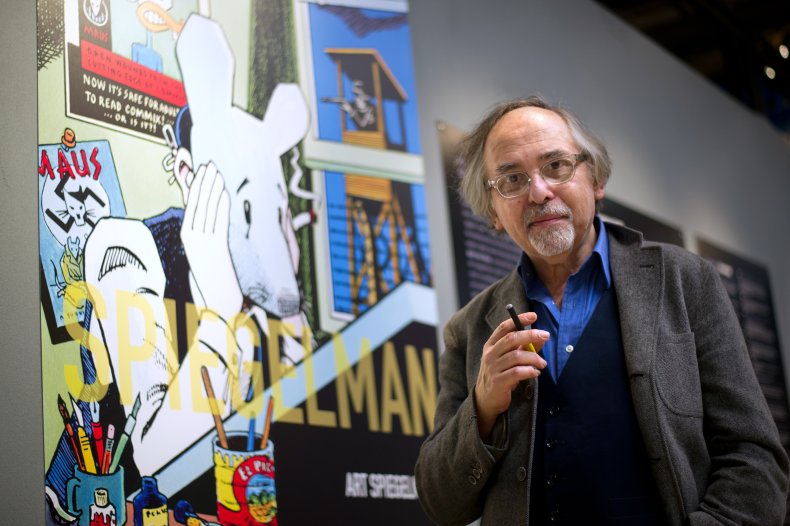 A Tennessee school board has banned the acclaimed Holocaust survivor-themed graphic novel Maus amid a conservative push to control the narrative on what is taught in history classes.
Eastern Tennessee's McMinn County School Board banned cartoonist Art Spiegelman's novel, which in 1992 became the first and so far only graphic novel to win the Pulitzer Prize, over concerns about "naked pictures" and language like "God Damn," according to a Wednesday report from The Tennessee Holler. The board had considered censoring the book to remove the "foul language" but eventually voted to ban it altogether by a unanimous 10-0 vote.
Some at the board meeting, which took place on January 10, defended the graphic novel before the vote. Instructional supervisor Steven Brady argued that it was appropriate material for a teaching module on the Holocaust and helped students learn "the difference between right and wrong" and how to "be ethical people with compassion and morals and respect for others."
Maus, which was originally serialized in comics published between 1980 and 1991, depicts the experiences of Spiegelman's Jewish parents while detained in Nazi concentration camps during the Holocaust. Different groups of people are pictured as animals in the graphic novel—including Nazis that are drawn as cats and Jews that are drawn as mice. Spiegelman reportedly described the school ban as "Orwellian" on Wednesday.
"I'm kind of baffled by this," Spiegelman told CNBC after learning about the ban on Twitter. "It's leaving me with my jaw open, like, 'What?' ... I've met so many young people who ... have learned things from my book ... I also understand that Tennessee is obviously demented."
Attorney Jeff Trexler, the interim director of the Comic Book Legal Defense Fund, said that the ban "illustrates why it's so important for students to be able to learn analytical thinking through the interpretation of graphic novels" in a statement to Newsweek.
"Being able to understand the fusion of word and image is essential to 21st century literacy," said Trexler. "Yet if we fail to recognize how this interplay of word and image works, we set ourselves up to make decisions that run counter to our core civic values, just as this school has done."
The school board insisted that the Holocaust theme of the book was not the reason for banning it. However, the ban came after a year of debate over educational offerings on race and the history of racism. Tennessee's Republican-controlled state legislature banned the teaching of "critical race theory" last year, while a teacher was controversially fired over objections to a lesson on white privilege.
Maus was not the first graphic novel to be banned in schools recently. Last October, a school board in Texas temporarily banned the graphic novel New Kid, which is based on novelist Jerry Craft's personal experiences as a Black student attending a mostly white school, after a white parent complained that it promoted "critical race theory" and Marxism.
Bans on teaching "critical race theory" have sparked concerns that schools may be forced to edit history lessons to remove any uncomfortable references to racism, as well as details about the reality of millions of Jews being murdered during the Holocaust. Outrage erupted after Texas school district officials were caught in a secret recording discussing plans to teach "opposing" views on the Holocaust last October.
Heavy criticism emerged on social media after the ban on Maus was first reported on Wednesday. Graphic novelist Neil Gaiman suggested that the school board members were pro-Nazi, tweeting that there was "only one kind of people who would vote to ban Maus, whatever they are calling themselves these days."
Newsweek reached out to McMinn County School Board chair Sharon Brown for comment.