Pulse Shooting Survivor Claims He Is No Longer Gay and Supports Event for 'Former Homosexuals'
A survivor of the mass shooting at the Pulse nightclub in Florida has claimed he is no longer gay, due to his Christian beliefs.
Luis Javier Ruiz was among the survivors of the massacre at the Pulse nightclub in Orlando, Florida, where a gunman killed 49 people.
"I should of been of number 50 [sic]," Ruiz wrote in a Facebook post, in which he said he was no longer gay.
The belief that a person can change their sexuality is widely discredited by scientific evidence, but is promoted by a vocal minority on the fringes of conservative Christianity in the U.S. and elsewhere.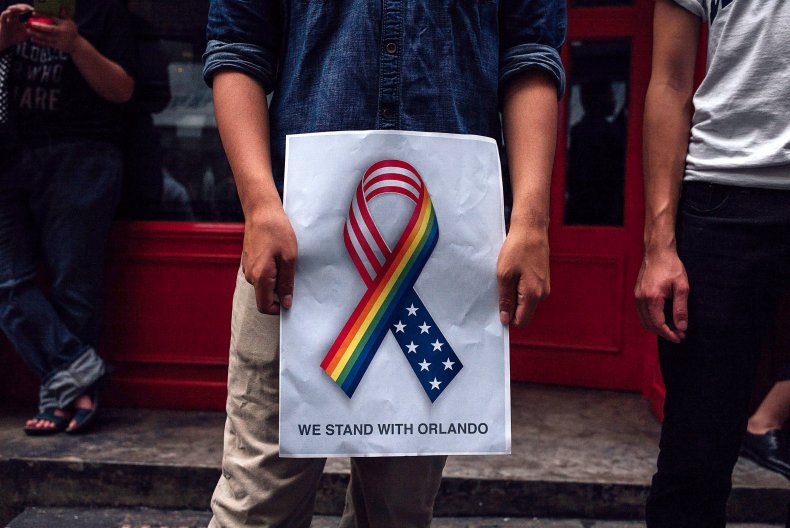 In 2009, a review of 83 studies published of so-called "gay conversion therapies" between 1960 and 2007 by the American Psychological Association concluded there is no evidence to prove that they work, but stated they could be harmful.
"Going through old pictures of the night of Pulse a memory were my struggles of perversion, heavy drinking to drown out everything and having promiscuous sex that led to HIV my struggles were real [sic]," Ruiz wrote on Facebook.
"The enemy had its grip and now God has taken me from that moment and has given me Christ Jesus I've grown to know his love in a deeper level."
Above a photo of two friends that lost their lives at the Pulse nightclub massacre, Ruiz continued: "I have the chance to live in relationship and not religion not just loving christ but being in love with christ and sharing his love I know who I am and I am not defined with who the enemy says I use to be but who christ Jesus says I am [sic]." Ruiz encouraged others to share his status update.
The post was accompanied by hashtags promoting the Freedom March on May 5, set to be held at the National Sylvan Theater, Washington D.C.. Organized by the fundamentalist Christian organization Voice of the Voiceless, it will be attended by people who claim they were able to reverse their respective sexual and or gender identities. The organization's website states: "The mission of Voice of the Voiceless is to defend the rights of former homosexuals, individuals with unwanted same-sex attraction, and their families."
Below his public post, many Facebook users praised Ruiz for sharing his story. One warned him that so-called "gay cures" are fake, although Ruiz did not explicitly state he had undergone "treatment."
"You don't need to change because there is nothing wrong with you," the user wrote.
Ruiz made the post on April 27, the same day that Hawaii became the twelfth state to pass a ban on "gay cure therapies" for minors, as reported by LGBT news outlet Pink News.
The bill highlighted that the such apparent treatments are not supported by peer-reviewed scientific evidence.
Jessica Stern, executive director of the LGBT charity OutRight Action International, told Newsweek: "Conversion therapy has been discredited and is increasingly being outlawed. It amounts to bunk science, a financial scam, and in some cases even torture. LGBTIQ people don't need to be saved or changed. We are perfect the way we are."
A spokesperson for the LGBT charity Stonewall mirrored Stern's sentiments, and told Newsweek: "All forms of 'therapy' that attempt to change a person's sexual orientation or gender identity are unethical and wrong. Lesbian, gay, bi and trans people are not ill."