Pulse Shooting Survivor Helped Cops Catch Man Suspected of Setting Fire to Memorial
A survivor of the 2016 Pulse nightclub shooting in Orlando, Florida, helped catch a man suspected of setting fire to some banners at the temporary memorial, the Associated Press reported.
Mark Henson, 63, is facing a charge of felony criminal mischief regarding the fire on October 12.
After the arson took place, the onePULSE Foundation posted a security video to Facebook showing a man in a wheelchair setting the fire at the memorial wall, which contained photos, banners and messages dedicated to the victims.
Pulse survivor Orlando Torres told WESH 2 News he went to visit the memorial and saw the charred banner containing the faces of friends he had lost that night.
Torres drove around downtown Orlando searching for the suspect, not wanting to risk the chance of him damaging the memorial again.
AP and the Orlando Sentinel reported that Torres spotted Henson near Pulse on Tuesday afternoon, recognizing him from a logo on his wheelchair that matched the security video.
"I broke out my camera and started taking pictures of him to make sure I had the right guy," Torres told the Sentinel. "Then I called the police."
For more reporting from the Associated Press, see below.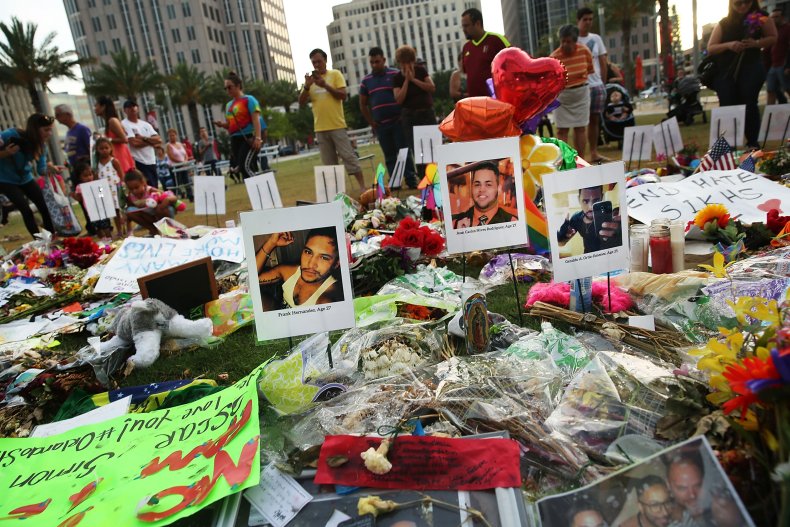 Gunman Omar Mateen killed 49 people at the nightclub during a three-hour standoff with law enforcement on June 12, 2016. He eventually was killed by SWAT team members. Mateen pledged fealty to the Islamic State group in talks with hostage negotiators and 911 operators during the standoff.
At the time, the Pulse massacre was the deadliest mass shooting in modern U.S. history. However, another mass shooting the next year along the Las Vegas Strip became the deadliest when 58 people were killed.
Pulse owner Barbara Poma established the foundation with a goal of opening a permanent memorial and museum in the nightclub's neighborhood.