13 Pumpkin Pie Recipes to Give Thanks for: From Traditional to Gluten Free
While turkey is almost always the main event at any Thanksgiving dinner, it's the pumpkin pie at the end of the meal that's often the real star of the show.
The dessert has evolved over the years and there are now countless variations of the sweet treat, from the truly decadent to the surprisingly healthy.
Read on to discover some of the very best pumpkin pie recipes to impress your friends and family with this Thanksgiving.
1. Classic Pumpkin Pie
Chef Hari Beavis claims her recipe for this Thanksgiving staple is "fairly simple."
She starts by deseeding and chopping her medium-sized squash into chunks, before boiling the flesh until soft.
The pastry is then blind baked as the pumpkin cools. While this is happening, in a separate bowl she mixes 150 grams of sugar, a pinch of salt, a teaspoon of nutmeg and the same of cinnamon, two eggs, 25 grams of melted butter and 175ml of milk.
This is all whisked together, before adding the pumpkin, which should be fully strained and pushed through a sieve to puree it.
This puree mix should then be poured into the cooked and cooled pie crust, which can now be baked at 150°C (300°F) for approximately 40 minutes, or until the mixture is no longer liquid.
2. Mini Pumpkin Pies
Chef Jenna questions the point of creating a traditionally large dessert when her "quick and easy" mini pumpkin pies can be made instead.
For the filling, she mixes room temperature cream cheese, brown sugar, pumpkin puree, pumpkin five-spice and a pinch of salt.
Next, she unrolls ready-made pastry and creates pumpkin shapes using a cookie cutter or stencil.
Half the pumpkin pastry is filled with the mixture, then the edges are brushed with an egg wash, before the second piece of pastry is placed on top.
Little ridges are cut into the pumpkin pie and the edges are crimped with the back of a fork to seal them shut, then cinnamon sugar is sprinkled on top immediately before baking.
3. Pumpkin Pie Crisp
The Novice Chef shared her take on the traditional dessert she describes as "insanely good."
She starts with pumpkin puree, which she whips together with eggs, granulated sugar, heavy cream, pumpkin pie spice, salt and vanilla flavoring, before pouring the mixture into a buttered baking dish.
Then, in another bowl, she makes her cinnamon scroll topping by mixing butter, flour, cinnamon, granulated sugar and salt to form a crumbly texture.
This should be sprinkled on top of the wetter mixture and then baked in the oven, with the final product apparently best served with vanilla ice cream.
4. Paleo Pumpkin Pie
Chef Don describes his gluten-free version of pumpkin pie as still tasting "rich and deeply flavored."
To make the crust he combines cassava flour and arrowroot flour, adding a little cold palm shortening to create a crumbly texture proto-pastry.
A beaten egg, maple syrup and water are then introduced to the mixture, which is then rolled into a ceramic pie dish and blind baked.
For the filling, he adds pumpkin puree, eggs, one egg yolk to the cream from two cans of coconut milk, as well as maple syrup or honey, maple extract, a teaspoon of cinnamon, three-quarters of a teaspoon of ground ginger, a pinch of salt, a quarter teaspoon of cloves and the same of nutmeg.
Finally, he pours the filling into the cooled pie crust and bakes for approximately 40 minutes, or until the center is still slightly liquid.
5. Healthy Crustless Pumpkin Pie
Chef Healthy Foodie Girl considers her pie recipe has "maximum flavor without all the fat."
For the filling, in a bowl you combine pumpkin puree, zero fat Greek yogurt, whisked eggs, orange zest, vanilla extract, monk fruit, cornstarch, flour, pumpkin spice, cinnamon and salt.
Once this is all mixed to a regular consistency, simply lightly oil a muffin pan, pour in the pumpkin pie mixture and bake.
6. No-Bake Pumpkin Pie
Chef Hilda describes her dessert as having a "smooth and creamy texture and an amazing ginger snap crust."
Ginger snap cookies are first blitzed in a food processor before butter, brown sugar and cinnamon are introduced.
This resulting crumbly mix is then pressed into a pie plate, which should next be refrigerated.
For the filling, mix pure pumpkin, condensed milk, beaten eggs, vanilla flavoring, molasses, cinnamon, nutmeg, ginger, cloves, sea salt and gelatin and whisk it until you get a smooth consistency.
The mixture then needs to be cooked over a low heat for about 10 minutes.
Finally, pour the semi-liquid mixture into the chilled pie crust and return to the refrigerator for roughly three hours, so it sets.
7. Pumpkin Pie Crisp
Food blogger Kasey Ferguson has disclosed her alternative take on the traditional pumpkin pie, which has been heavily influenced by the apple crisp.
For the filling, she whisks 15oz pumpkin purée, one cup of coconut sugar, three eggs, two tsp pumpkin pie spice, one tsp cinnamon, half tsp salt, two tsp vanilla and 2/3 cup coconut cream until the mixture is smooth and then transfers it to a baking dish.
Then for the crisp topping, she combines a half-cup of oat flour, a half-cup of almond flour, 3/4 cup of rolled oats, a half cup of coconut sugar, a half-cup of pecans, two tsp of cinnamon, half a tsp of salt and one-third of a cup of liquid coconut oil.
This can then be sprinkled over the pumpkin filling, before the mix is baked for approximately 40 minutes, or until it has set, and gone a crispy and golden brown color.
8. SORTEDfood's Pumpkin and Pecan Pie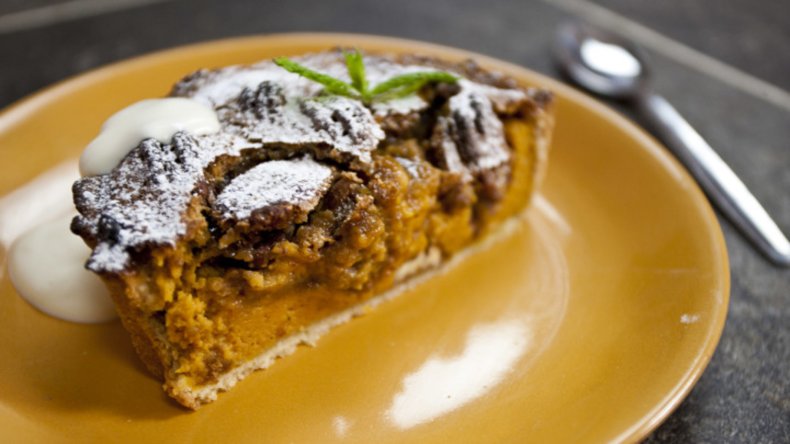 YouTube cooking channel SORTEDfood has presented its take on a fantastic American dessert, often seen around Thanksgiving.
They told Newsweek: "Pumpkin is a vegetable that lends itself really well to sweet dishes. We top it with candied pecans to add a bit of extra crunch to the beautifully smooth pumpkin mixture. "
Ingredients:
250g plain flour
125g cold butter
90g caster sugar
1 large egg
400g pumpkin purée
397g condensed milk
2 eggs
1 pinch ground nutmeg
1 pinch ground cinnamon
1 tsp allspice
1 pinch salt
200g pecan halves
2 eggs
120g brown sugar
1 drizzle of vanilla extract
Method:
For the pastry, rub the cubed butter into the flour until the mixture resembles breadcrumbs, and then stir through the sugar and beaten egg.
Chill the dough, knead gently until the whole thing forms a soft dough ball – don't overwork it or else the pastry will be tough when cooked. Wrap the dough in clingfilm and chill in the fridge for at least an hour to relax.
Roll the dough on a lightly floured surface to the thickness of a pound coin. Lay over a tart case and gently press into the edges, trim off any excessive pastry then chill again for 15 minutes as you preheat an oven to 180°C.
For the filling, whisk together the pumpkin, condensed milk, eggs, spices and salt in a bowl until combined.
Beat the eggs, sugar and vanilla for the top in another bowl, then stir through the pecans.
Pour the pumpkin filling into the tart case so it fills up three-quarters of the way, then scatter over enough pecans to completely cover.
Bake for 50 minutes until set, golden and puffed up slightly, then allow it to cool a little before serving with cream.
9. Pumpkin Pie 'Made From Scratch'
Chef Shereen believes a traditional dessert fit for Thanksgiving should be made from scratch as "it is the only way."
She starts by whisking three eggs in a bowl, adds two cups of homemade pumpkin puree, one cup of room temperature heavy cream, three-quarters of a cup of sugar, 1.5 tsp of cinnamon, three-quarter tsp of ginger, three-quarter tsp ground allspice, quarter tsp each of salt and cloves, and a dash of freshly grated nutmeg.
She then adds this combined mixture to her homemade pie crust (made in a previous recipe) and this is all baked at 350°F in an oven until the pie is still "slightly wriggly."
10. Pumpkin Pie Flurry
Chef Dylan Lemay has truly transformed the humble pumpkin pie—by making the dessert into a drink.
He takes a slice of pre-made pie, puts it into a cup and adds a generous scoop of biscoff spread.
This is then transferred to a flurry machine, which blitzes the mixture into something vaguely resembling a thick milkshake.
11. 'Don't Mix It' Pumpkin Pie
Chef Sophia Wasu has a recipe for pumpkin pie she believes requires no mixing.
Two packets of cookie dough are laid on the base of an oven dish, on top of which is added a can of pumpkin puree, a can of cream cheese frosting, a sprinkle of pumpkin pie five spice and some optional chopped walnuts.
Next, she introduces super moist cake mix powder, with the strict instruction "don't mix this," on top of which she puts 1.5 sticks of butter, cut into equal slices and placed at regular intervals on the top layer.
This is then baked in an oven at 350°F (480°C) for about 45 minutes.
12. 'Fancy' Creme Brulee Pumpkin Pie
Chef Bel claims those looking for a "show-stopping" pie "should look no further."
She mixes 1.5 cups of flour, one cup of sugar and a cup of cubed butter.
This is combined with one big can of pumpkin puree, two cans of sweet condensed milk, four eggs, two tsp of cinnamon, the same amount of nutmeg, and a tsp each of ginger and salt.
Then pour the mixture into a pastry case in a pie tin, which is baked at 425°F for 15 minutes, then 350°F for 35 minutes.
To create a creme brûlée effect, sprinkle the top with sugar and slightly singe it with a blowtorch.
13. Sugar-Free, Gluten Free, Inflammatory Oil Free Pumpkin Pie
Holistic skincare expert Celeste Thomas claims her sugar and gluten-free pie is so delicious "even your man will love it."
She mixes 1.3 cups of cassava flour, one cup of sunflower oil, a quarter cup of butter and 4 tablespoons of water.
The resulting paste is then rolled before being pressed gently into a pie base.
Next, a trio of beaten eggs are added to a half tin of pumpkin puree, half a cup of monk fruit, a tsp of allspice, a couple of tsp of cinnamon, a tsp of ginger and one cup of coconut cream.
This should then be stirred and poured into the pie tin. Bake at 425°F (200°C) for 15 minutes, then reduce the heat to 350°F (180°C) for 40 minutes.