'A Punch to the Gut': Lupita Nyong'o's Sorrowful Words for Chadwick Boseman
Lupita Nyong'o has broken her silence over the death of her Black Panther castmate and friend Chadwick Boseman.
Nyong'o, who played Boseman's love interest Nakia in the Marvel movie, penned an emotional tribute "from a place of hopelessness" to the late actor in an Instagram post on Tuesday.
"I am struggling to think and speak about my friend, Chadwick Boseman, in the past tense. It doesn't make sense. The news of his passing is a punch to my gut every morning," the 37-year-old actor wrote.
Boseman's family announced his death following a four-year battle with cancer on August 28. He was diagnosed with stage three colon cancer in 2016 and continued to fight the disease even while portraying King T'Challa—the role he was most famous for—in Black Panther, which broke box office records upon its release in 2018.
"I am aware that we are all mortal, but you come across some people in life that possess a immortal energy, that seem like they have existed before, that are exactly where they are supposed to always be - here! ... that seem ageless.... Chadwick was one of those people," Nyong'o continued.
Despite not knowing Boseman for very long, Nyong'o wrote that the actor had a "profound effect" on her life, and she recalled being "struck by his quiet, powerful presence" when they began working together on the Black Panther set.
"He had no airs about him, but there was a higher frequency that he seemed to operate from. You got the sense that he was fully present and also somehow fully aware of things in the distant future. As a result, I noticed that Chadwick never seemed rushed! He commanded his time with ease," she wrote, noting, "He showed up to every rehearsal and training and shoot day with his game face on. He was absorbent. Agile. He set the bar high by working with a generosity of spirit, creating an ego-free environment by sheer example, and he always had a warm gaze and a strong embrace to share."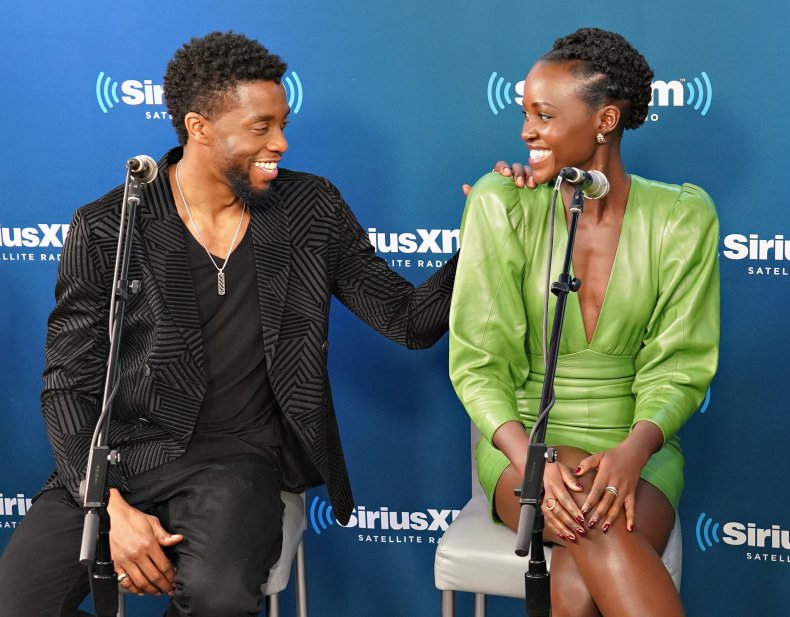 The Us star went on to write through watching Boseman, she learned how to be a "less petty, more purposeful" person.
"He moved quietly, deliberately and without imposing himself or his ideas on others. And yet he also made damn sure that his life meant something," Nyong'o wrote. "He cared so deeply about humanity, about Black people, about his people. He activated our pride. By pushing through and working with such high purpose in the films he chose to commit to, Chadwick has made the infinite his home," Nyong'o wrote.
She added: Chadwick's death is something that I can neither take in nor take in my stride right now. Perhaps with time... I'm going to take my time... and in his honor, I promise not to waste my time. I hope you will do the same."
Michael B. Jordan, who played Boseman's nemesis Erik Killmonger in the film, spoke about the impact Boseman had on his life in an Instagram tribute shared on August 31.
"Since nearly the beginning of my career, starting with All My Children when I was 16 years old you paved the way for me," Jordan wrote. "You showed me how to be better, honor purpose, and create legacy. And whether you've known it or not...I've been watching, learning and constantly motivated by your greatness."
Black Panther director Ryan Coolger also penned a length message for Boseman and revealed that he wasn't even aware of the actor's health ailment while they were filming.
"After his family released their statement, I realized that he was living with his illness the entire time I knew him," Coolger wrote. "Because he was a caretaker, a leader, and a man of faith, dignity and pride, he shielded his collaborators from his suffering. He lived a beautiful life. And he made great art. Day after day, year after year. That was who he was. He was an epic firework display. I will tell stories about being there for some of the brilliant sparks till the end of my days."